Ein-des-ein blog
App Development Cost: How Much Money Do I Need to Build my App?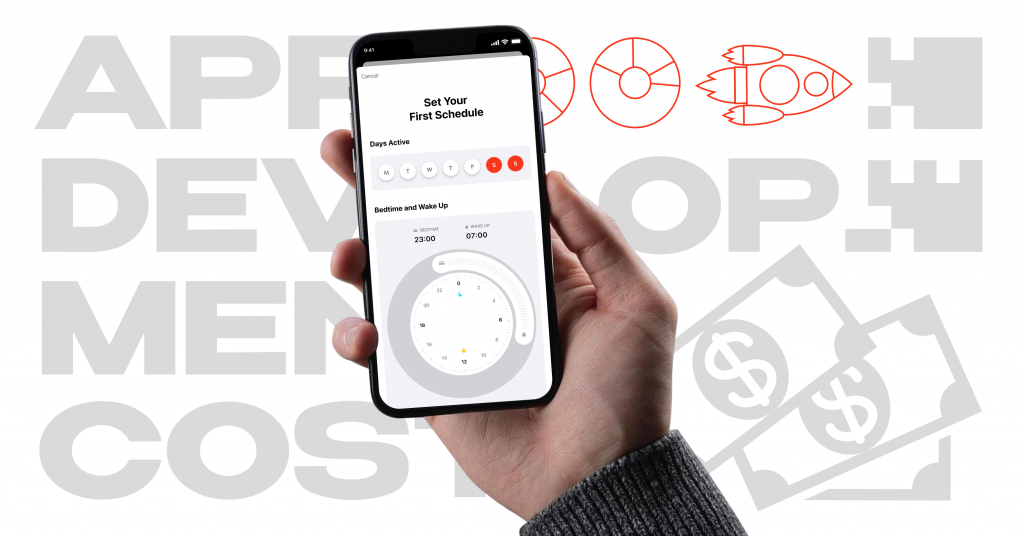 After you come up with your brilliant app idea ever and validate it, now you have a serious question that arises immediately. What can the app development cost amount to?
How much will it cost to build my app? There is no specific or approximate number that can be named because too much depends on the app functions that you want and the technologies that you choose. If you decide to outsource the development work, then the development team's geographic location will play a major role.
Let's look at factors that influence the app development cost and need to be taken into account when planning your budget.
So, how much do I need to build an app?
Once you know that you want to develop an app, contacting IT agencies is a perfect way to get your first rough calculation. The IT world is a competitive one, and it can be tough to develop a working relationship with a company you entrust your app development to. Wonder how to choose the right collaborator? We will come back to this later.
When it comes to getting an estimate, you need to make sure you have your requirements ready. No one can give you a super accurate estimation right away, especially if you don't know exactly what you want to build and how the app is supposed to function. There is one way though—in most companies, there are business analysts that work with you in the beginning and look closely at your business and industry, target audience and buyer persona characteristics, the region/country you plan to be present in, the basic app requirements (based on your explanation), the resources you are able to provide, etc.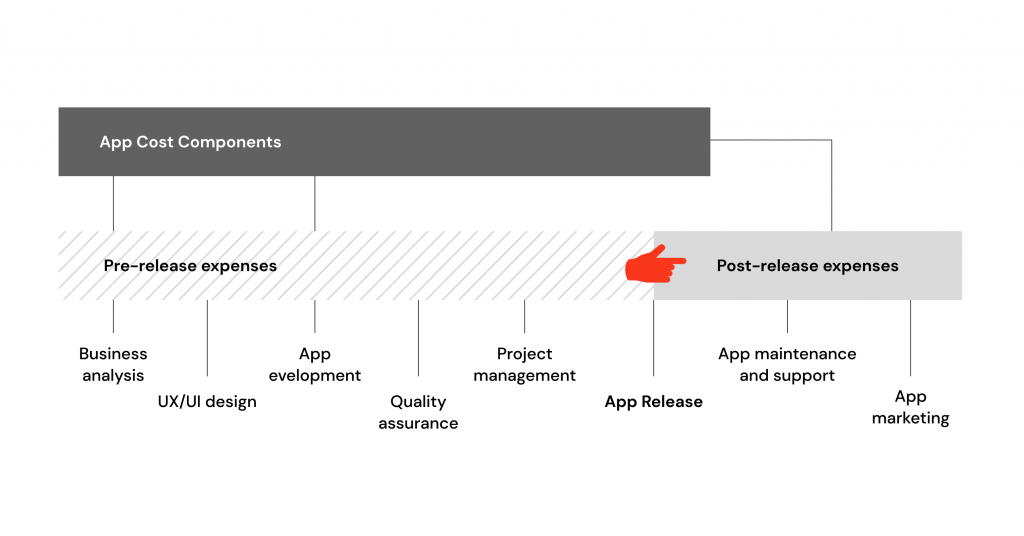 Usually, as a result, you get a project summary that helps to determine the cost estimation:
App type and niche (social network, food delivery, online store, finances, etc.);
Complexity of app features;
Platforms;
Type of backend infrastructure,
Need for an admin panel;
Further maintenance needs.
Once you have this overview, you'll get to see how much money you'll need for an MVP (Minimum Viable Product), as well as the full solution.
Outsourcing: How to choose a development team
You made up your mind that you wanted to hire a development team outside of your organization. Most companies don't want to spend more when they can pay less and get the same results. Creating a great app requires a serious investment of time and money. That is why it is common to research IT Outsourcing Companies and hire developers in another region where more affordable options are available.
Location
It happens that developers from North America and Eastern Europe have similar skill sets and expertise, however, the prices for their work are different. For example, the starting price for an American developer is $90 per hour, while Belarusian or Ukrainian mobile app developers charge $35-50 per hour. Western European developers charge 60-80 euros per hour. This has nothing to do with the quality of work, but simply with the cost of living in each particular location. Most Eastern European countries have more affordable housing, lower taxes, and overall lower prices when it comes to food and clothes.
Team size
When you negotiate, keep in mind that you may be offered more people in the team to speed up the development process in case you have strict deadlines with your project. More people on the team will logically increase the app development cost. If you are not in a rush, the standard team size will deliver just fine.
Freelance vs Agency
Generally, hiring freelancers is risky. Freelance prices may appear significantly lower, but that comes with consequences. Agencies usually have established processes, a growing client base, validated experience. Most importantly, they care about their reputation and cannot simply disappear or deliver poorly. There are reliable freelancers out there, but as a client, you are less secure in case of a conflict or a missed deadline.
Checking out an outsource company
Let's imagine you know where to hunt, now where do you go to look for a reliable development agency? A simple Google search might suffice, but once you narrow your list down to a few companies, check out the following channels.
LinkedIn page
Head to the LinkedIn page of the company you're considering and see how active they are, how approachable they are, and if you see any blog posts or case studies that seem relevant, check them out. Business is about people, so if you get a good vibe and like the company's communication style, you'll probably have great relationships with the team you'll probably be working with for months.
Professional networks
Look at the company's account at Behance or Dribbble. If the company is an expert in both development and design, then bingo! You can be assured that your app will be in the right hands. Mobile application development is a lengthy process with many iterations and tests. When design and development teams work together, they are able to save time and implement changes in sync. Also, don't forget to check review platforms like Clutch.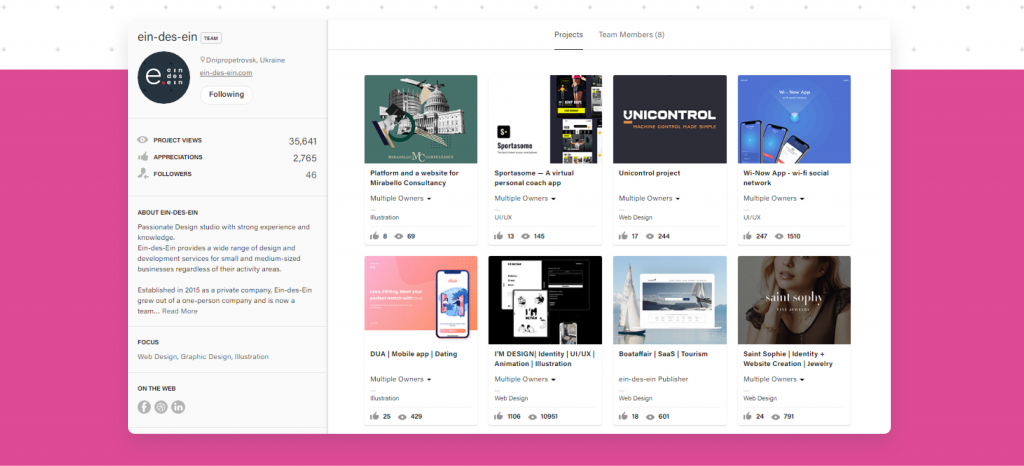 B2B blogs
You clicked on the agency's website and browsed it, now head to their blog to see whether you can find some useful tips or ideas for your business. Companies that are serious about their craft, write about topics they are experts in. Several useful articles may help you make up your mind.
How much does it cost to make an app by region?
There are thousands of companies out there varying in size and focus in every city across this planet. No matter where they're from or how big (or small) your business may be, it can be tricky to choose the best collaborator. When it comes to picking a company, there are several questions that prospective clients might be asking themselves:
Do we select only international giants, totally writing off young pros?
Do we hire a local team or opt for a foreign team that speaks good English?
Does a company'a time zone play a significant role for us?
Moreover, it is clear that the average rates differ considerably depending on the region: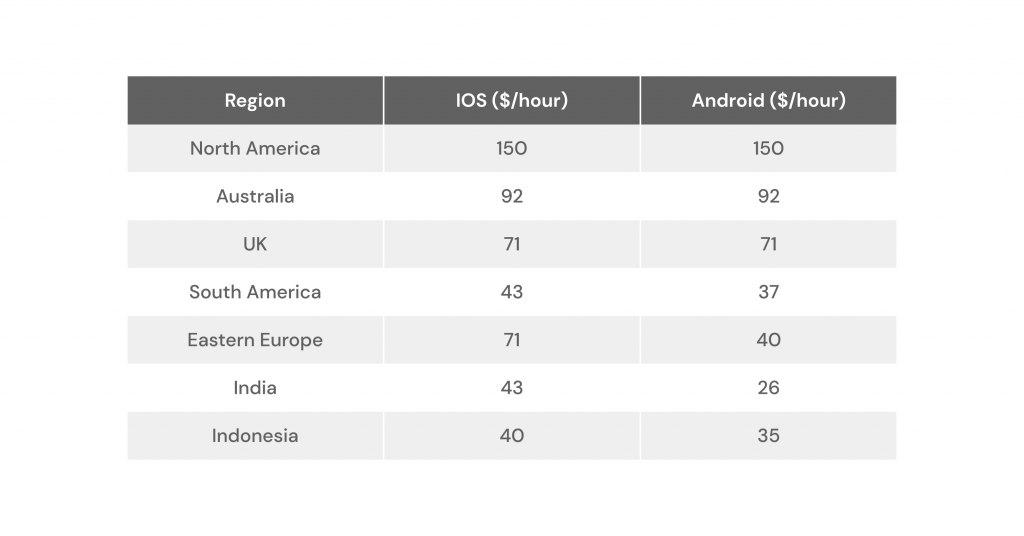 As you can see, regions like North America are known for their high developer rates that go up to 150 USD per hour. Australia and the UK follow with slightly lower rates. LATAM and Eastern Europe rates range between 22 and 55 USD per hour. The last but not least, the APAC region, offers services from specialists based in India or Indonesia ranging from 25 to 35 dollars per hour. The last two regions have a lot of developers that you have to filter through because the low rates usually correspond to a lower quality of work.
Actual app development cost
The developer's team costs are not the only component of the final pricing. Once you choose the agency, your final costs will be calculated based on several factors. Let's briefly go over them.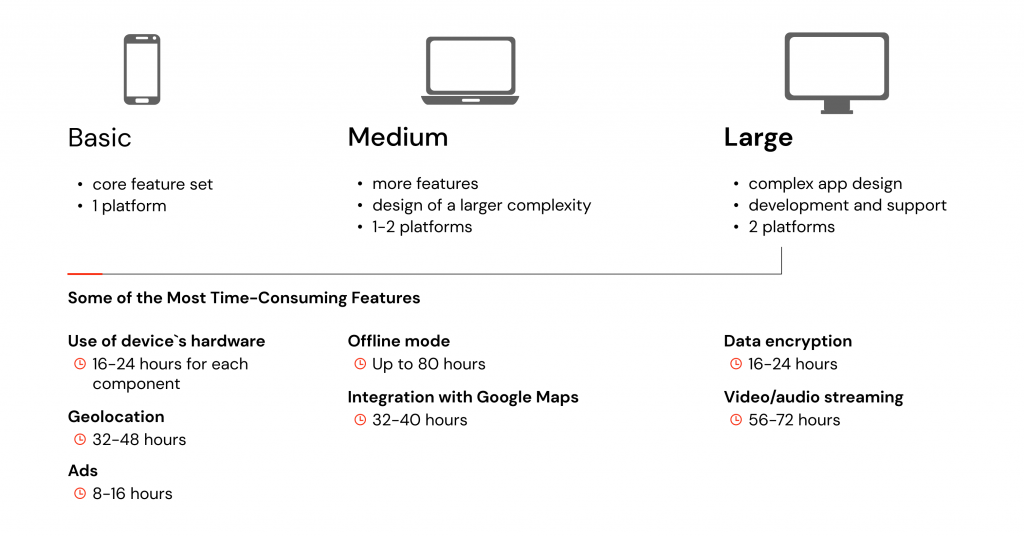 App features and functionality
A significant number of functions and the complexity of their implementation translates into a lot of work, and therefore a significant investment as well. Building apps like Uber or Whatsapp comes with certain challenges.
Basic Apps
Simple applications do not cost too much. If you want to understand how much does it cost to build an app in this category, calendars, maps, notes apps are great examples as they have only a few main functions, so creating them won't be expensive. This is what some companies do when they need some market validation and pitch the idea to investors to get more money for growth. They create something simple first and then after receiving funding, develop their app further. The costs in this category may range from $10,000 to $30,000.
Medium-Complexity Apps
At this level, applications usually need built-in integrations with payment systems, extensive databases, and more advanced functionality.
Think of food delivery services, for instance, that are in essence customer-facing server applications. The prices may range from $30,000 to $70,000.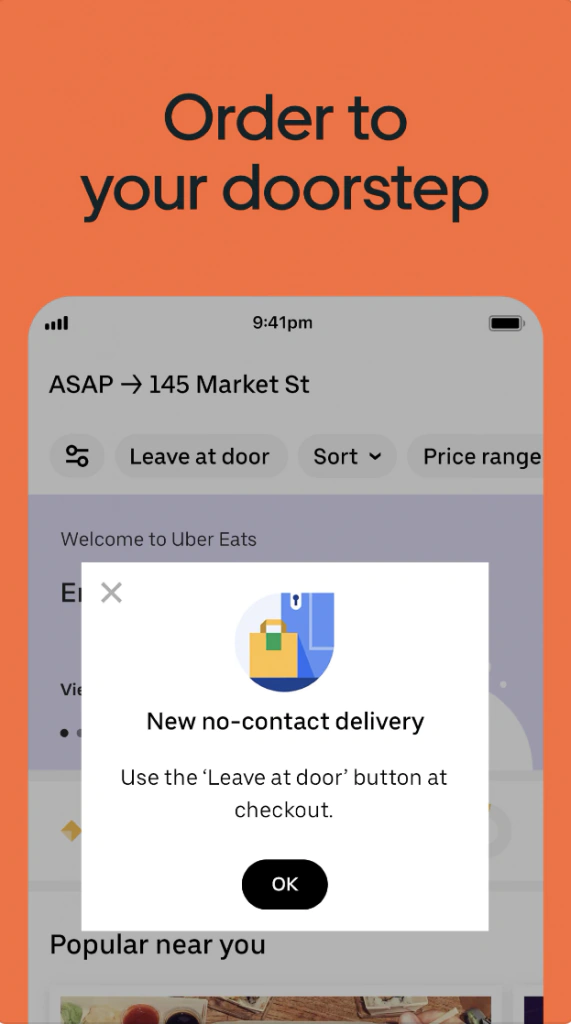 Complex Apps
Complex custom applications usually require increased security, as well as more advanced integration. For example, IoT (Internet of Things) apps need AI algorithms and complicated architecture. This complexity makes an app a strong competition but impacts the app development cost. In this category, costs start at $50,000.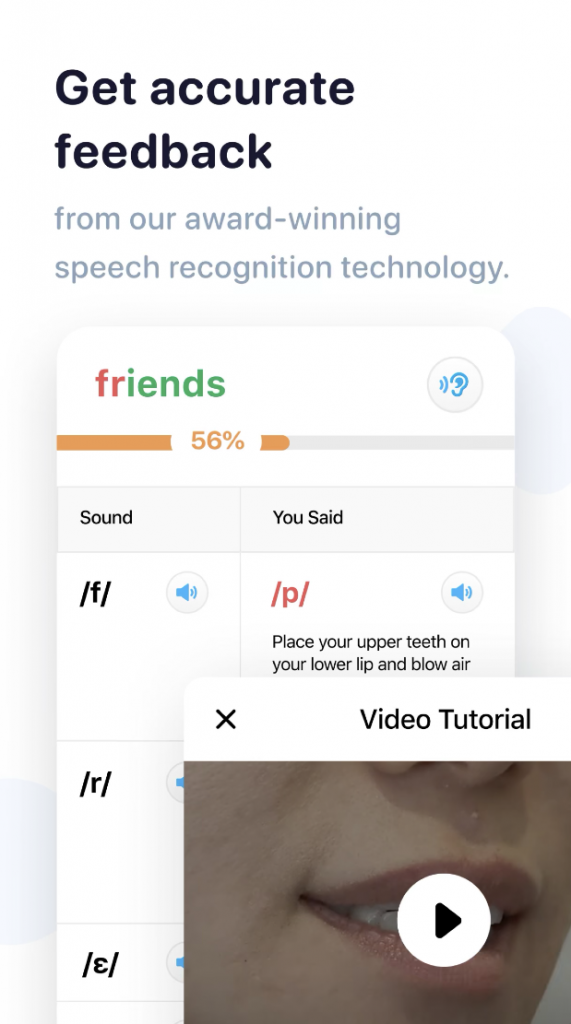 The main steps in app development
This long and time-consuming path usually consists of:
Planning. It all starts with the planning phase, which includes research and analysis. This is where you figure out what your app should do and how it'll function, including deciding on the features that users need.
Design. Designing an interface can take many forms depending on whether it's desktop-based (like Photoshop), mobile device compatible (i.e. Flappy Bird) or both.
The design team creates blueprints/prototypes etc. that outline all of their ideas before the coding begins. Some unique features might be added here as well depending on the requirements.
Development and testing. Here the coding magic is happening. The QA department ensures everything operates correctly. If not, bugs are fixed and tests are performed over and over again to achieve a perfectly (almost!) working product ready for the release.
Deployment. The final phase when the product is ready to go live. This means it is ready to be used in a real environment by actual users.
Furthermore, full-cycle agencies often provide post-deployment services like promo or the maintenance after the release, so even when things get tough you know the provider has got your back and the troubleshooting is their headache, not yours.
Market research and business analysis
It is crucial to understand your target audience and the market demand. Otherwise, you release something nobody wants or needs. Proper research and analysis before launching a new product can go a long way in preventing you from making costly mistakes.
To avoid running out of funds and losing money, it's important to save approximately 10% – 20% of your budget for marketing activities.
The good news is that you actually decrease the outlay at this stage by doing some tasks by yourself beforehand. Find similar concepts to explore their strengths and weaknesses just by opening Apple Store or Play market. Consider what features are the most useful and which of them could have been easily eliminated without losing any UX points, what functionality of your future product would stand among competitors etc.
Create a Google sheet with all the significant info about competitors: names, features, problems they solve, weaknesses, updates, brand elements, logos, etc. Later, you'll be able to provide it to your colleagues and independent contractors.
Design budget
After defining all technical aspects, an equally important step is to calculate the design expenses. Nowadays, projects disappear pretty quickly if their UI doesn't meet community expectations and if overall UX is bad: inconvenient menu, useless buttons, poor quality of visual elements all lead to a negative impression aka users delete it forever.
With the brand identity already created, there is no need to "grow" a brand image from scratch, but usually the design part takes approximately 10-15% of the overall budget. The pricing also varies if you need a clickable prototype to envision the end product's look (as for us, we do advise getting a prototype and here is why!).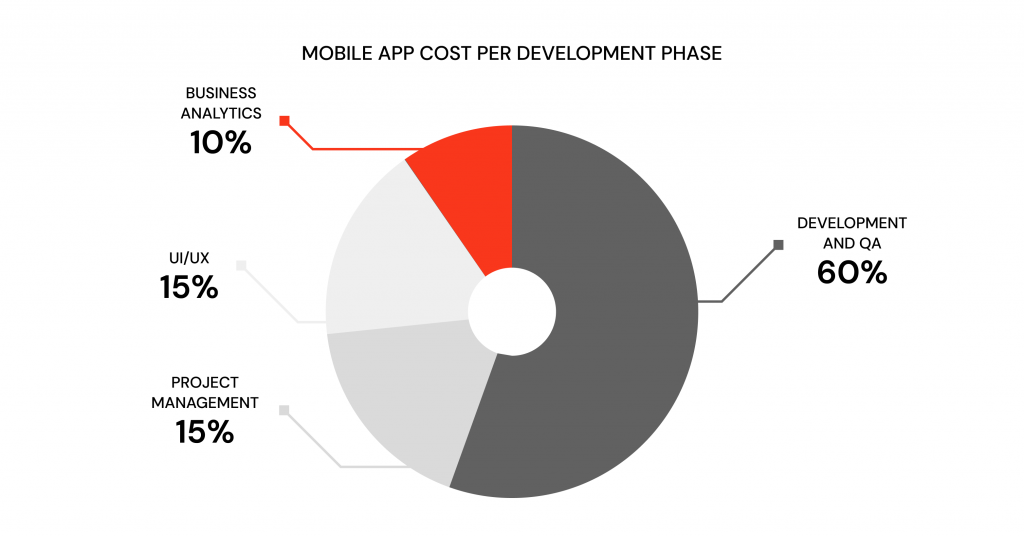 Customization Of Visual Design
The more complex and modern your design is, the higher the application cost. There are definitely cases where design solutions out of the box are more than enough. However, the growing user demand for design and user experience suggests that it makes sense to create an individual custom design that is both beautiful and practical.
This is especially important for enterprise applications where it is necessary to preserve corporate colors and evoke the right associations for current and potential customers.
Project management budget
No doubt, PM is vital so when calculating potential spending, save the exact same part of your outlay for it as you saved for the design. PM usually deals with a lot of aspects including:
Overall budget — how to minimize its surcharge.
Tasks management — control overall workflow, so everyone is involved correctly.
Timeframes control — ensure the team meets deadlines.
Non-technical QA along with testers — help with setting priorities for bug fixes and further improvements.
Risk management — minimize or quickly solve any difficulties.
Communication — connect a team and a client to ensure there is no misunderstanding of tasks and requirements, etc.
Usually, established organizations provide PMaaS. Payment options for it actually vary. Some organizations have hourly rates while others charge a fee based on previously discussed requests.
In Eastern Europe countries, an average rate for PM services is $40/h.
Platforms
In most cases, development for iOS will cost more than for Android. This is because the first operating system places more demands on functionality, implementation, and security. So, it makes sense to either create a hybrid application or focus on one operating system to create a native solution if you are sure that most clients use either iOS or Android. Building native apps for both platforms will double your expenses but will ensure stable performance on each platform.
App Maintenance Costs
The costs of maintaining an app depend on what server hosting solution and API you choose. It is possible that at some point you will need to scale your solution and your application needs to be prepared to cope with the critical load. Providers like Amazon AWS and Rackspace offer cloud solutions for developers—the size of the cloud can be increased as the user base grows. Don't try to save up on this if you know that your app is on the steady path to scaling. 
Final thoughts
Before outsourcing the app development work, think through your app idea and make a firm decision about what category it will fall into. Research the market and get a feel of the trends. Copy some elements you like in successful apps while adding your own original killer feature. Investing in a neat app solution has every chance of giving you a lifetime of dividends.
Hope this article helped you get an idea about the components of the app building cost. If you'd like a free consultation with us to see how much it will cost to build your awesome app, contact us today and we'll get back to you within 24 hours.
Mini-FAQ
What kind of app can be considered the most expensive for development?
The cost depends on app functionality and user roles. The more complex features are intended, the more time and resources it will cost. For example, an app like Uber or Lyft with its driver app, passenger app, and a dispatch panel that manages user interactions, payments, and rides, may cost over $90,000.
What's the best monetization model for my app?
This depends on your app. Some apps use a subscription model, some in-app purchases, others primarily rely on ads. It's also common to mix monetization models (for example, in-app purchases + in-app rewarded video ads).
Why is it cheaper to hire developers from Eastern Europe?
The cost of living, taxes, and housing prices are lower while the developers' qualifications and experience are often equal to their counterparts in North America and Western Europe. Make your decision based on the portfolio, clients' feedback (better taken from independent websites), technology stack. Don't be shy to ask specific questions to prove excellent expertise.
Follow us!
Interested in our monthly newsletter? Get the insights, updates and discounts right into your inbox only once a month.