Design, Mobile And Web App
Development Services
We provide a wide range of services to answer your business needs and create value with digital products that scale.
We develop solutions that help businesses expand their client base, gain trust, drive revenues, and stay on top.
Our engagement models
Time & Material
With the Time & Material model you get:
Budget flexibility
Control over the project's scope
Efficient prioritization
Shorter time-to-market
High quality of the final product
Dedicated team
With the Dedicated Team model you get:
To choose the Project manager from your side
A dedicated team that works 100% with your product
Specified timelines and scope of work
Full control over task execution
Fixed Price
The characteristics of the Fixed price model include:
Concrete project scope
Fixed cost and time estimates
Limited flexibility
No need to be involved
Limited control of the final result
FAQ
How is the total cost calculated?

The total cost of your project depends on the chosen engagement model. With models other than Dedicated team, we consider the actual time and effort spent on the development or design. After we have our first discussions, we analyze your request, gather requirements, and then prepare an estimate for you.

What is the best engagement model for my startup?

This depends on your needs. We would recommend either Time & Material or Dedicated team. With the Dedicated team model you can get a team that works exclusively on your project for 4-6 months with all the paperwork on us. With Time & Material the timelines may shift and iterations may increase, but the quality of the final result is as high as with Dedicated team.

Do you implement the design you create?

Yes, we have a team of developers and designers that work collaboratively to make sure that the design we create is implemented correctly and works well for your product or service.

How much does it cost to develop an app?

We estimate each project cost individually. The cost depends on many factors, including technologies used, app features, and functionality. The starting numbers for simple apps are usually $10,000+. The more detailed your requirements are, the faster we can calculate the initial cost that depends on how complex or custom your app needs to be.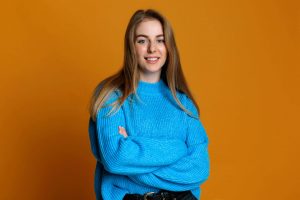 Ira Repnikova
Business Development Manager
Hi, I am Ira. I would love to talk to you about your app project. After you send the form, we'll contact you within 24 hours. Looking forward to discussing your needs!
Contact us!