We help you design,
develop, and launch

successful apps.
Power up your business with beautiful apps on iOS and Android, built for profits.
Build your app with confidence
With a native iOS or Android app, your brand is on the way to increase customer retention, reduce your operational costs, and boost profits.
iOS
Develop your app for Apple devices and maximize your app exposure. We help you at every step of your iOS app development journey – from pushing your app idea forward to launching it in the app store.
Android
Bring your awesome app to millions of Android users. We offer end-to-end, full-stack Android app development services to deliver your app to all Android devices.
How we work
Business analysis
We gather requirements and analyze your project goals. We believe that well-defined requirements are essential for successful project delivery. That's why we pay attention to business analysis and create detailed specifications, roadmaps, user stories, and use cases that will help our designers and developers to do their best work.
Solution proposal
We create a roadmap of the project and timelines. You receive a cost estimation with a fixed offer from us.
Building the product (development & design)
This stage consists of wireframing, UI/UX, architecture, test cases, front-end, and back-end development. We take care of high-quality development and follow the best programming practices to ensure that your solution will be quick, stable, and consistent.
Testing & Deployment
Once the product is done, we deploy your project and monitor its performance. We'll use various tools to benchmark your app for loading, responsiveness, and speed.
Project kick-off & Evaluation
The project is now live! We evaluate its progress and make all the necessary adjustments and iterations if needed.
Apps in our arsenal
MVP for dating app for Albanian community
Why work with us
Reliability
We respect deadlines and embrace open communication and collaboration. We also ensure that you are the sole owner of Intellectual Property rights after the project completion.
Dedication
We are a dedicated team of professionals, motivated to go through the full app development process to bring results to the table — successful apps that scale.
Affordability
We stay on budget and develop quality mobile applications to boost your business. No matter how complex your task is, we strive to find the best optimal solution to deliver your dream app.
Questions you may have
How much does it cost to develop an app?

We estimate each project cost individually. The cost depends on many factors, including technologies used, app features, and functionality. The starting numbers for simple apps are usually $10,000+. The more detailed your requirements are, the faster we calculate the final cost that depends on how complex or custom your app needs to be.

Will I have a dedicated team that will work on my project only?

Everything depends on the particular project length and complexity. For the projects that last more than 4 months, we create a standalone team that is fully dedicated to your project.

Can you also design my app?

Yes, we are a full-cycle design & development agency. We apply a design-driven approach to build modern apps and websites. Our team has a strong mix of design and development professionals.

Do I get to keep the ownership and the code of my application?

Yes, absolutely. You are protected by the contract. After the project is finished, you are the sole owner of the Intellectual Property rights and the code.

How is your team usually structured?

We create teams for each project according to the client's needs. Our typical development team consists of 1 Project manager/Business analyst, 1 Test Engineer, 1 quality assurance engineer, 3 mobile app developers (for both platforms, iOS and Android), and 2 UX|UI Designers.

What technologies do you use?

We use different technologies to develop reliable frontend, backend and infrastructure. We produce a high-quality code to deliver products with great scalability.

Do you help with app maintenance after the project is over?

Once the project is completed, we can come up with a range of maintenance agreements. Some apps require very little ongoing development and maintenance, so just a few hours per month are required to fix bugs, update dependencies, etc. Other apps require ongoing development to add additional features. We'll work together with you to define what kind of ongoing work may be required, and tailor a plan according to your needs.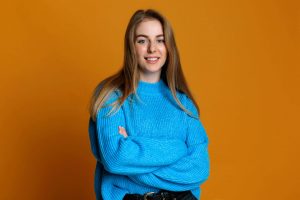 Ira Repnikova
Business Development Manager
Hi, I am Ira. I would love to talk to you about your app project. After you send the form, we'll contact you within 24 hours. Looking forward to discussing your needs!
Contact us!