Ein-des-ein blog
The Best Restaurant Management SaaS Tools for Owners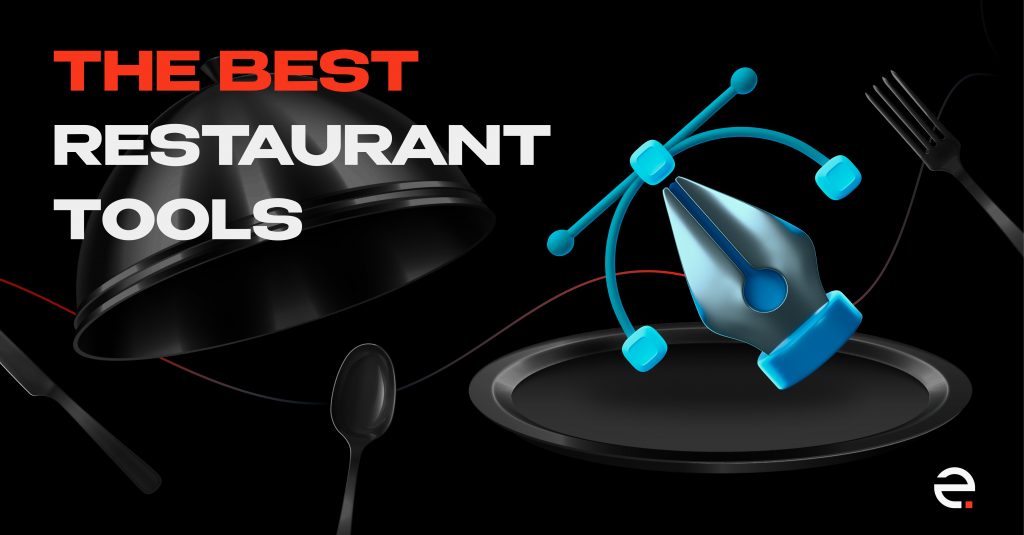 Guests are always looking for new and interesting food experiences. Restaurant management presents various challenges, from operational efficiency to overall visitor satisfaction. However, with the right software in place, any issues may be easily solved! It helps maintain an accurate count of all the items in stock, manage orders or menu expenses. Plus, such systems usually sync with or are built into point-of-sale systems to make sure there are no mistakes or missing information about what has just been sold.
Moreover, eating establishment owners have to deal with additional – equally important! – aspects simultaneously like staff scheduling or strategy planning. The newest apps and platforms have changed the way entrepreneurs run modern business, and HoReCa is no exception!
Most places have a few things in common they rely on for their longevity: delicious meals, amazing service, and well-built internal organization. That's where great software comes in handy and totally transforms the current situation, bringing never-seen-before results: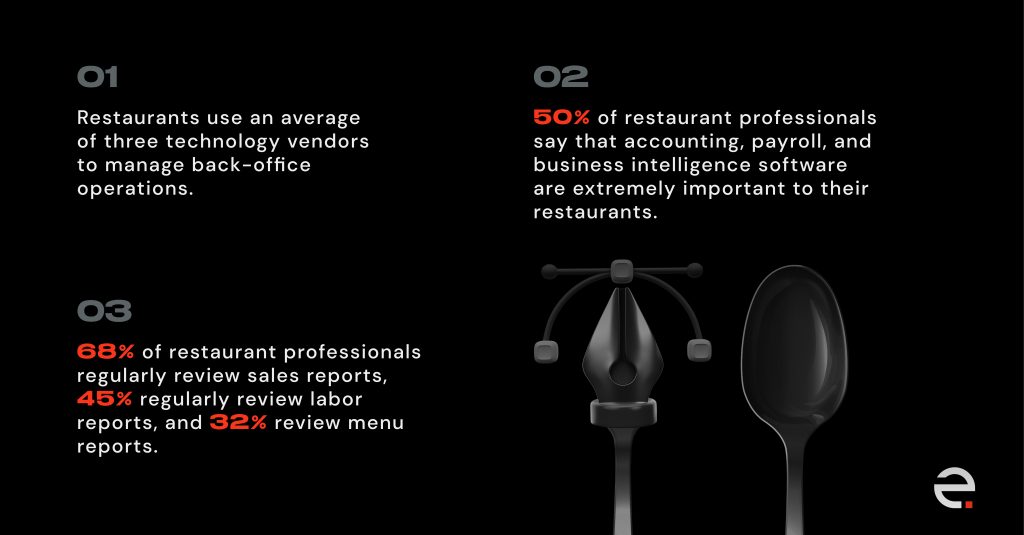 With the rise of the hi-tech industry, HoReCa establishments started implementing SaaS, too, to stay competitive. New cafes and diners continue popping up all over the world, and it's essential that restaurateurs get access to effective tools. Software-as-a-service is quickly becoming the industry standard, gradually replacing conventional point-of-sale terminals or old-fashioned accounting tools.
In this article, we talk about the advantages of restaurant SaaS and show examples of how modern companies are ready to respond to market demands and offer an optimization plan to drive sales and attract new visitors.
Advantages Of Restaurant SaaS
In general, such software definitely offers a higher level of client financial data security, including full transaction encryption. Moreover, they also allow employees to access information safely and remotely, making them a must-have in today's world.
It is not necessary to have multiple tools for different purposes i.e. scheduling, analytics, and cooperation with vendors. Now it is possible to avoid having too many browser tabs or numerous spreadsheets with countless tables. Such solutions combine all these features into a single user-friendly dashboard, accessible via smartphone from any location!
Companies who need to store large amounts of data securely may do so by choosing a SaaS with a remote cloud server instead of in-house physical ones. Sometimes they potentially fail/ lead to the loss of valuable information.
SaaS is always backed up to cloud servers which means data is accessible from anywhere and stored securely with no hassles for your company's IT department! Businesses also rely on security regulations with deterrents against hackers trying to steal clients' information. Other advantages include:
Lower Maintenance Costs
For instance, if an antiquated POS crashes, starts showing errors or simply slows down during its use (we do not mention cocktail spills!), it may be costly to fix it; sometimes, technicians are only available after-hours. In addition, provider companies usually charge upfront for all the equipment and regularly deal with licensing fees (as a rule, annual ones), so these mandatory payments should be added to the overall cost of further POS maintenance.
SaaS platforms play by completely different rules. They propose affordable monthly hosting fees, plus the license fee is typically much lower. They do not require any special hardware, so even iPads or Android tablets are suitable.
Tiny startups would be able to start serving customers right away, not waiting for additional special equipment. Not to mention that iPads are repaired by hundreds of companies and technicians nearby at much affordable price compared to what companies spend on the repair of regular hardware.
estimate your MVP solution for free
Shorter Training Period
Cloud-based solutions are an efficient way for eating establishments to remain competitive in terms of employee training. Not only do they have a smaller learning period, but many workers already now know how similar types of applications work – there are SaaS products in social networking, healthtech, banking, etc., everyone deals with on a daily basis. It eliminates any potential technology gaps that may exist with older traditional software.
Moreover, the operations part usually has a lot of similarities with common timekeeping or kitchen stock control software many restaurateurs already know.
Easy Updates
Just download the updated version when it's time to do so, even after the closing time! Such solutions optimize processes faster, give more flexibility to quickly change the menu, rethink table arrangement without buying additional hardware or changing electrical wiring.
Greater Control Over Inventory
Plus, adding ingredients, tracking the remaining ingredients for each dish, and more (also works for beverages, so chances something mysteriously disappeared get lower).
Custom Installation
Smaller places achieve more from subscribing to a specific service with custom hardware. The great thing about this variant is that it may be utilized even in a small coffee shop or a sandwich bar without having to purchase all the typical equipment, terminals, etc., necessary for running an entire "big" business.
Newbies or family businesses just don't have to invest heavily upfront when they're just starting. They only pay for what their current situation requires (aka iPad+software! No useless scanners).
Time Optimization
Such applications solve problems related to the kitchen/waiting staff's worktime efficiency, so they could process their tasks more quickly. A flexible and time-efficient system will eliminate the need for personnel to visit various areas when placing guest orders.
All orders are gathered in one place, and they are sent to separate terminals right away to start the preparation of the main course, starters, cocktails. It easily integrates with an ecosystem and can be opened on a personal smartphone or iPad – perfect for an owner living abroad or a chef frequently traveling abroad.
Suitable for ghost kitchens
Dark kitchens (also known as virtual or ghost kitchens) sell meals through delivery only, not serving tables, so there is no need to utilize on-premises POS terminals. Such SaaS help dark kitchens avoid unnecessary fees and reduce operational expenses while still providing excellent service.
Apps for restaurant management and inventory tracking
The industry experienced positive changes after the global lockdown in 2020. Some business models are now transformed into more effective ones; many places get their own restaurant apps and websites, finally carry out online ordering and collaborate with partners to boost their traffic. Why get back to "old normal" if there are much more effective instruments around?
The right restaurant management app is a key to productivity improvement. It streamlines processes or even combines them in one platform that helps managers track various tasks simultaneously. Let's dive into the topic and see what types of SaaS are available for restaurateurs.
SaaS POS, cloud-based management systems
When it comes to technology, restaurant managers are constantly seeking ways not only to increase effectiveness but also cut unnecessary expenses; old point-of-sale systems and bulky hardware are among wasteful spending.
That's why SaaS point-of-sale systems – which we have already mentioned above – are becoming more and more popular in the restaurant and retail industries. Restaurants do not have to pay for separate hardware, its licensing and support; they just use iPad or Android instead and pay a pretty affordable monthly fee, receiving regular software updates.
Such a great level of simplicity and flexibility allows small businesses to open faster and manage costs more effectively. It is subscription-based, so restaurateurs pay monthly, quarterly, or annually.
Posist partners with eating establishments to help them improve guest satisfaction. Their unified point-of-sale system gives an ability to accept orders from multiple channels directly in the POS, it has multilingual support, a convenient feature for international teams.
Marketing managers and owners see sales results through comprehensive analytics in the cockpit app. The POS system also allows tracking the delivery status and team performance, plus optimizing table turnaround time: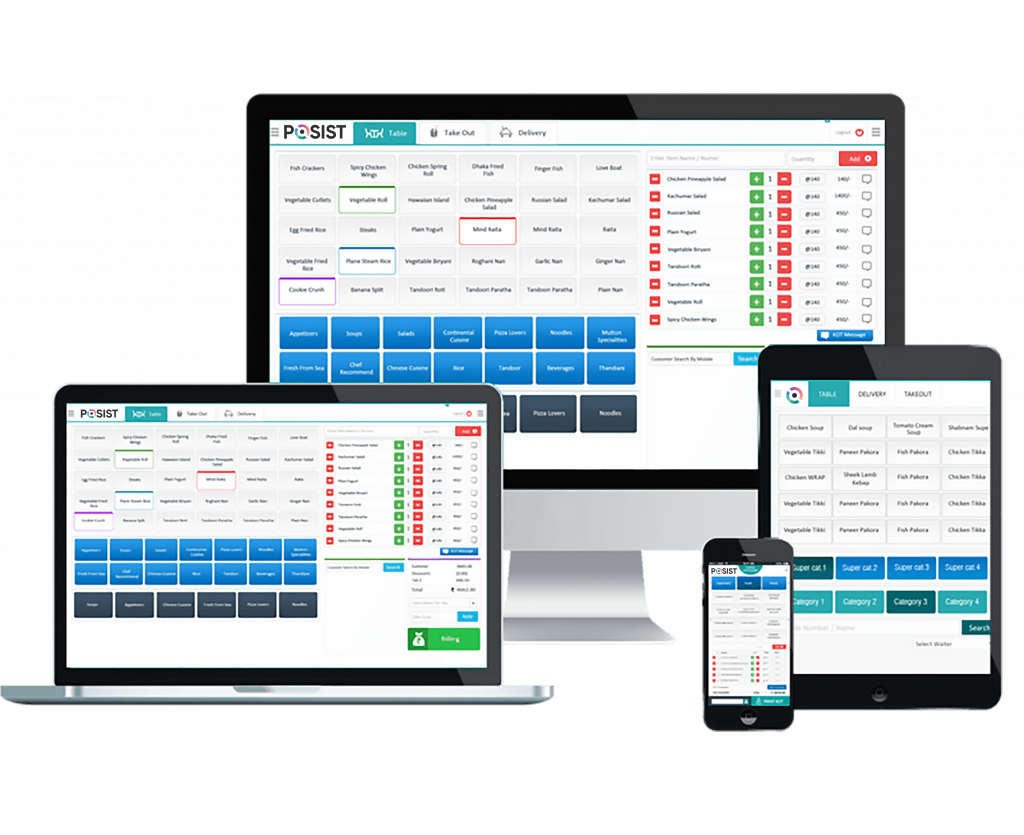 Lightspeed provides cloud-based POS management software for retailers and restaurants, allowing waiters to immediately take orders directly from iPad and letting clients pay their bills using a preferred contactless payment option: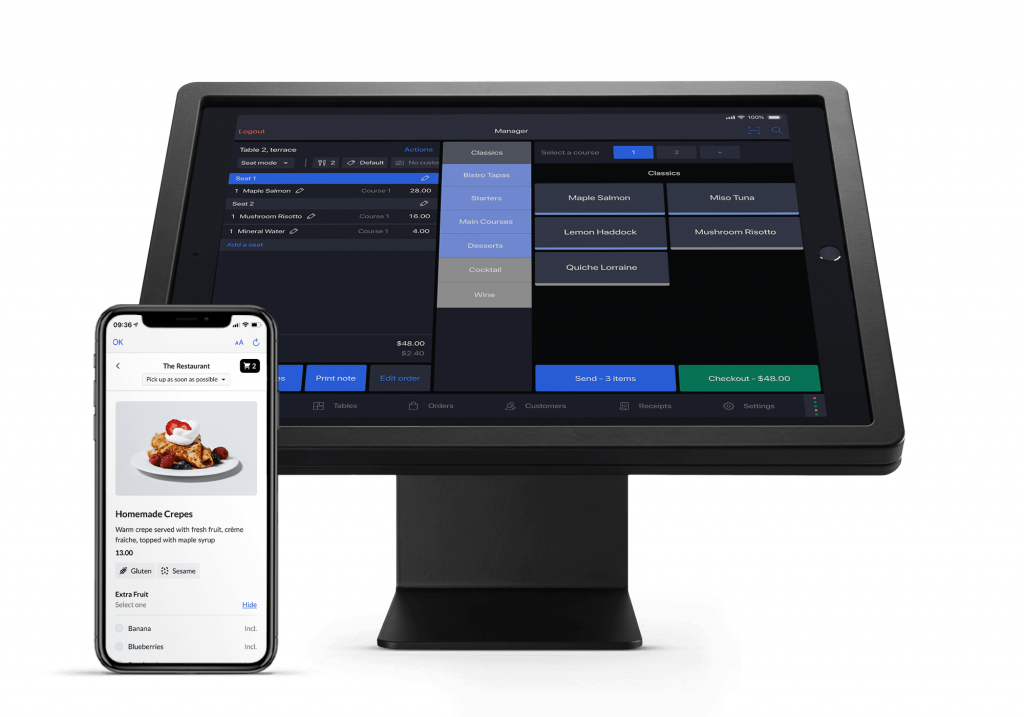 Foodics is a user-friendly all-in-one point-of-sale and restaurant management solution which allows the creation of a data-driven culture within the eating establishment. Customizable features like intelligent reports, analytics, CRM cater to the specific cafe requirements:
Revel System provides cloud-based POS for eating establishments that include front-end order entry and payment processing. There are also features to help with administrative tasks like scheduling or reporting: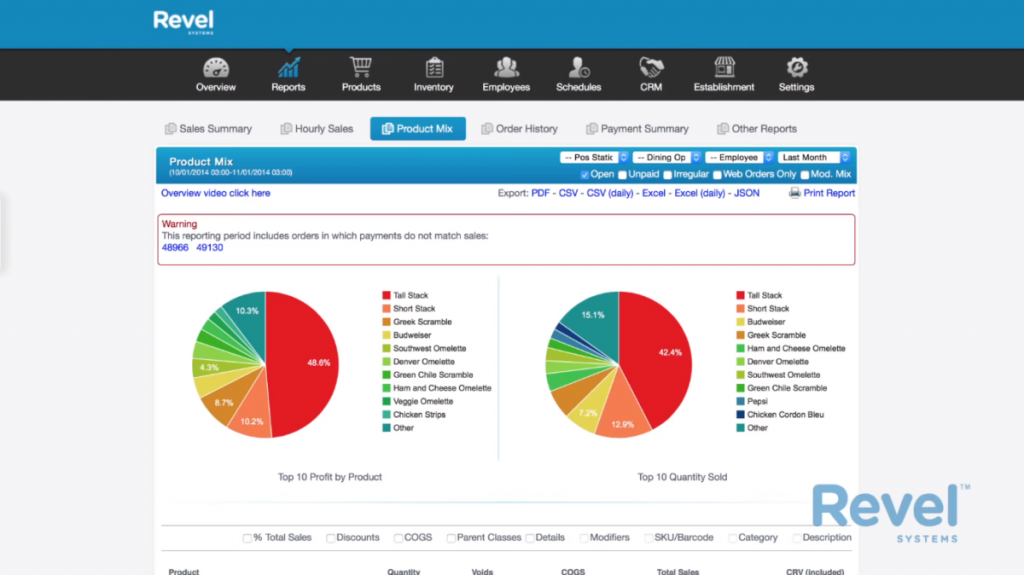 Free consultation with a business analyst
Accounting
Every business has to deal with administrative tasks, bookkeeping, and so on. HoReCa is no exception, and the SaaS market is ready to offer intuitive, easy-to-use, and effective instruments for accounting and bookkeeping.
FreshBooks is a cloud-based accounting solution that allows business owners to manage books away from their computers and make choices based on insights. Through FreshBooks, users create invoices and reports, accept online payments, track prepayments, overpayments, and credit notes, track expenses, and more. There is an ability to send invitations to up to 10 accountant team members.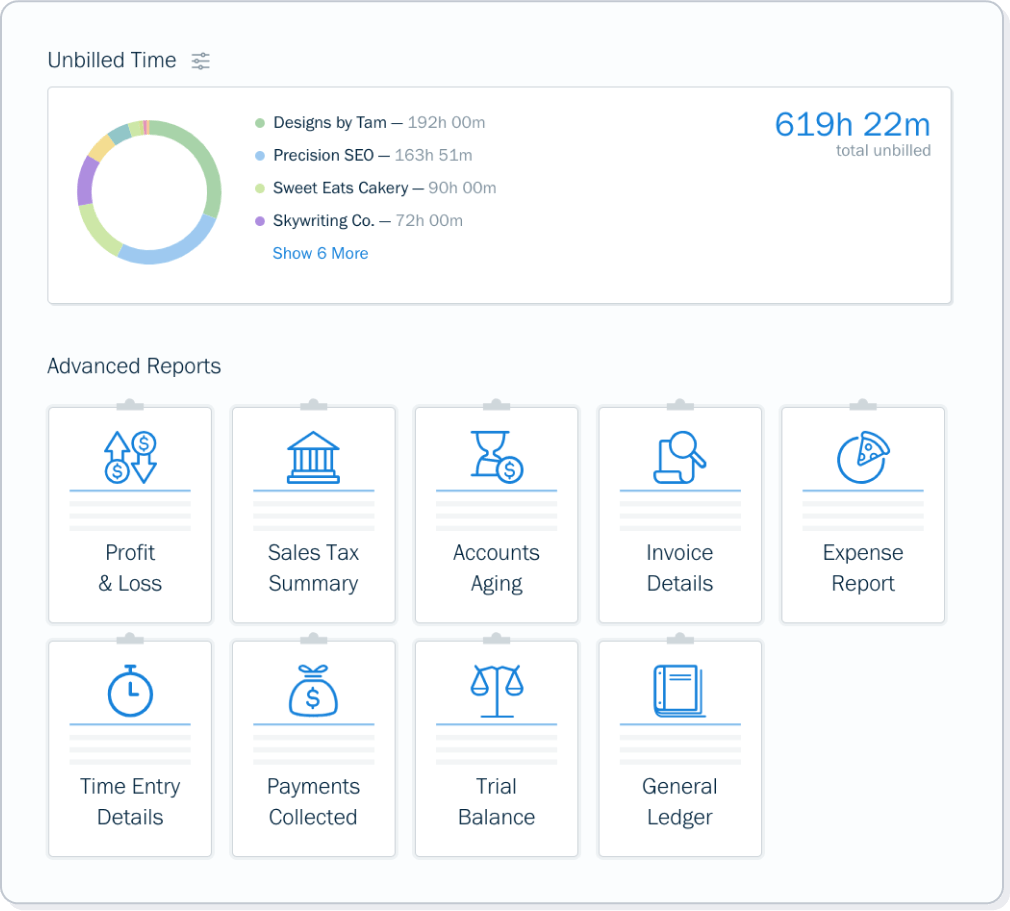 Orderly is a food cost management solution which also helps users with invoicing and accounting. Instead of entering invoice and sales data into spreadsheets to calculate profitability each month, users get an overview of food spending, sales, purchases, and cost of sold items on one dashboard on a weekly basis: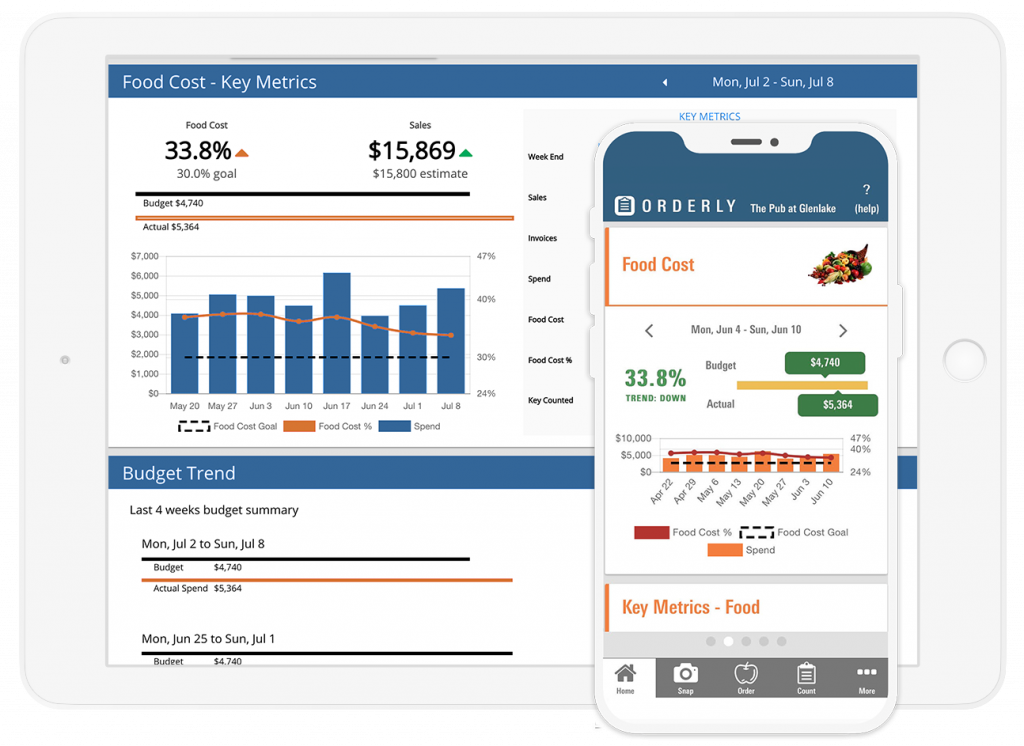 Personnel scheduling
A good cloud-based scheduling application has lots of benefits both for managers and staff. What are the requirements? It is easily accessible anytime, anywhere on all devices, or there is a user-friendly app where workers check upcoming shifts. There are great tools for analytics and forecasting. It all significantly simplifies the daily scheduling routine.
A good example is 7shifts, specifically designed for restaurateurs to manage work schedules, labor compliance, and engagement.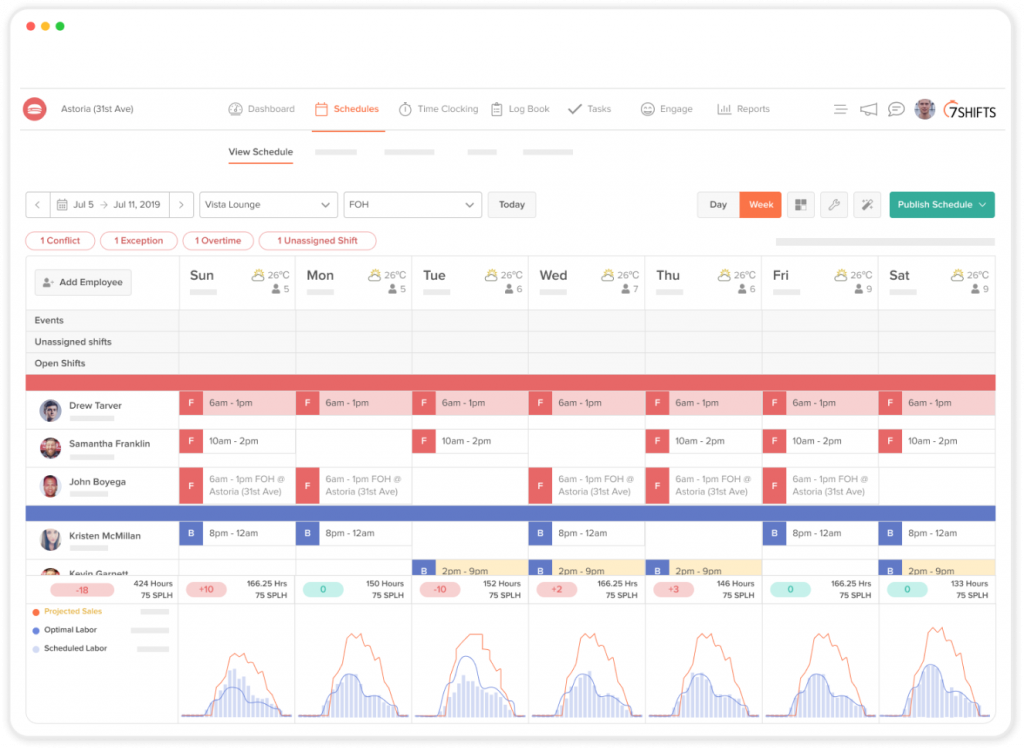 7shifts simplifies schedule creation and modification. It has a native mobile app, so workers clock in anywhere, and managers approve schedule requests on the go. Other features include in-app messaging, notifications, and integrations with payroll programs. 7shifts also has comprehensive analytics with forecasting features for better performance understanding.
Humanity is a smart shift scheduling tool which offers an ability to create error-free, dynamic schedules for company's workers by location, department, position.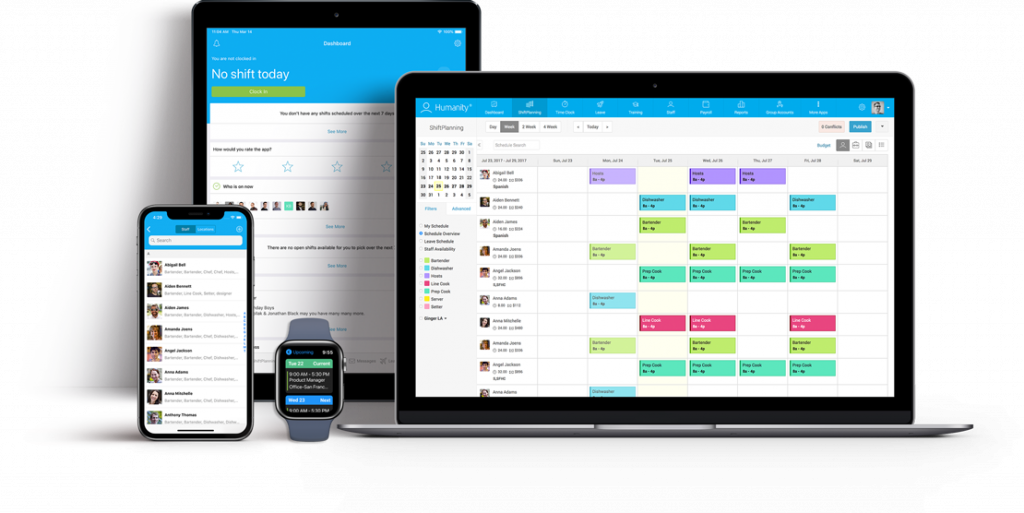 Online ordering
A good example in this category is UrbanPiper with an affordable subscription fee. It allows food businesses to manage online ordering through centralized dashboards i.e. from Swiggy, Zomato, UberEats or others, straight from existing POS. Users update the menu, pricing, stock across all outlets etc.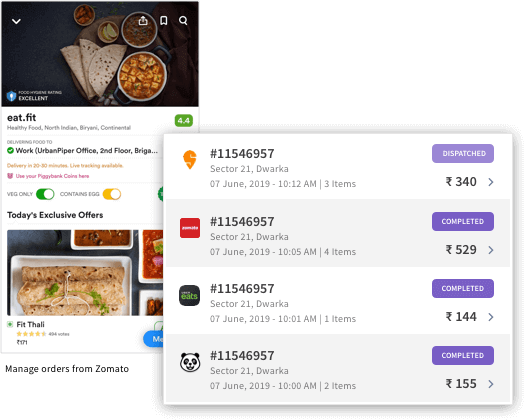 Marketing and analytics
Proper market research and sales analysis help HoReCa market participants build a stronger marketing strategy. Let's look at an app for restaurants that helps them stay ahead of the critics and competitors.
Punchh is a mobile CRM platform and loyalty software. Joining the efforts of smartphones and social media, it helps to drive and measure visits, track and analyze word of mouth and referrals. If visitors recommend a place to their friends, they get special offers or coupons. The platform integrates with POS and third-party apps: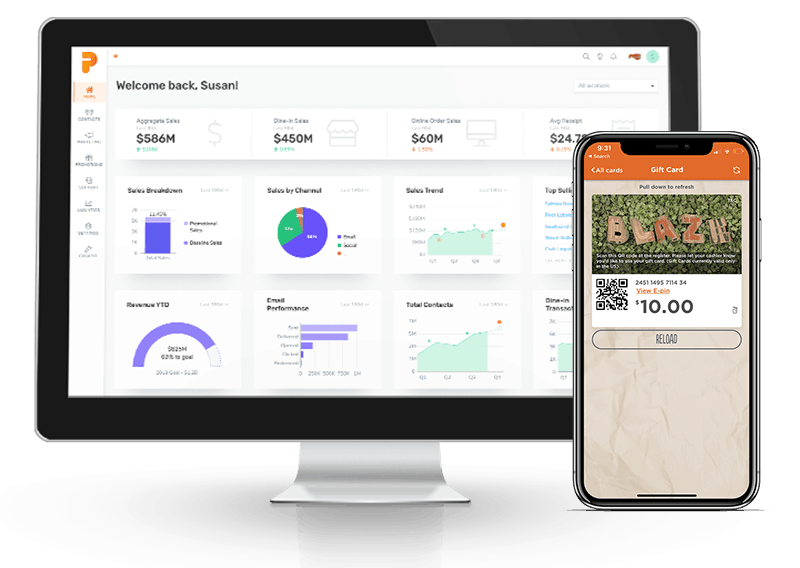 Inventory management
One more vital component of eating establishment administration is inventory management (IM). The main purpose here is to constantly measure the number of products your restaurant uses over time, compare it to your sales, and explore the gap between the cost of production and sales.
Proper IM is vital for reducing the wastage of resources: according to statistics, up to 20% of products ordered by kitchens end up in the trash. If forecasts are wrong, purchase orders may be inaccurate; as a result, businesses waste time and money. Here are cloud-based systems for effortless IM!
Toast is one of the most popular cloud-based restaurant management and POS solutions. Being a multipurpose product, Toast could have been featured in all the listed categories, but we place it here as an example of an excellent restaurant kitchen stock control software.
For instance, Toast automatically synchronizes and quickly updates info when dishes are sold. If needed, there is an ability to form and study inventory reports, including COGS and waste tracking.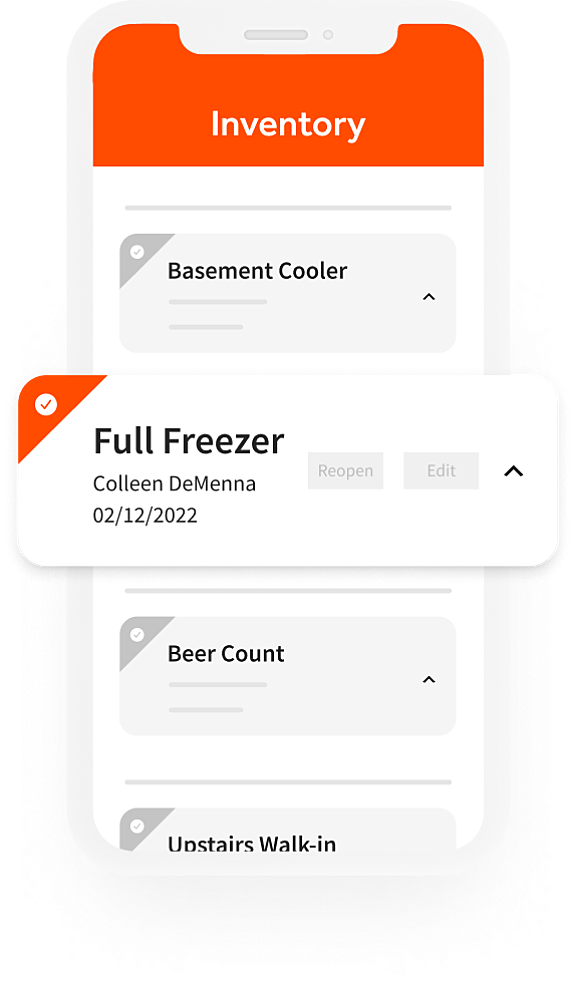 Toast may become a great option to cover all needs as it also enables its users to monitor tableside and online orders, work with a restaurant menu, track payment processing, improve email marketing and loyalty programs, and more!
No doubt, Upserve is a multipurpose runner-up: it is not far behind its opponent, Toast, and is available in AppStore and Google Play Market.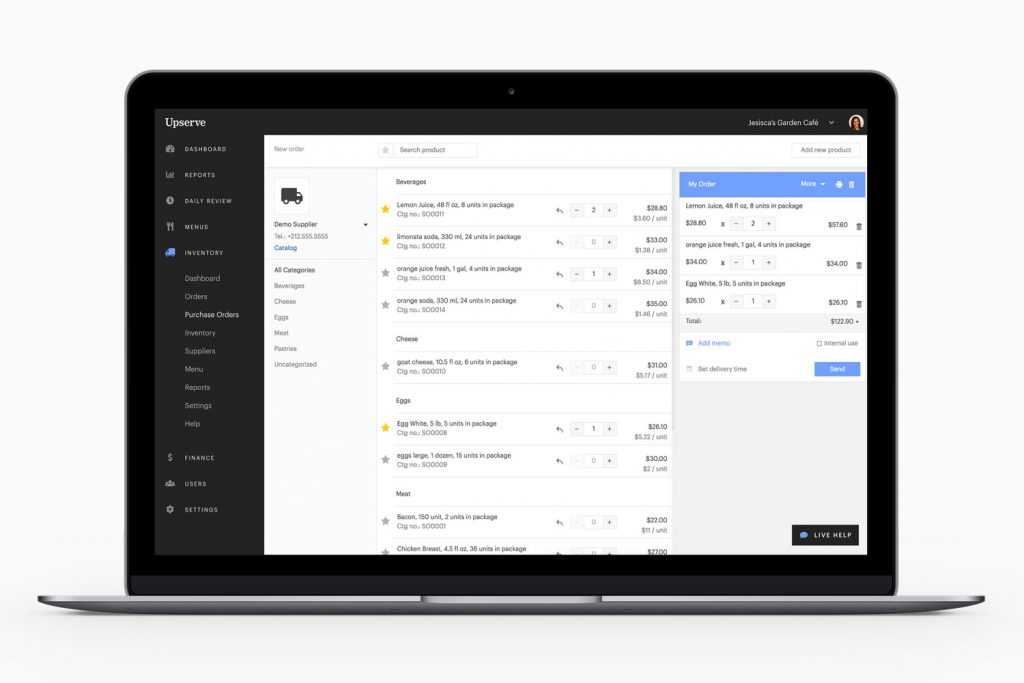 Its main features include automatic inventory deductions and replenishments, one-click purchasing, plus recipe costing. In-app barcode scanner allows users to receive everything faster. Supports third-party integrations.
BlueCart is an all-in-one IM platform. It enables restaurants, which order inventory from multiple suppliers, to do it in one click, easily check in all arrived items, return damaged products and more: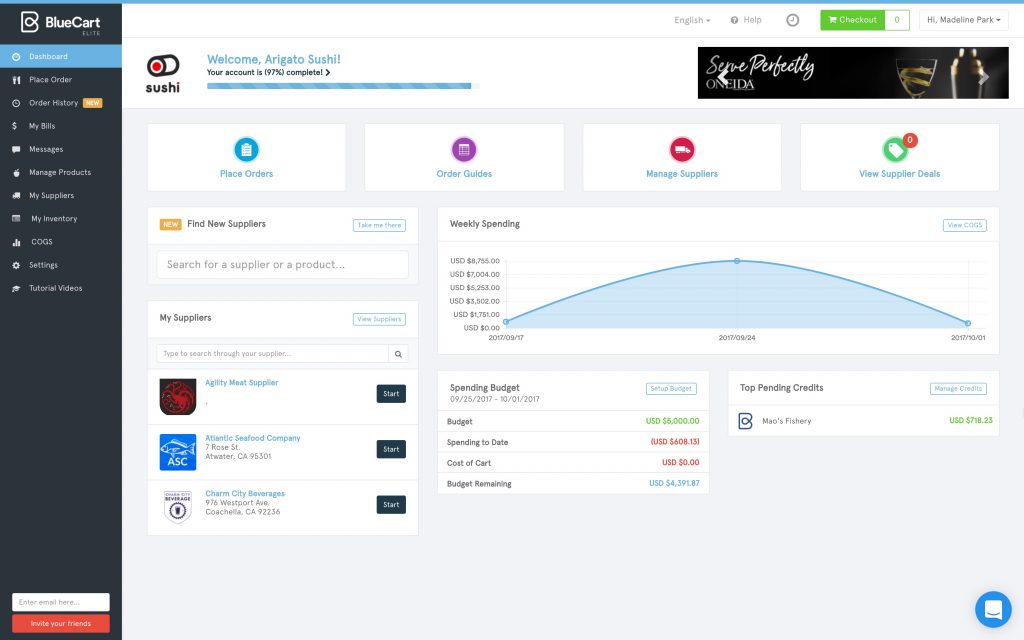 BinWise is BlueCart's separate platform designed by sommeliers. Suites for beverages IM i.e. wine, beer, or liquor, and covers inventory, procurement, invoicing, and fulfillment: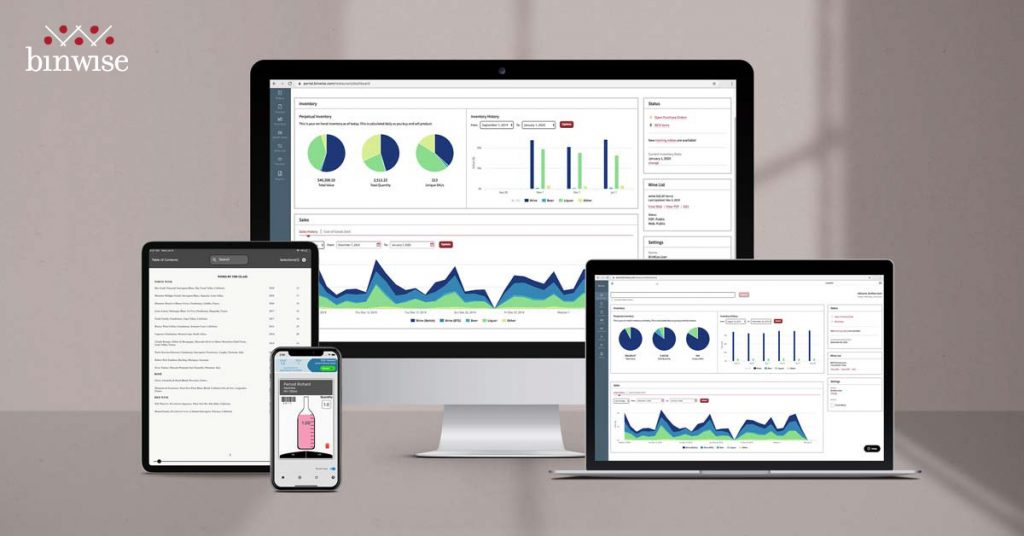 BevSpot lets users order and track inventory as well as analyze reports faster from any device. Suits for both food and beverages. Price Tracker allows users to see price changes, Bottle Slider is used for quick inventory counting, there are tools to even decrease the number of sitting products:
Conclusion
We all used to buy regular software, pay for a license, and install it on a personal computer. Now SaaS is widely used on a subscription basis and as long as it's needed, this is not a lifetime purchase.
Many small companies wanted to use expensive popular software, but they did not have system administrators to keep it running and someone to maintain all processes. In the SaaS model, these tasks are taken over by the service provider, and all steps are so easy to comprehend even by a beginner. Many small HoReCa businesses are finally able to open their doors, paying a small amount every month even though they are still dealing with a lot of difficulties, from inflation or continuing Covid restrictions to rising competition. But SaaS solutions have definitely given them numerous benefits, both financial and strategic.
For instance, traditional point-of-sale systems require expensive licenses, while SaaS suggests monthly fees. Applications for restaurants may run on regular tablets, so owners do not have to spend money on additional hardware and are all backed up to a remote cloud server, allowing convenient remote data storage while also keeping it secure. Moreover, updates are typically free and frequent. There is an ability to test out the software before buying it as most companies usually offer a free trial period.
The market is still demanding apps that streamline processes at all levels. Website and application development agencies constantly help startups introduce brilliant ideas into the world. There are a lot of options to choose from in each category: apps for restaurant owners, tools for better inventory tracking so ingredients are always in stock, sales analysis to plan an effective marketing strategy, staff shift planning, restaurant menu app creation, kitchen management software, and so on.
If you are looking for a trustworthy iOS or Android app development services provider to transform your idea into a profitable and useful project, contact us now, so we could estimate your project! Let's build a solution loved by restaurateurs around the globe!
Add professionals to your team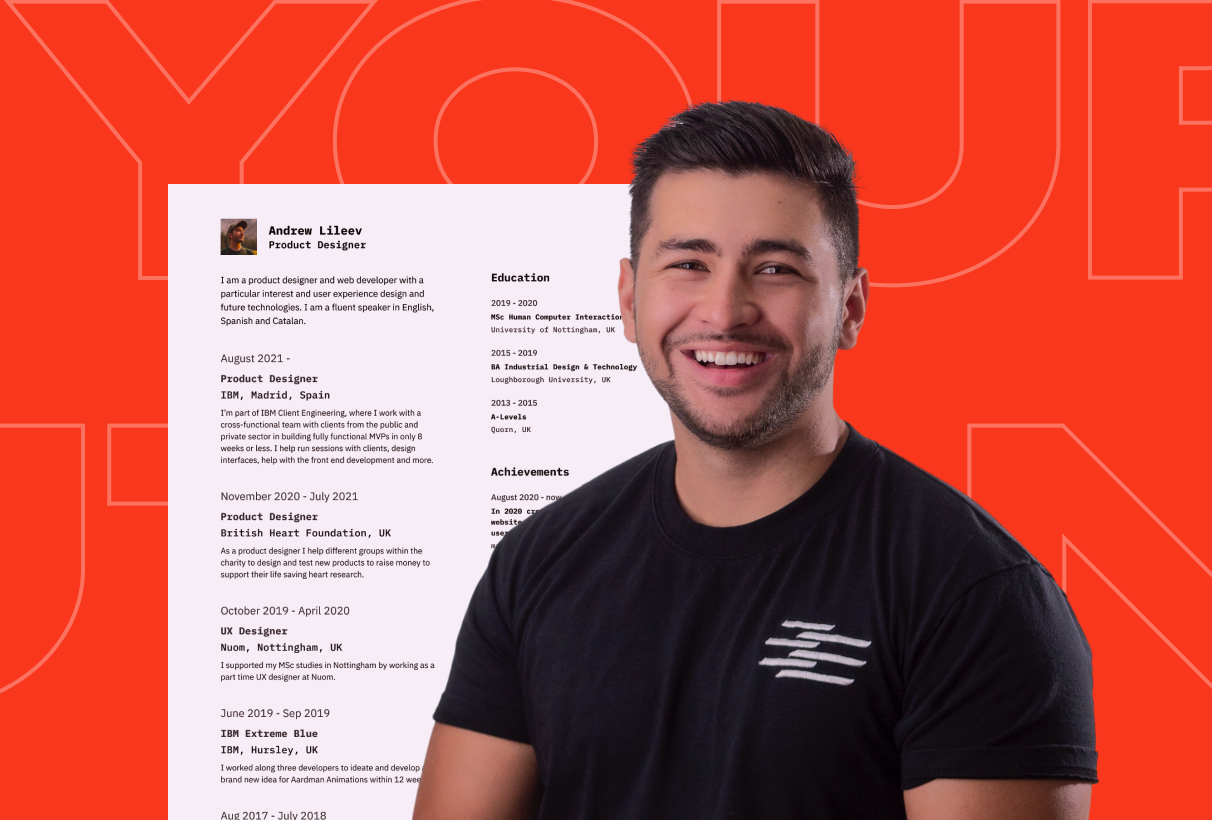 Follow us!
Interested in our monthly newsletter? Get the insights, updates and discounts right into your inbox only once a month.