Ein-des-ein blog
What is a Learning Management System (LMS)?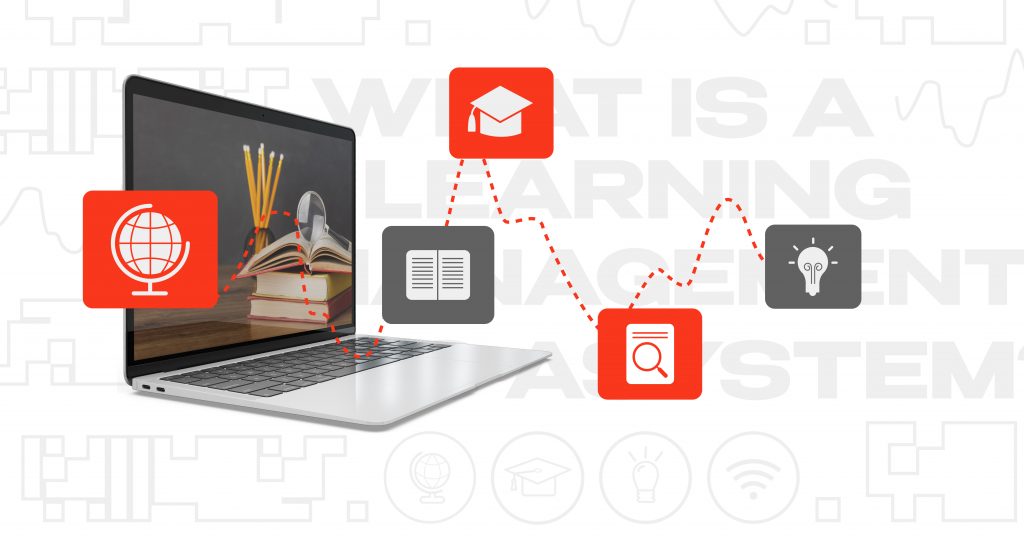 The digital transformation has caused a revolution in how we work, communicate and learn. Organizations must continue to adapt modern solutions when it comes to employee training: the team's performance directly affects the company's success. Moreover, any educational initiative may fail without an effective e-learning instruments implementation. LMS once transformed into a key to effective learning anytime, anywhere. Although this sector was pretty big even before the Covid-19 pandemic happened, the global lockdown and further restrictions for students and employees greatly influenced its booming growth. Many of us had to stay at home and continue our education, while enterprises had to simplify new workers onboarding, staff training etc.
Now, LMS is an essential instrument not only for big organizations, but also for various educational institutions.
Speaking about specific numbers, the popularity of LMS continues to grow: the market is expected to grow at a CAGR of 20.5% and reach $28.1 billion by 2025. Furthermore, 77% of higher education faculty agree such system is critical to their teaching. 73% believe it is a vital tool to enhance student learning.
If you are willing to build a comfortable environment for constant learning in your office, as well as focus on improving employee performance and customer satisfaction through innovative technology tools — our article will become an additional reason for implementing an LMS.
Learning Management System: Overview
LMS is an e-learning solution that allows companies and educational institutions to create, plan and implement e-learning programs, while also facilitating the entire process for instructors by tracking student progress and analyzing data quickly and effectively. They have become affordable alternatives that offer scalable and unique instruments for learning.
It is an integral part of any organization that wants employees to boost their skills in a more convenient way.
It can become a centralized content storage with an ability to assign courses to e-learners, which also allows to:
track, monitor, and analyze the performance;
create and plan various training types and formats i.e. group classes, webinars, discussion boards, quizzes, personal face-to-face lessons etc.
greatly reduce related costs for both sides.
Educational apps experienced a booming 90% growth in weekly downloads between Q4 2019 and Q1 2020 globally, and Google Classroom app took a golden medal in this race (+580% vs weekly average in Jan 2020!) in the USA. Remind: Safe Classroom Communication and ClassDojo were two other leading options for teachers and parents. In March 2020 Google Classroom came in fourth among all non-gaming apps by downloads: Zoom was an apparent leader at that time, allowing many firms to stay alive during the global lockdown. Flipgrid educational platform also experienced a huge growth in Q1 2020.
When it comes to current major players on the market, Google Classroom still remains the most efficient free tool for many educational institutions (150 million GC users worldwide). The platform enables pupils to join a class with their private "class code" or be imported automatically right from school domains to participate in this interactive, digital learning environment. With one central platform for managing assignments and file exchange between teachers and students it's easier to optimize the workflow than ever before.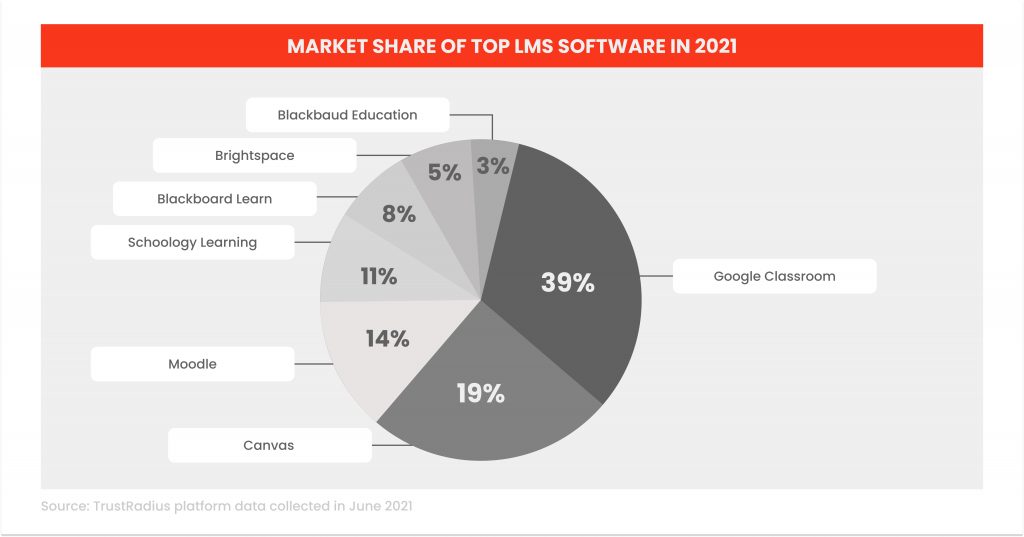 LMS becomes a solution for many cases. Employee onboarding and further training is easily conducted and simplified, thanks to up-to-date progress statistics and recent data analysis. Moreover, a lot of manual tasks may be automated too.
No matter what industry the corporation is working in, the platform is usually easily customizable, so the materials are simply adapted i.e. if it is a training for an IT sales team, a tutorial for merchandisers or a program for trainees. LMS can be implemented by:
Various firms of different sizes, including non-profit ones;
Educational institutions, including schools, colleges and universities worldwide;
Government projects;
Private tuition centers.
It is also utilized to ensure employees have the appropriate knowledge and skills for their positions. This software can also be customized with various features to easily adapt the database depending on the company's goals and strategy. With modern LMS, you choose from many corporate options to meet your needs:
Training for newbies
The use of onboarding programs has become increasingly popular in recent years to help new workers learn about company culture and policies. These platforms also track trainees' current progress and what information is learned more easily, where are the knowledge gaps, how long each task takes under ideal conditions; this data will allow managers to make better decisions on future training improvements as it is based on real results.
Information for partners
Partner training is a great way to ensure counterparties effectively cooperate with your firm while receiving the most out of their deals with you too. Providing all the information about your products and services along with courses and presentations, you'll have an opportunity to constantly perfect the database, adapt it depending on the partner, plus get more time for other important issues like growing sales and refining customer service.
Important details for suppliers
The supplier program allows you to establish more productive relationships with suppliers as they would be able to receive clear requirements, learn more about product specification and quality standards, effectively improving the quality of your services or products.
The development of employees
It is used for assigning courses, monitoring progress as well as informing them about product improvements, compliance regulations updates, technology changes or other important details that may directly affect the company's overall results.
Moreover, it is a powerful tool for empowering sales teams and ensuring managers have all necessary knowledge needed for excellent results.
A necessity for remote workers
With the obvious rise of remote working, especially after the pandemic and continuing occasional lockdowns, distance learning solutions became a necessity for almost all big organizations and their remote workers. LMS allows to have standardized databases ready to be checked anytime anywhere without HR managers' or team leaders' constant involvement.
LMS benefits
They have been a huge asset to big organizations in recent years, especially with their impressive business benefits. The main advantages include:
A single source for all your e-learning needs
Instead of having your educational material chaotically spread out over various hard drives, the content is organized in a single location. It makes it easy to go and find any resource, whether it is a presentation, a product specification or a video tutorial. Plus, you don't have to worry about remembering which resource was last updated.
Automation of the learning process
They are a crucial component of any modern educational environment. Now they allow institutions to run the educational process smoothly without time-consuming manual tasks which can be easily automated. The overall workflow gets a significant streamlining through the automation of scoring, notifications, scheduling, newbies enrollment etc.
Cost control and improved time management
There would be more additional benefits for remote specialists and lecturers. No more traveling to a different city just for training: such LMS has everything from online courses to instructor-led live events all in one place with no limitations on where they'll be held or who is able to participate. The knowledge would be available 24/7 from any time zone for any type of the worker's device. Moreover, the costs from the company side would also be reduced as there would be no need for additional rental payments, lecturer's transportation expenses, and printed documents.
Types of Learning Management Systems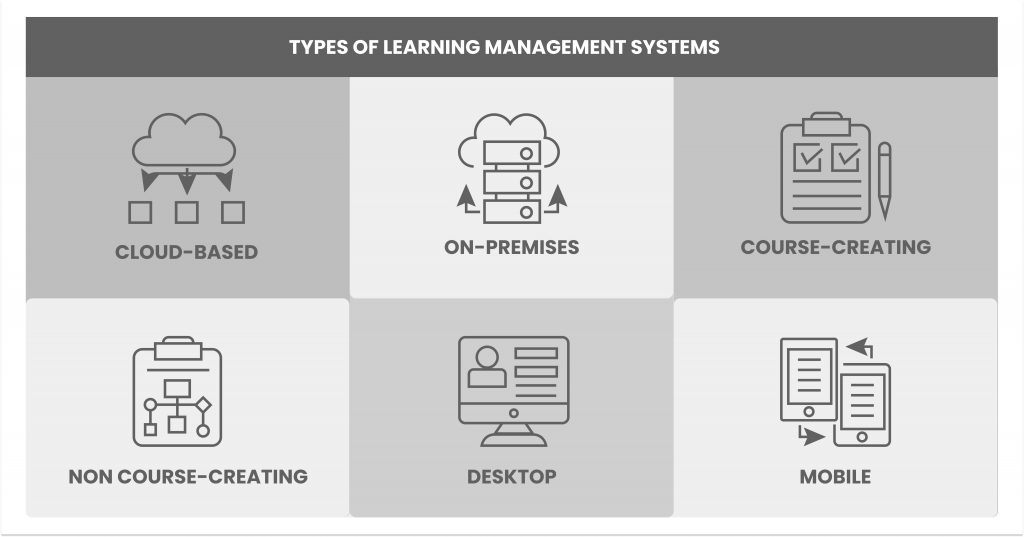 There is a wide array of LMS to choose from, and each has its own distinct advantages depending on what you look for. We have divided them into a few main groups:
Cloud-based LMS
A convenient SaaS solution hosted on the remote vendor servers. It is a great option for companies that want to focus on their tasks without worrying about the software maintenance. In this case the vendor takes care of the hosting and other details, so if you have a small IT dept or do not have it at all, you wouldn't need to deal with any kind of troubleshooting by yourself. The advantages of this option are its accessibility, the learner just needs a proper Internet connection. Moreover, it would be easily adjusted to your growing team in the future if it is required.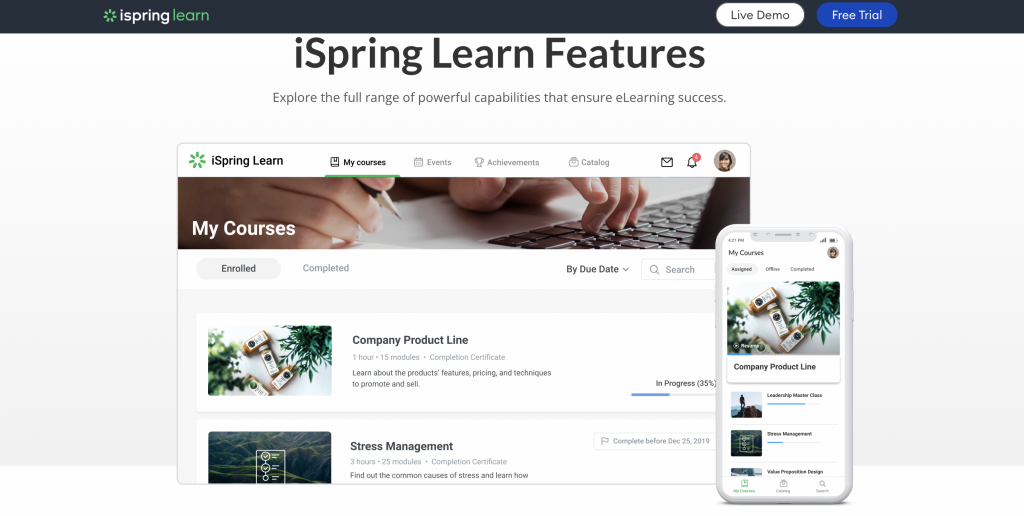 On-premise LMS
They may seem a more complicated variant, but they definitely have their own indisputable advantages. They are usually more customizable with great additional features for the enhanced efficiency of the e-learning process. If you have in-house IT specialists who help with installing and maintaining the software afterwards, then there's no better way than doing so. You are able to greatly change and adapt the platform to your organization's needs, picking up only specific functions as well as eliminating the useless ones (so you do not have to pay for them eventually). The company's own servers are utilized in this case.
Desktop LMS
Software that is basically installed on any computer, and some of them may be opened even if it's not connected to the Internet (unlike the cloud-based one). This means trainees have access to the material when they're offline too. Others can still be accessed from a few personal computers, so users could do tasks in a group or compete with each other if the platform's functions let them do it.
Mobile LMS
Provide a convenient way for students and employees to watch e-learning materials from their mobile devices anytime anywhere! While small startups come up with applications only, some giants like TalentLMS offer mobile versions of their desktop products: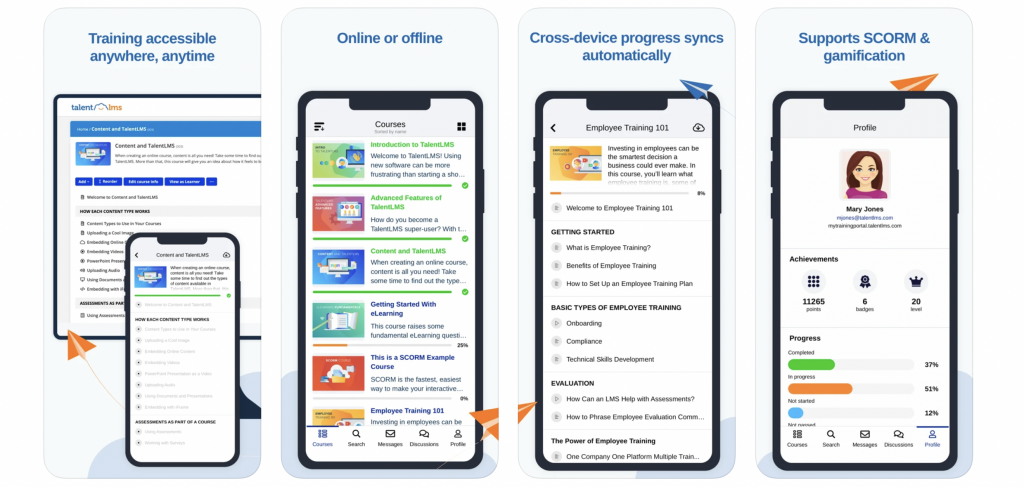 Non course-creating LMS
They allow to keep all the pre-made material in one place and assign it to users. They cannot be utilized for creating courses, but they do allow you to effectively manage users.
Course-creating LMS
Such systems actually allow teachers (or responsible managers) to create DIY courses, providing them with a lot of instruments for it i.e. adding quizzes and additional files, creating profiles, managing text content, assigning different roles etc. A good example is Vedamo: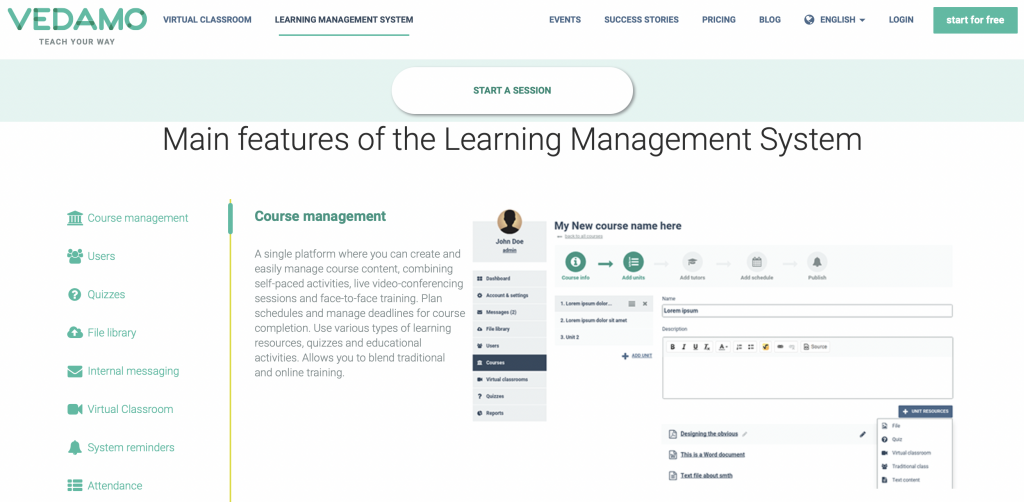 Top LMS features
Content editing
An internal editing instrument gives authors an opportunity to create and edit all the content effortlessly. Usually it should contain a convenient text module (with an ability to change its size, color, font) as well as image or video modules, an ability to add attachments or links etc. Some of them even give authors the access to extra features like maps or an interactive board.
Role-based assignment
It is used for assigning the right courses to particular specialists: a sales manager, a recruiter, a trainee etc. This ensures that only those with appropriate skills will be able to access the relevant material to exclude any potential confusion between specialists.
Testing and assessment
Knowledge gaps can be spotted by implementing testing options. LMS assessment instruments may include a bunch of different question types. Multiple choice answers or yes/no questions are here to quickly assess what has been learned and remembered correctly. An open-response questions are also possible for those who plan to have discussions on topics they're studying at the moment. Add a bit of fun by giving the opportunity to create quizzes and polls, so the process would be more interactive and engaging.
Gamification
The implementation of gamification elements is a great way to engage learners and keep their interest. The use of such mechanics greatly improves educational results. According to Capterra's survey, the most popular gamification features for respondents were points (85%), progress bars (78%), and levels (76%). Choose among achievement points, leaderboards for acquiring new skills, special rewards and other options to motivate your team.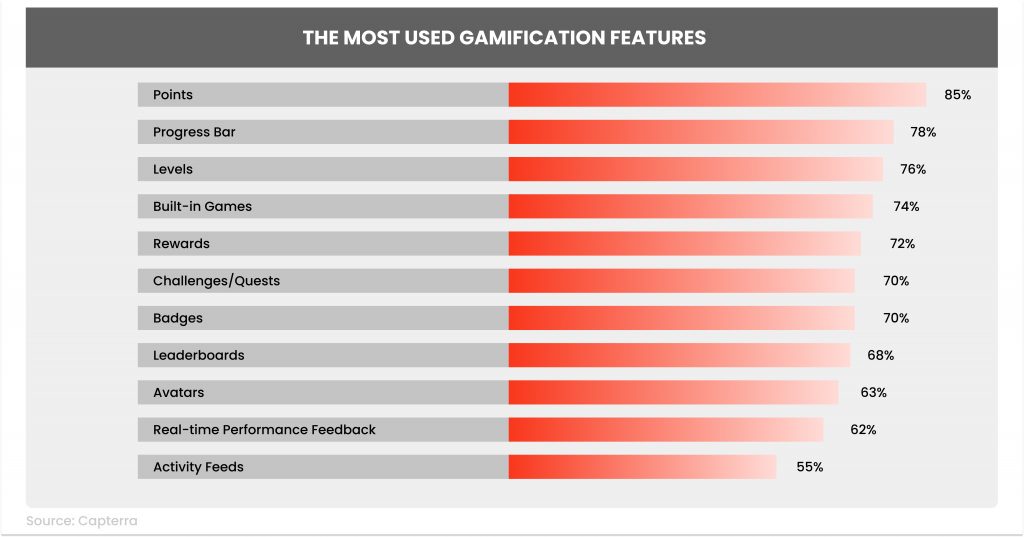 Integration with other software
With an LMS that easily integrates with other services (i.e. talent departments' preferred software), HR specialists and team managers are provided with more detailed information about learners and their performance. This may directly affect their decision regarding the salary level changes, bonuses etc. Moreover, such integration availability helps to analyze the material effectiveness and improve it.
AI-based recommendations
The future is here for those who want to get a more personalized education. With Artificial Intelligence based technology, users are able to receive personal recommendations on courses and get specific content types for a specialist's needs.
Smart analytics
With convenient analytical options, managers would be able to better track trainees' engagement with material, individual and group test results, overall progress, various timings (to finish a test etc.). Some results may be shown for all participants i.e. the leaderboard, while other personal metrics may be automatically summarized in reports (visible for a student or a lecturer).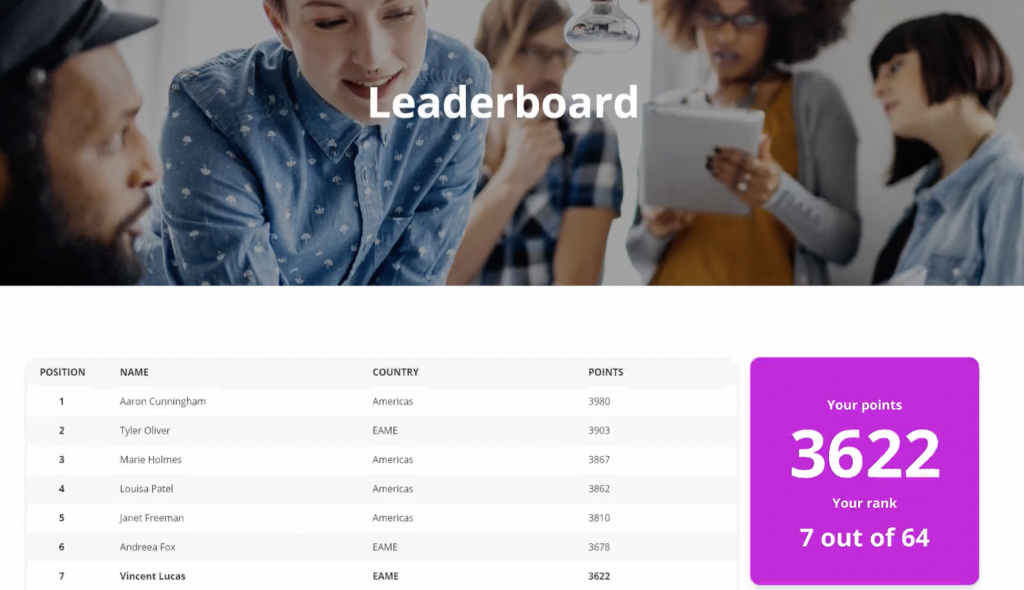 Notifications
With up-to-date notifications lecturers would be able to keep up with their group members' results. While learners would not miss any important deadlines or the start of live events/tests etc.
VR features
The immersive and interactive nature of virtual reality has made it a popular tool for training too. Not only does it allow people to train skills in areas like surgical manipulations, but also more common soft skills such as public speaking can be improved too! By the way, we have already talked about amazing VR-based medical training solutions in this article!
Social interaction
No doubt, the interaction with other participants is a key to better material comprehension. Give users an opportunity to share their experience and help their classmates by implementing comment sections, forums and also an ability to rank/give feedback on provided learning materials. This will also give course authors a good understanding of what topics need further discussion.
How to Build a Learning Management System: 5 main phases
Brainstorming and Planning
The first step is a comprehensive analysis of all aspects to be sure your idea will eventually work. It includes:
setting a general project aim and goals; specifying target audience;
analyzing the future platform's strengths and possible weaknesses, comparing to current competitors;
describing its features and proposing alternative options;
calculating all possible costs for development, promotion and maintenance etc.
To get all the vital info, answer the following questions:
What user problems will the LMS solve?
Who are the competitors? What are their advantages and disadvantages?
What specialists need to be involved? Are in-house specialists able to handle tasks?
What is the total approximate budget for LMS development and its further promotion and marketing?
Requirements analysis
This phase begins with the requirements analysis and the market research, based on the customer's idea and the general project info. All information gathered throughout these processes would be the basis for all further stages.
Design
The agency designers turn the specifications into a design plan. The design is important here because it can directly affect students' attention and concentration. A minimalist approach will not distract them, but provide a clean and easy-to follow system for learning that focuses only on what's essential. It is easier to comprehend the material when there are no bright extraneous elements getting in learners way.
Users also expect the platform to be user-friendly and fully responsive. If they feel frustrated or disengaged due to the poor UX, it is likely that they will stop trying at all and decide to explore other pages instead of learning with you. The content quality may not matter here: with such bad UX, the general impression would be bad.
Even the statistics claim that 39% of users consider functionality as the most significant priority when selecting the LMS. Poor usability (53%) and high cost (44%) were seen as the most significant factors that affect users' decision here.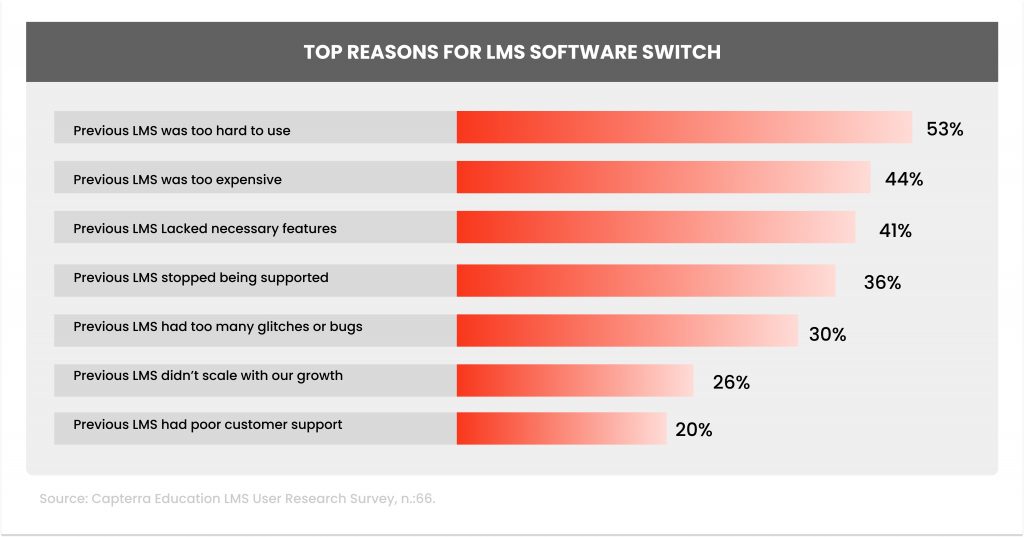 Development, integration and testing
At this stage developers start writing code for all components. Then, to ensure all features are bug-free and run as expected, various tests are conducted. When the product is ready for a pre-launch, it can be shown to focus groups, so the team could make changes and add final touches before releasing the product.
Deployment and maintenance
At this stage the LMS becomes available for downloading and use. The development agency may provide further maintenance (updates, bug fixing etc.). A customer support department provides help when learners or teachers have trouble with a platform.
Case study: Scholarcy
EDE team has worked on the UX/UI design and frontend development for Scholarcy, an AI-powered article summarizer that helps find key facts faster in any document.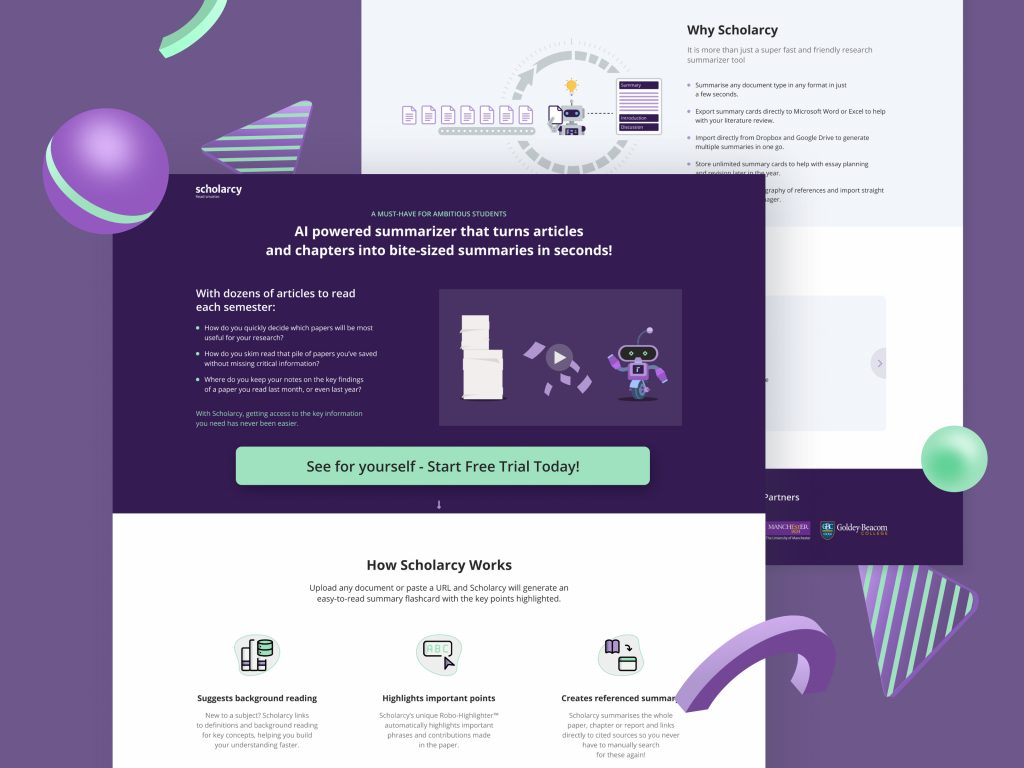 We created designs for B2C and B2B pages, keeping in mind different needs and action points.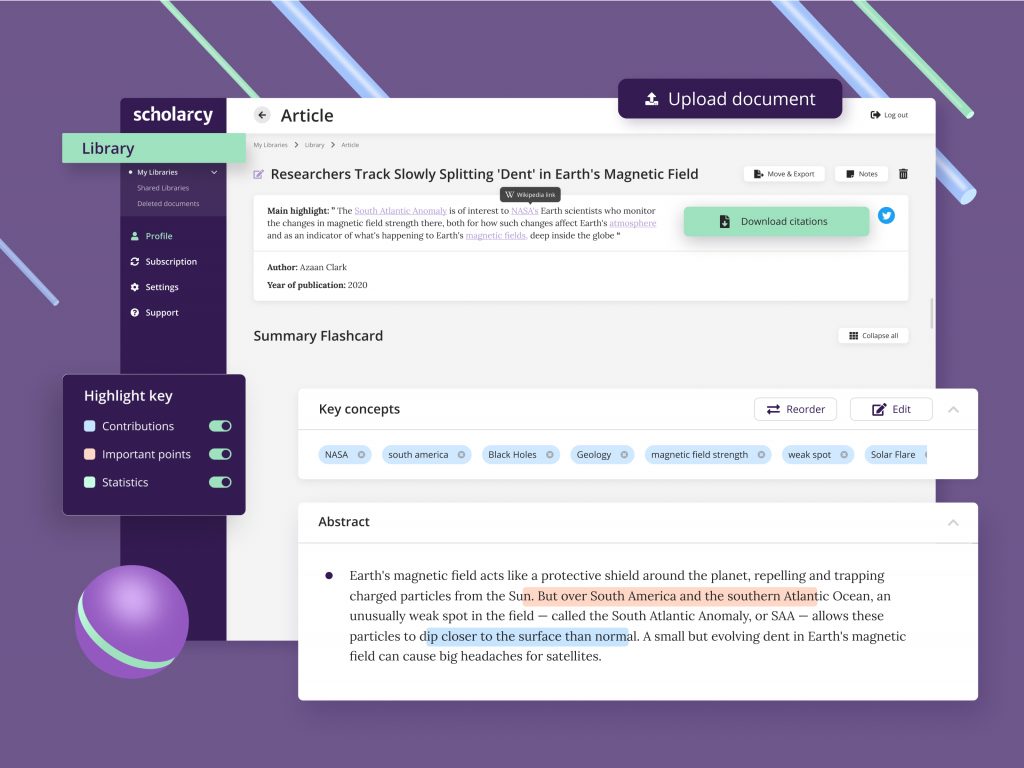 To learn more about this case, please click here!
Build your LMS with us!
How to create your own LMS and similar products and get all possible benefits? Find a web and app development company with relevant expertise in this area! Our agency has extensive experience in mobile app development, if you want us to estimate your project, please contact us via this form.
Mini-FAQ
What is an LMS?
It is a software for creating and maintaining various kinds of training for workers, students or partners. Furthermore, it is effective to monitor learners performance, identify and successfully prevent knowledge gaps, evaluating the results (thanks to gathered valuable analytical data).
What are the advantages of an LMS?
The main advantage is to effectively deliver and track learning initiatives, while storing all the materials in one location. It allows learners to obtain knowledge anytime anywhere, usually just having a proper Wi-Fi connection. Other significant pros include:
Effortless course registration and delivery;
Unlimited access to e-learning materials;
Easy tracking mechanisms of learner performance and progress;
Faster and more convenient communication between parties;
The reduction related costs, time savings.
How to Choose an LMS?
Use your employees and team managers as sources for information about what is really wanted. Identify significant features people are currently most interested in, and also figure out which areas need more focus or improvement. After defining all must-haves, create a list of the best options to choose from in the relevant category.
Comparative analysis is a convenient way to choose a "winner": look through the websites, compare their features to define which of them works best for your case. You can also highlight useless features of each platform for your particular needs, so you would not pay for them later.
Read reviews, search for feedback or chat with other projects' managers to get an honest opinion. Once you have chosen top options, get trial versions to try them out and also show variants to a responsible manager to make a final decision.
Follow us!
Interested in our monthly newsletter? Get the insights, updates and discounts right into your inbox only once a month.