Ein-des-ein blog
5 Ways for Fitness App Monetization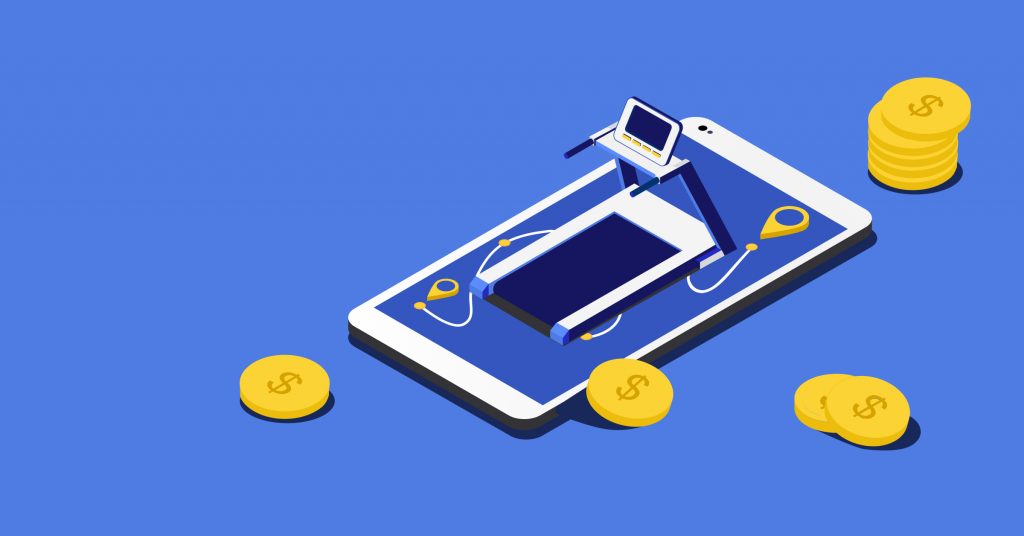 Have you decided to create a fitness app? Developing useful and interesting features is only half of the job. Even before your app product is ready, you need to think of effective ways for fitness app monetization.

Never underestimate the power of competitive market research. Yes, you've heard it before, but it's the only way to understand what gaps there are in your industry and what value you can add in order to win with your app. Search for competitors and analyze what they offer and who they target. If possible, sign up for free trials or even buy some extra features of their products to see what's lacking or can be improved.
After you conduct your research and have a good understanding of what your app should do, you need to strategize about generating income with your fitness app. Which monetization methods exist today? How to choose the appropriate one? To learn more on this topic, keep reading.
Subscription-based apps
Subscription-based apps usually allow users to download an app for free, but the free version only has a limited set of features for a limited period of time. If users want more of what is proposed with the basic version, they need to pay for the premium feature set. However, you should carefully think over the features that you'd like users to upgrade to. The main rule is to always remember that basic free features should give users a good idea of what your app can do. While premium features should complement the experience that is worth customers' money.
Today subscription-based apps are very popular. According to AppsFlyer, the developers prefer this model because "they typically see a higher revenue than pay-to-download, in-app purchase, and ad revenue models, but more importantly, this revenue is more reliable than other models, which allows for greater confidence in your marketing efforts and in planning major feature upgrades." It's hard to disagree with this since pay-to-download is only a viable option for established brands with a worldwide reputation, in-app purchases are not always convincing enough and ads that are implemented poorly can be a major reason for app uninstalls.
Let's look at the Nike Training Club. Even though it's a well-known brand, their app offers a lot of features free of charge. The app is a good example of an app with a freemium model that users can try out and see if it's something they find useful. Nike introduces subscriptions very carefully by starting with the US and the UK regions where paying users prevail. The rest can enjoy many app activities for free with an opportunity to buy extra features with an in-app purchase.
In-app purchases (IAPs)
As many of Google Play Store apps today are free, users are spending $380 billion worldwide on in-app purchases. Therefore, this strategy is one of the most lucrative for publishers. In-app purchases are a one-time only charge.
Under in-app purchases, we usually understand some premium features that can be provided for an extra payment. This can be anything from training plans to personal support, etc. Your users, for instance, can get some extra health or routine exercise tips recorded via audio or video.
In general, there are plenty of perks that can make your application more appealing and valuable to users. This fitness app monetization model can be combined with other models, for example, banner ads. Both Apple Store and Google Play Store offer in-app purchases and in-app billing.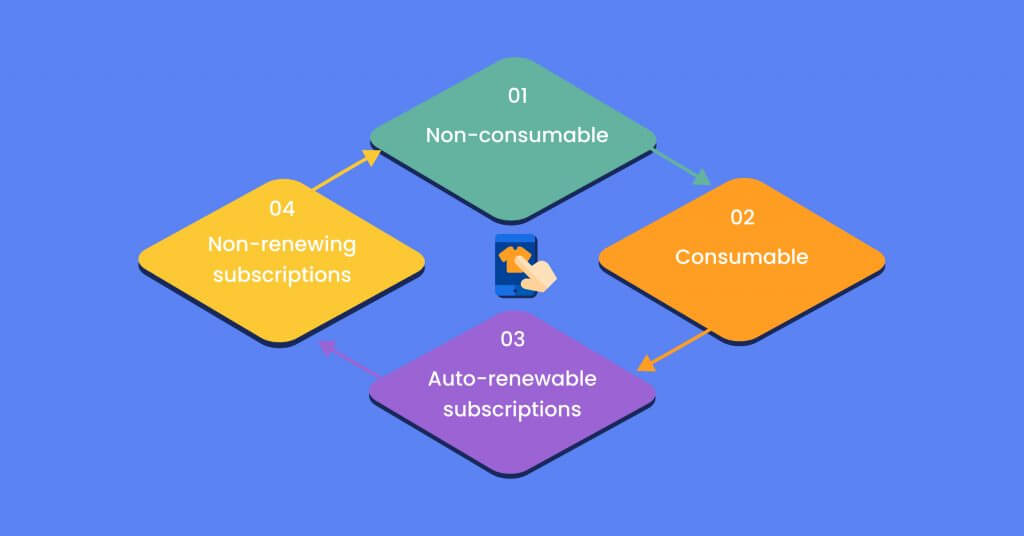 Ad placement
Outbound marketing
Frankly speaking, selling a training course is not a simple task—you have to create it, make it a quality product, and then promote it. To enlarge your audience and find paying users who will consume your digital fitness products, you can launch outbound advertising.
Launching ads can be a daunting investment. Most companies start investing little by little through Google Ads, Facebook Ads, and Instagram. These platforms allow targeting your ideal customers with their interests and demographics taken into account. Thus, you can get closer to your potential buyers. And once you have done this part of the work, you will continue to make profits as long as people are interested in your fitness/health/diet programs.
In-app advertising
In-app advertising is a good way to attract additional earnings with your app. Ads are not necessarily casino ads and annoying banners. Ads can easily complement your app services and improve the user experience. For instance, rewarded videos allow users to continue using the app for free so they get used to them.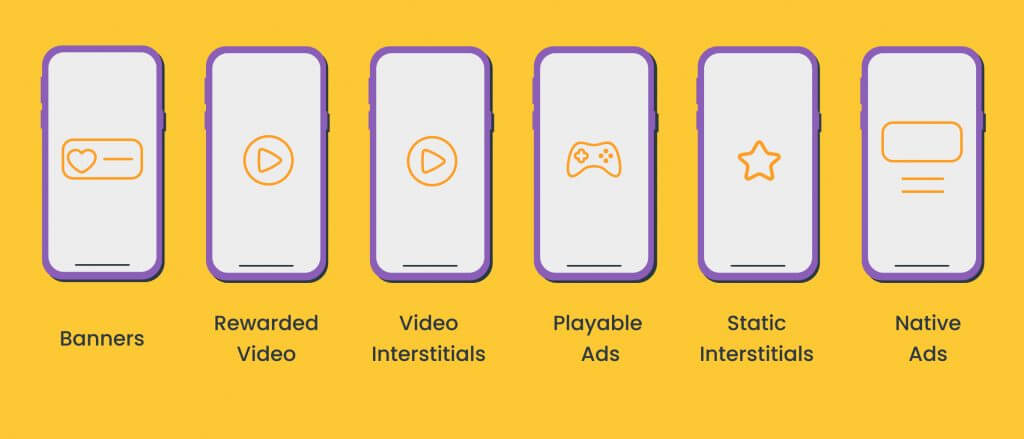 Native ads may be considered the least irritating ad format. Usually, they appear in threads as banners with text, and users don't always perceive them as ads. They camouflage as native app content.
Banners are one of the oldest ad formats. They can be of different sizes, and clients can keep using your app even with a banner on the screen. You have to be careful of introducing banners UX/UI design customers become, the less useful this kind of ad is.

Rewarded videos reward users for watching a video with access to certain features or virtual currency. This strategy allows for better app engagement—most people interacting with this kind of ads pay attention since they want to legitimize the reward. Rewarded videos are typically the most profitable ad format due to the fact that they give benefits to advertisers, app publishers, and users.
Video interstitials usually last about 15-30 seconds and play automatically in designated app locations. Videos are something most users are used to.
Static interstitials pop up as a wide-screen size ad. Users can close it by tapping the "close" button, or click on it and open the promoted page.

Playable ads gain more and more popularity, but mostly with game apps where they are quite a natural occurrence.
Regarding app revenue coming from ads, the most effective business models are CPM (Cost Per Mille), CPC (Cost Per Click) and CPA (Cost Per Action). The first one (CPM) is the most lucrative model because of its independence of whether users interact with ads or not. With CPC the ad mediation platform or mobile advertising company will pay a fee to a publisher only if a user tapped on the ad. CPA demands that users make an action (install something, subscribe to a service, etc.).
Ad monetization is one of the simplest monetization ways. At the same time, repetitive or disruptive ads can seriously irritate users, so we advise hiring an ad monetization specialist who could handle everything, including the growing amount of tasks.
In-app store of physical goods
In addition to in-app purchases, you can also integrate an in-app store. You can sell physical goods such as sports equipment, clothes, nutrition items, etc. You could expand and sell fitness equipment, sportswear, yoga/dancing clothes and shoes, special literature, healthy food, and drinks, etc. This store may look like an extra menu tab or button in your application, clicking on which will lead users to the in-built e-shop.
When adding an e-shop to your app, you should take into account that it will bring not only additional costs to your app development but also it will require vital changes in your business processes. You will have to think about storing real goods or products, having an accounting system, dealing with distributors/resellers/delivery services, and other elements of the classical e-commerce business.
Cross-promotion and influencer marketing
Cross-promotion isn't the most obvious fitness app monetization method, but at the same time, it can become one of the most productive if used properly. If your app is already very popular among people in a certain location and has a growing user base, you can look for another company in the region that can benefit from offering its products to your users. This method means that your app will promote another business, while that business in turn talks about your app.
Influencer marketing is on the rise since people spend increasingly more time on social media apps and websites. Finding the right influencer can give your app a boost—new users who received a recommendation from someone they trust. Cooperating with an influencer is not necessarily an expensive act. You need to study the market and regional opinion leaders. Pitch your fitness app to bloggers whose target audience is sports junkies.
For more ideas about influencer marketing and fitness app monetization, check out this Adjust article.
---
Which of the above strategies is best for your fitness app monetization? Most of the time it is the combination of monetization models that will give the best effect.
You can also keep in mind one more great example of how two monetization methods can work simultaneously: if you have ads in your app, you can offer your users a completely ad-free subscription option with advanced features.

This is our second article in the series dedicated to fitness apps. If you are interested in building a fitness app, check out the article about the development part of creating an app. If you'd like to talk to us and discuss your app idea, reach out to us at contact@ein-des-ein or send a request through our website.
Follow us!
Interested in our monthly newsletter? Get the insights, updates and discounts right into your inbox only once a month.