Ein-des-ein blog
Ein-des-ein Follows Design-Driven Development Approach to Accelerate Clients' Business, Says CEO Michael Chepurniak: GoodFirms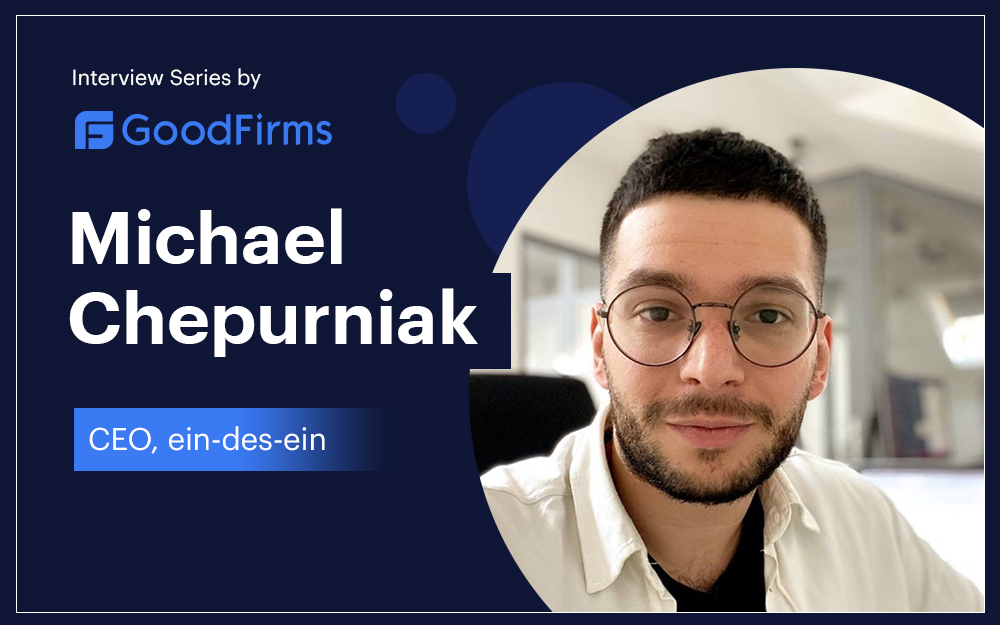 We are sharing an article that the GoodFirms team wrote for us based on an interview with our CEO, Michael Chepurniak, where he talked about the design-driven development approach, the company's goals, and success with clients.
Ein-des-ein is a mobile app & web development firm located in Ukraine working with an innovative approach to deliver services to help business owners achieve their goals as a professional and a popular agency. Ein-des-ein works with a result-driven approach to improve their clients' online presence. With comprehensive knowledge of clients' business and their goals., Ein-des-ein has built great digital products for various niches.
With great potential, Ein-des-ein has managed 100+ projects for more than ten industries with 100% dedication. The firm offers various services like logo design, mobile app development and design, and other services. The professional team at Ein-des-ein goes beyond the ordinary to devise a strategy and deliver exceptional solutions. For more than six years and 50+ professionals, Ein-des-ein has worked with complete effort and dedication to helping clients create a brand identity.
The veteran GoodFirms team interviewed Michael Chepurniak, the CEO of Ein-des-ein, who in the interview shared the idea behind starting his firm and the services offered by his company.
Michael elucidated that Ein-des-ein was established five years back. Initially, it was started with only 60 in-house employees who were design-oriented, but now they are also into full-cycle of development services. Since its inception, Ein-des-ein has built great digital projects to accelerate its clients' business growth in the competitive landscape. The firm consists of talented and robust professionals who promise to deliver services on time.
Ein-des-ein caters to their client's needs by offering mobile app and web development services tailored to their business needs. The firm takes care of landing pages, CMS web development, web application development, WordPress website development, and various other services in website development. When it comes to mobile app development, Ein-des-ein takes care of iOS and Android app development as well as custom mobile development. Ein-des-ein caters to industries like healthcare, SportsTech, logistics, plus they also have experience working for the food and beverage industries. The experienced web & mobile app developers ensure to deliver the best results and user experience.
By choosing Ein-des-ein, the clients are assured of receiving extensive services with flexible technologies. Moreover, with agile techniques and the knowledge of technologies like HTML, PHP, JavaScript, etc., the team delivers faster and efficient services. For Ein-des-ein, the most important factor is customer satisfaction, and for that, the professionals maintain regular communication with each client to keep them up to date about the project. The project process and strategy adopted by Ein-des-ein is unique from their competitors, which makes them deliver the best services.
Mark Daniel Zalomajev rated Ein-des-ein with a 5-star rating for their professional services.

The effort and commitment exhibited by Ein-des-ein have made them rank as one of the top web development companies in Ukraine at GoodFirms.
It is unarguable that a logo is the best brand identity that plays a massive role in contributing to business success. By designing an enticing logo, Ein-des-ein makes it their mission to create a distinctive identity that can differentiate them in the marketplace. The designing process adopted by Ein-des-ein starts from research followed by ideation, prototyping, testing, and finally, implementation and launch of the product.
Since the services offered by Ein-des-ein are carried after critically understanding the target audience so that it becomes easy for them to provide the right services, at Ein-des-ein, the team takes pride in offering user-friendly and efficient solutions after understanding each clients' business. The designing team works with concentrated effort to either refresh a brand or to polish its identity online. The self-motivated team follows their business core values and brainstorms ideas to create the most innovative logo that reflects the brand identity. Each team member at Ein-des-ein delivers unique designs and they take pride in optimizing the clients' requirements and solving their problems.
Before starting any project, the design team is always excited about working and facing new challenges. This enthusiasm of the team makes them deliver the best services consistently. The firms' design and development approach is always focused towards analyzing the clients' business and delivering them the maximum. The young, mature, and agile team continuously improves their quality and always applies new ideas in every project.
Besides delivering services, Ein-des-ein works hard to fulfill clients' expectations and improve their work after receiving client feedback. Moreover, the company follows a smooth payment process. Therefore, for being committed to clients' business growth through various solutions, Ein-des-ein grabs GoodFirms' attention to rank amongst the top logo design companies at GoodFirms.
After reading an excerpt from an interview by the CEO of Ein-des-ein, read the detailed interview at GoodFirms.
About GoodFirms
Washington, D.C.-based GoodFirms is an innovative B2B Research and Reviews Company that extensively combs the market to find top Web Development and Logo Design companies that offer the best services to its customers. GoodFirms' extensive research processes rank the companies, boost their online reputation, and help service seekers pick the right technology partner that meets their business needs.
About the Author
Anna Stark is a staff writer with GoodFirms – a Washington D.C.-based B2B Research Company that bridges the gap between service seekers and service providers. Anna's current role includes gauging companies' performances and their key attributes and putting them into words. She firmly believes in the magic of words and is always on the lookout for new strategies and ideas that companies have gladly embraced, and then helps them shine a light on those to make their identities shine brighter.
Follow us!
Interested in our monthly newsletter? Get the insights, updates and discounts right into your inbox only once a month.