Ein-des-ein blog
Top 32 CRMs for Small Businesses
Needless to say that building and running a company is hard. Businesses need the right solution that allows teams to collaborate and work efficiently. Fortunately, there are many tools available to help you control the chaos and grow your company. With the right CRM, your business can tackle your customer interactions with greater efficiency and grow your revenue.
A CRM is an integrated system that manages, automates, and optimizes the interactions between your business and your customers. Used in the business world, it's a framework for identifying customer needs and working to exceed expectations in all interactions with customers. CRM for small businesses provides tools to organize leads, enter customer data, track customer service calls, and automate business processes.
According to Grand View Research, the global CRM market cap reached $43.7 billion in 2020 and is expected to grow.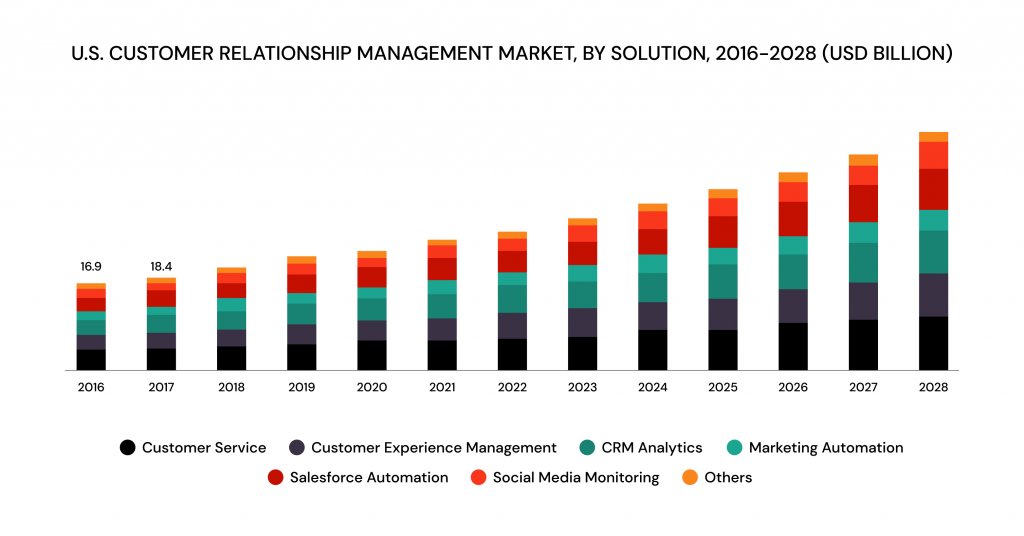 Why Do Small Businesses Need a CRM?
Small business owners often consider CRM an enterprise-focused software that doesn't fit their type of venture and isn't worth the investment. They couldn't be more wrong though. We've researched several good reasons why even smaller companies can and should use a CRM.
Reason 1: reduce repetitive tasks. A business is built around repetitive tasks: making calls to customers, sending invoices, drawing up standard contracts, handing over goods, or providing services. In fact, routine processes take up to 22% of employees' working time. Manual processing of documentation takes a lot of time, especially if you're a web and app development company, and may result in delays, loss of profit, customer churn. With CRM, you simply run the program whenever needed. The chain of necessary actions will be performed automatically according to the specified algorithm.
Reason 2: maintain a customer base. The lack of a unified information base of customers and partners leads to the fact that important information is lost or cannot be found at the right time. Imagine that you urgently need to send notifications to several clients, but you cannot do this, because their phone numbers, emails are recorded in scattered files, notebooks, and business cards. Searching for props can take a long time.
The main goal of CRM for small businesses is to maintain a customer base. All information about clients, partners, contractors are entered into the system. Each card contains contacts, details, contracts, transaction statuses, etc. The client base, in fact, is the main one of any system to which tasks are tied. To communicate with a client or get the necessary information, an employee just needs to open a card with one click.
Reason 3: create coherence of each employee's tasks. The company will work effectively only when each employee clearly understands their task. A startup CRM makes it possible to create workflow algorithms taking into account the specifics of the organization's activities. Because small businesses don't have a team to handle customer interactions, a CRM offers a solution for a diverse range of problems, from managing orders to increasing conversion rates. Thanks to CRM solutions for startups, even an inexperienced worker will know exactly what to do at a certain stage.
Reason 4: ensure data confidentiality. Clients require a guarantee that personal information about them does not get to third parties. Security is the second most important business CRM function after building a customer base. A good, well-thought-out system has flexible access settings, protection of selected files from copying and unloading. Even if unauthorized copying occurs, it is easy to identify the culprit and take the necessary action.
Reason 5: organize documents workflow. Shipment of goods is impossible without an invoice, and you can write out an invoice only on the basis of a contract. If various documents are stored in different places this creates a messy workflow which can lead to a loss of valuable time and sometimes even to a loss of a profitable deal. In the presence of CRM, all documents: from the agreement of intent to the conclusion of the transaction, are in one place and are attached by the system to the client's card. This way, you can easily and quickly find the required contract, invoice, certificate, and other documents. In addition, you can track the movement of documents from employee to employee or between departments.
Whether you want to create more qualified leads, save time on data entry, improve customer satisfaction, or collect more insights about your buyers, a CRM can help make your small business more successful.
Let's take a look at some other benefits of CRM for small businesses.
Smooth Business Processes
What's the most challenging part of running a small business? The lack of resources and the overwhelming amount of manual processes. Many small businesses and entrepreneurs wrestle with an overwhelming number of tasks and responsibilities. Business CRM allows you to keep track of phone calls, emails, appointments, etc. so that you can have all the information you need at your fingertips to plan future activities. Once a small business has a CRM in place, it keeps a company's infrastructure up and running and allows the business to grow.
Without a CRM, small businesses often struggle with complex marketing tasks like lead generation, landing page design, follow-up management, and identifying revenue opportunities. With that being said, these processes are expensive, complicated, and time-intensive to master, creating far more challenges than opportunities. With the right CRM, however, today's small businesses can build an organized, manual marketing system to improve marketing effectiveness and ROI.
Improved Cooperation and Transparency
When you start a business, you know you're going to be inundated with new tasks and responsibilities. You can't possibly plan for everything and prepare for every new challenge that comes your way. Everyone in a company has tasks and responsibilities, but for founders, it can be hard to stay on top of all projects. Even if you calculate the time you spend on tasks, that's not a way to do everything.
As the need for better collaboration grows, so does the demand for tools that can help businesses create, find, and read all relevant content to better serve customers. A software with robust features and quality is needed in every field and in every step of your business in enhancement to proper collaboration and transparency with your staff and customers. There are AI and machine-based CRMs for small businesses on the market designed to make your business functioning much smoother.
Better Efficiency and Productivity
While business CRM software has traditionally been focused on tracking the lifetime interactions of a company with its customers, recent advancements in technology can now provide significant benefits for companies like improvement in sales, increase in customer satisfaction, and improvement in business process efficiency. All this is possible because CRM allows employees to be more productive in what they do.
CRM software also helps businesses increase efficiency and productivity by providing the ability to connect all the different functions of a company. It helps you distinguish outstaffing vs outsourcing and decide which one fits your company best. It uses complex data and personalization techniques that help reduce friction and connect people and information.
Higher Revenue
As a business owner, you are constantly searching for new ways to increase revenue. It's no secret that sales are the top priority for most businesses. CRM solutions for startups help businesses manage their day-to-day inefficiencies and the arduous process of dealing with customers in an effective manner in order to maximize their profit.
CRM for small businesses also keeps track of all customer interactions, opportunities, and company data to maximize the customer lifetime value. It provides organizations with deeper insights, leading to better profits. It can often act as an enabler for your company's revenue growth, helping to increase projects monetization, improve lead nurturing, streamline marketing, and build customer loyalty.
Lesser Dependency
With the ability to access information and have full visibility of projects, employees will be able to operate more autonomously. Less flipping between apps, and less waiting for other team members to respond to messages. The red tape is removed, and everyone is able to do better work.
Company leaders, in turn, will be able to autonomously:
target assignment of tasks;
review current status and nuances of each tasks' progress;
comment, add additional requests and feedbacks;
appoint and change a responsible employee;
track the performance of key indicators.
And last but not least, due to its extensive automation capabilities, business CRM will minimize the time necessary for performing routine tasks including organizing data from various services, working with templates for documents and letters, mass emailing, assigning statuses, and shortcuts with one click.
Essential Features of CRM Software
With proper configuration and integration of its functions, CRM solutions for startups will be able to cope with many core business processes. The most important features that you should look for in the software are listed in the graph below.
What else should you expect your CRM to do?
Retain Customers and Increase Sales
CRM for small businesses collects all information and the history of communication with the client in one place, from where it is immediately issued to the employee who works with it. By presenting a portrait of the client, the manager will be able to choose the right communication strategy, without wasting time on finding out the details for more effective interaction with that client. This increases the likelihood that a satisfied customer will come back to you. In addition, information can be shared with other employees in seconds.
Automate Business Processes
CRM automates a variety of mundane activities such as billing, mailing, or reporting that no longer need to be done manually. Storing all information in one system frees up the time that is usually spent searching for it in different places.
With the help of a good CRM for a small business, a company will be able to automate almost any routine task, for example:
setting tasks for managers at each stage of the sales funnel;
formation of documents about the client and transactions according to a template with data autocompletion;
sending notifications or emails;
launching projects by template, etc.
Track Sales and Lead Generation
CRM enables companies to efficiently manage their sales process from lead generation to outbound lead evaluation calls. It also enables companies to automate their sales workflow by eliminating time-consuming manual operations such as phone calls to leads, calls to customers, and batch reports. Business CRM allows you to define Key Performance Indicators, create pipeline stages, identify standards for lead qualification. Thus you can respond to the higher-quality leads that come in without waiting for competitors to reach out to your buyers.
Report Sales Results
The customer management system can sort the data using various filters and maintain sales reports. This will allow you to see how many customers are at different stages of the sales funnel, how long it takes from the first contact to closing the deal, where most of the potential customers are eliminated, why this is happening, take into account the company's financial flows and other useful information for the business. The responsible employee can see all the key information in one convenient interface: the goods/services that the client has purchased or in which he was previously interested.
Improve Cross-Team Collaboration
Information about all meetings, calls, or letters is announced in advance in one convenient interface, so it is impossible to miss them. In particular, a CRM system is convenient for organizing the work of a team that does not have a clear division of responsibility. Thus, they can get a conflict-free and streamlined process. CRM solutions for startups also allow you to find out how long each employee worked during the day and how to manage developers. This will help balance the workload or identify underperforming employees.
Manage Contacts Data
The CRM system is designed to minimize manual data entry. It will automatically create a customer card, and a couple of clicks are enough to update their status or add new information. CRM for small businesses stores full information about the buyer:
contacts (phone numbers, address);
customer data (car brand, birthday date, presence of children, preferences, etc.);
records of calls and emails;
files and documents;
history of purchases and payments.
This data is presented in chronology, so in a couple of minutes, you can view the entire history of working with a client. No stickers, notebooks, or tables: if you need a customer's email or phone number, just enter their name in the CRM search and open the card.
Top 32 CRMs for Startups
More and more small and medium-sized businesses and tech companies are seeking to implement CRM systems, but have a hard time finding the right one. We've put together a list of popular CRMs for small businesses and what they're good for. Go ahead and pick the one that fits your needs best!
Close
This churn-to-cash platform's high-adoption and high-performance rates can generate more leads for your company. Close is built for sales teams specifically, and it provides the following major capabilities:
Combine calls, SMS, and video into one mailbox to optimize your stack and sell more with omnichannel reach at scale.
Manage every aspect of your deal by keeping track of your communication, tasks, and reminders in one central sales center with automatic journaling and synchronization.
Improves your ability to find ideas in raw data with powerful, intuitive reports. Close monitors all sales activities – from time spent on calls to earning revenue so you never miss a profitable deal.
Major benefits of this business CRM are:
simplistic and intuitive user interface,
step-by-step workflow,
built-in and automated emailing features.
Major drawback:
technical support needs to be enhanced.
Agile CRM
Agile CRM allows the following:
Ensure consistent messaging and eliminate data leaks by providing complete automation for your sales, marketing, and service.
Take advantage of the modern features and integrations of Agile, as well as its easy implementation and great support at an affordable price.
Use the most efficient cloud SaaS service, mobile-ready, fast, and easy to use.
Major benefits of this CRM software for small businesses are:
simplistic interface,
automated mailing,
lead Count,
email tracking.
Major drawback:
customer support should be significantly improved.
HubSpot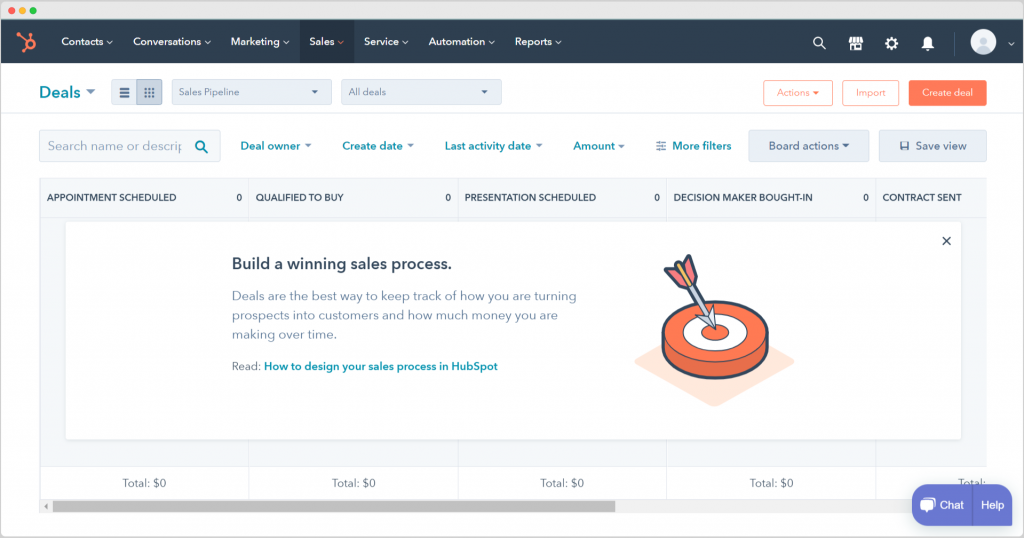 Hubspot provides the following major capabilities:
Helps you grow traffic and convert more visitors by providing you with complete inbound marketing campaigns, traffic and conversion tracking, analytics, and more.
Allows for gaining deeper insights into prospects, automating tasks that you dislike, and closing more deals.
Helps you connect with customers, fulfill their expectations, and turn them into promoters. It also helps predict how customers will respond to service over time.
Major benefits of this small business CRM system are:
understands the needs of sellers,
powerful functions,
well-integrated with other Hubspot tools,
intuitive UI.
Major drawbacks:
expensive,
evolved from a marketer-focused tool.
OnePageCRM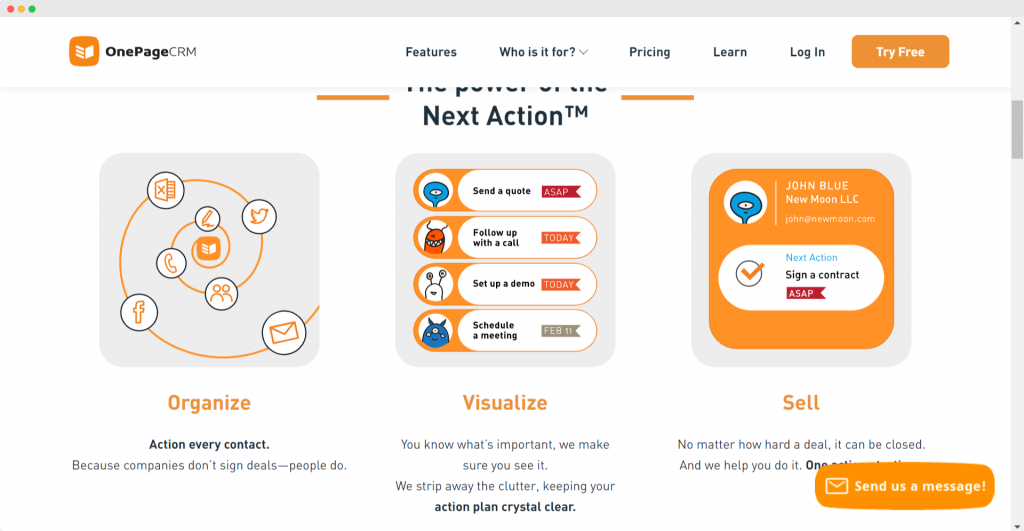 The more actions you take, the more your sales will increase – this is the philosophy of this CRM software built for Agencies, IT companies, Real Estate, etc. OnePageCRM is perfect for:
Planning the next step right after one sale deal is closed.
Eliminating 'dead' databases and acting on every contact.
Monitoring sales team performance and goal-reaching.
Major benefits of this CRM software for small businesses are:
Lead Clipper,
Target Widget,
user-friendly.
Major drawback:
importing a large number of contacts can be challenging.
Copper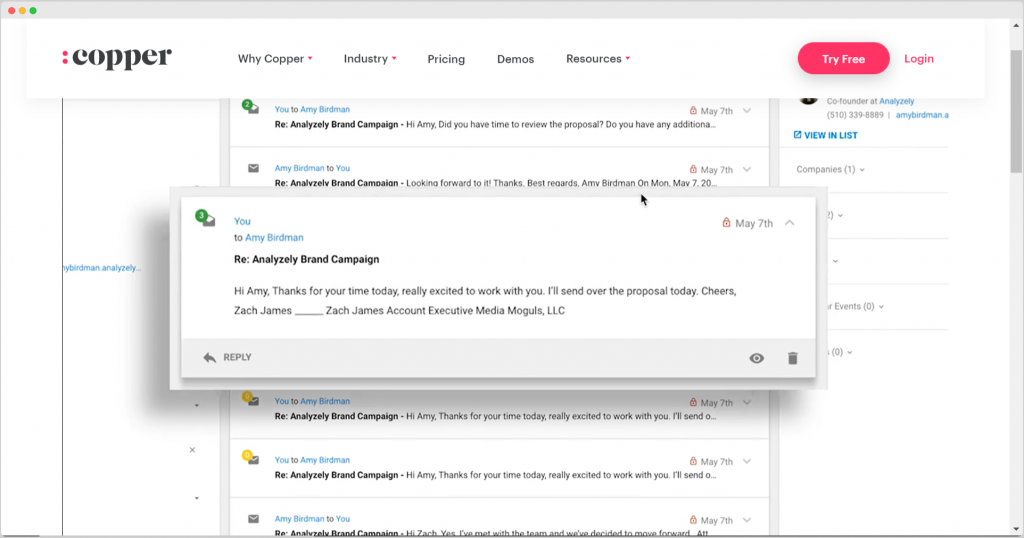 Copper provides the following major features:
The best part of this tool is that it integrates seamlessly with Gmail, Calendar, and Drive, so you never have to switch between tabs to work with leads or track emails.
You can keep a close eye on the progress of your entire team from your dashboard which will give you the perfect angle on all the activity that goes into closing a deal.
The Copper CRM platform has a zero learning curve and completely excludes data entry making it the fast route to a productive team.
Major benefits of this CRM software for small businesses are:
no data entry,
Google integration,
simplistic interface,
mobile-ready.
Major drawback:
may get too slow,
data records are not always visible,
expensive for large teams.
vTiger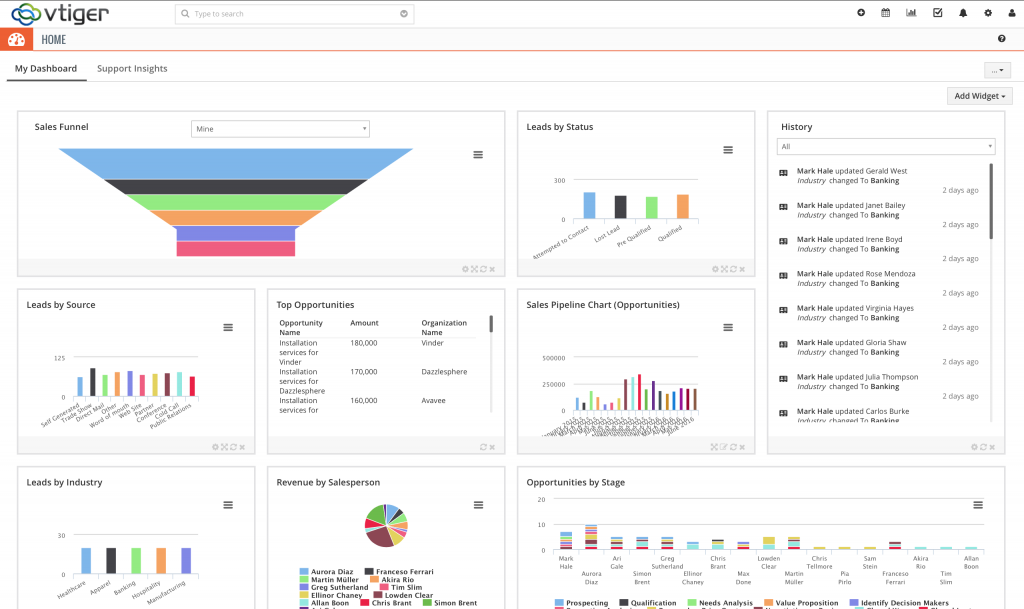 Vtiger helps companies of all sizes to build a robust customer experience strategy by using One View, which provides a 360-degree view of your customer. In fact, this CRM software contains a plethora of amazing features and capabilities.
Create a single source of truth that enables you to break silos and gain crucial company-wide support with marketing, sales, and customer service, all within one app.
Implementing automation and Artificial Intelligence are revolutionary within the industry, allowing sales teams to focus on only the right deals while fulfilling the mission of generating growth.
Engage with your customers across all platforms, creating a dialogue with them to learn more about their needs and giving them exceptional support.
Set your work in motion on the go with the mobile application, which is compatible with both Android and iOS devices.
Major benefits of this small business CRM system are:
understands the needs of sellers,
powerful functions,
simplistic interface,
mobile-ready.
Major drawback:
Zoho CRM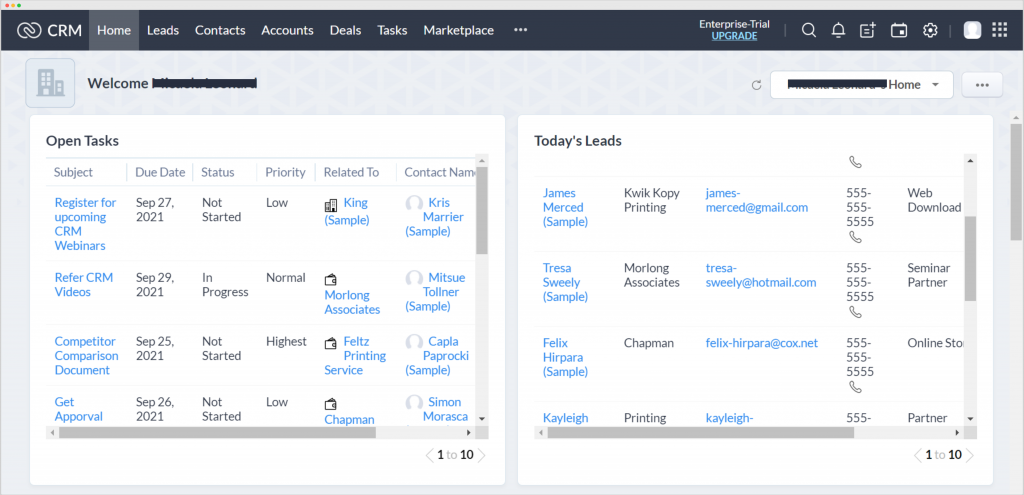 Zoho CRM Plus is aimed at providing a better customer experience. The tool allows you to:
Actively engaging with customers across multiple channels at all stages of the customer lifecycle.
Bring your marketing, sales, and support teams together and give them the tools they need to deliver flawless customer service.
Work more efficiently with the help of an AI-powered assistant that suggests the right time to reach out to customers, find the contacts, etc.
Major benefits of this CRM software for small businesses are:
AI-built assistant,
feature-rich cloud-based CRM,
highly effective communication tools,
automated customizations.
Major drawback:
takes time to learn how to use it.
Bitrix24
Bitrix24 is aimed at helping users to generate more sales. It carries the following features:
CRM itself leads the customer through the funnel: from the cold contact to a successful deal.
Helps sell more by taking control of all channels of communication with customers, telling you what to do, and automating sales.
CRM marketing helps boost first and second sales.
The robotics send letters, SMS and automate sales to customers.
Major benefits of this small business CRM system are:
multiple add-ons and extensions,
feature-rich,
customizes the way you want it ,
intuitive UI.
Major drawback:
on-premise usage may be pricey.
Nutshell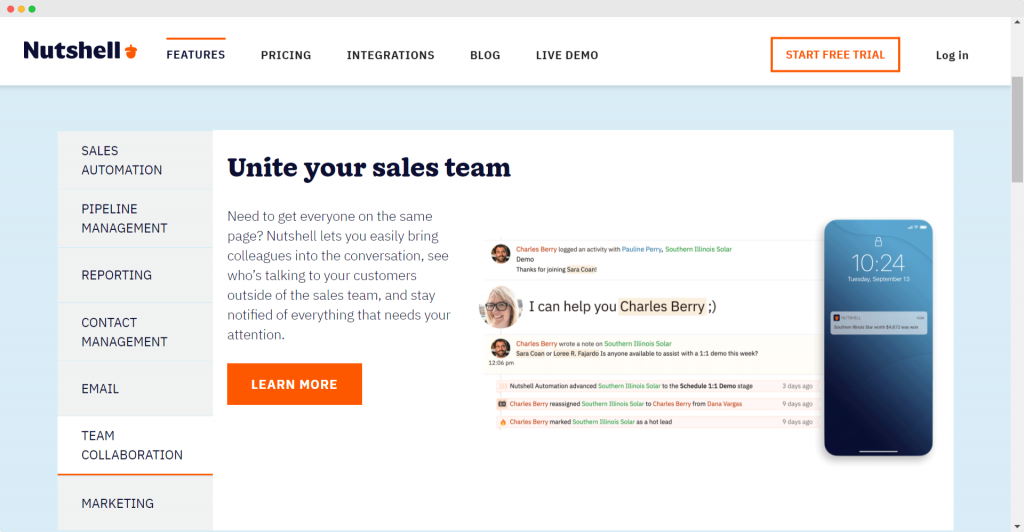 Nutshell is an email marketing tool for B2B teams to close more deals.
This platform seamlessly integrates with your CRM data so your sellers and marketers finally have a unified view of your entire business.
The software provides a way to optimize sales teams' efforts and direct more of their time toward building customer relationships.
The increased use of market analysis and customer data allows companies to create highly-targeted audiences.
Major benefits of this CRM software for small businesses are:
automated sales,
feature-rich,
user-friendly.
Major drawback:
calendar should be elaborated.
Octopus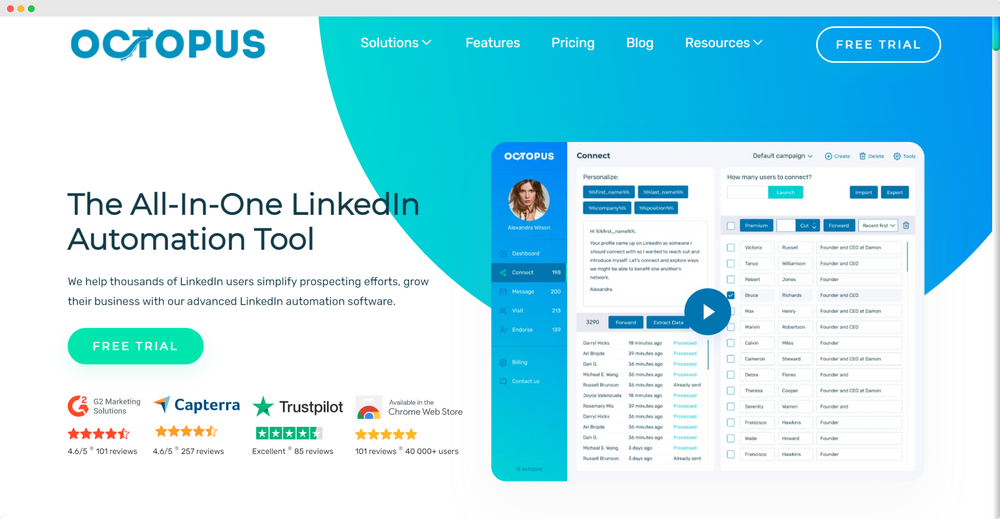 This is a LinkedIn automation software that helps users grow their businesses. Its features and LinkedIn-oriented possibilities include:
Submitting personalized "connect" requests.
Sending "connect" requests via email.
Send bulk messages to hundreds of 1st level contacts.
Automatically approve skills.
Major benefits of this business CRM are:
intuitive interface,
easy to use,
easy to grow LinkedIn connections and profiles.
Major drawback:
rare updates,
insufficient pipeline editing functionality.
TeamGate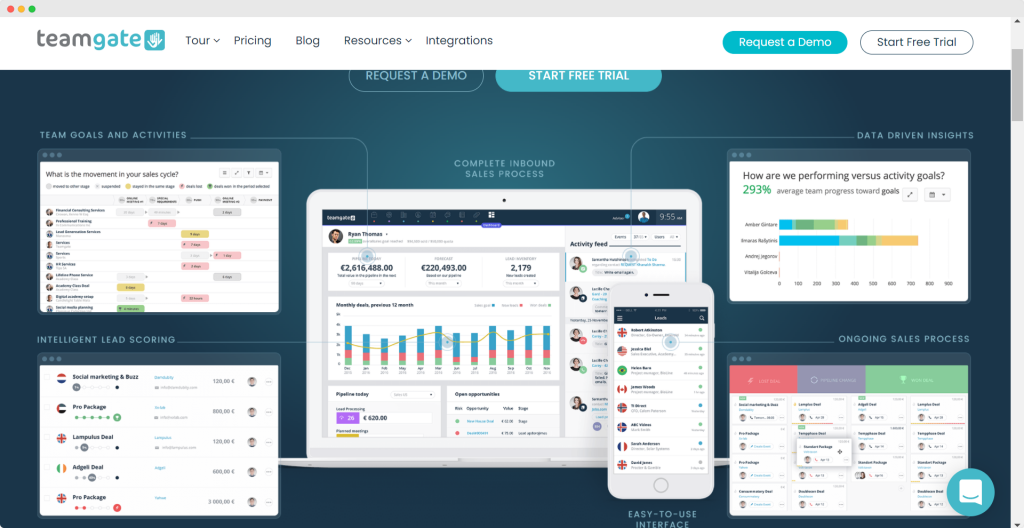 TeamGate was given an award for its superior customer support services. Teams that are already onboard with Teamgate are very positive about the software's functionality against various review platforms. The industry-leading business application search platform GetApp.com rated Teamgate the 4th best CRM on the market in 2017. The platform was praised for its safety features and good customer feedback. That same year the tool was named the most user-friendly CRM software.
Major benefits of this small business CRM system are:
user-friendly interface, 
form auto-filling,
smart filtering,
improvements discovery.
Major drawback:
the mobile app lacks features.
Pipedrive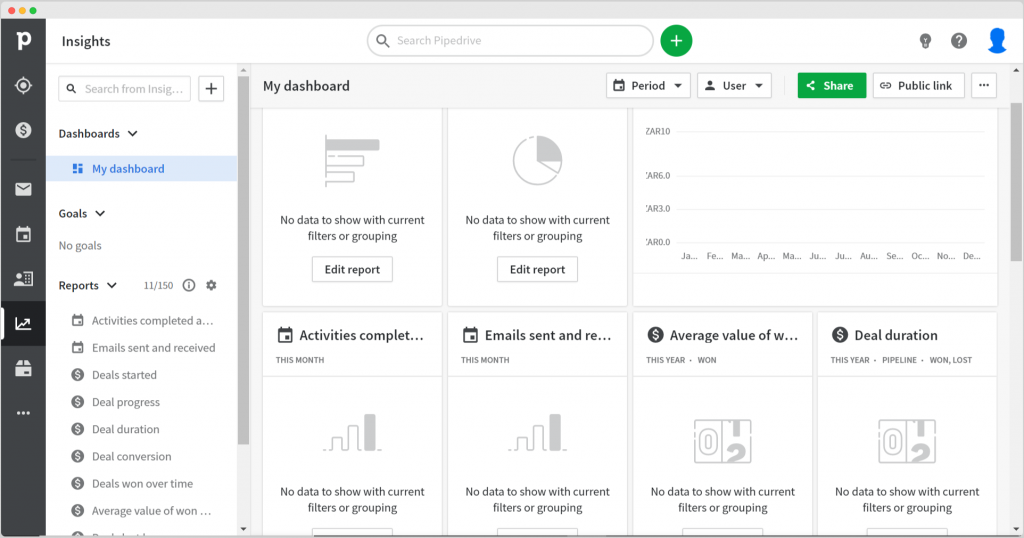 Pipedrive was created by the former sales team. Its major features are:
It takes only a few minutes to get started with this CRM software.
Pipedrive provides you with support for your weekly goals rather than continually focusing on completing the sale.
The easy analytics of Pipedrive makes tracking your entire sales process not only possible but simple.
Major benefits of this CRM software for small businesses are:
simplistic interface,
chatbot function included,
easy to customize,
superior customer support.
Major drawback:
some functions are hidden and can be hard to locate.
Streak
Streak was created to make your team collaboration a breeze. Its major features are:
Helps streamline your team's tasks and keep your task pipeline moving forward without missing a beat.
Keeps you up-to-date on the progress of your tasks with the help of reminders and notifiers.
Allows you to take control of your pipeline data while checking out your emails and while calculating on the go with a mobile-friendly dashboard.
Major benefits of this small business CRM system are:
Gmail integration,
simplistic user interface,
easy to customize,
the free version is enough.
Major drawback:
slower than others on the market.
Nimble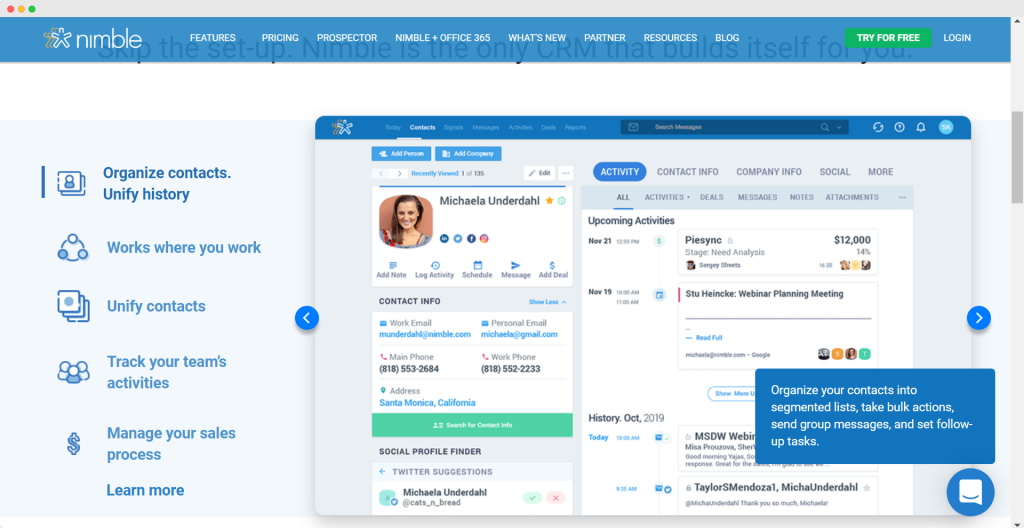 Nimble is relationship-focused. It allows for the following:
Combine contacts, social media connections, communications, inboxes, and calendar appointments automatically.
Easily identify contact information and interaction history for your team members.
Segment your contacts into lists to perform actions such as sending group emails to your prospective clients.
Major benefits of this small business CRM system are:
intuitive interface,
synchronization of tasks,
useful add-ons and extensions.
Major drawbacks:
slow email delivery,
the system can sometimes respond with delays.
Salesforce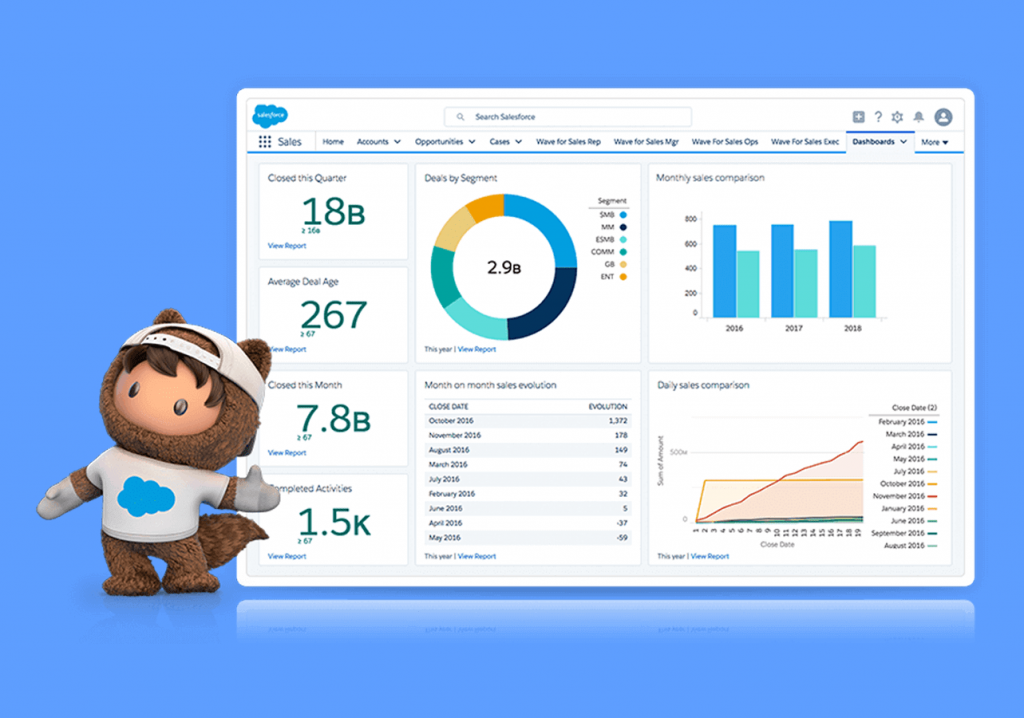 Salesforce offers a number of ways to meet your company's needs, whether they are for sales, marketing, sales operations, service, and operations.
You can monitor all sales-related operations, every prospect, opportunity, and customer from any device, and thus be sure you never miss a lead.
The company rolled out its platform on the cloud meaning that users can use the tool's full functionality without having to install costly hardware.
Salesforce software is mobile-ready, providing personalization and customer insights for every customer touch point and every stage of the customer lifecycle.
Major benefits of this business CRM are:
synchronization of tasks,
simple interface,
easy to customize.
Major drawbacks:
the system can sometimes respond with delays.
Maximizer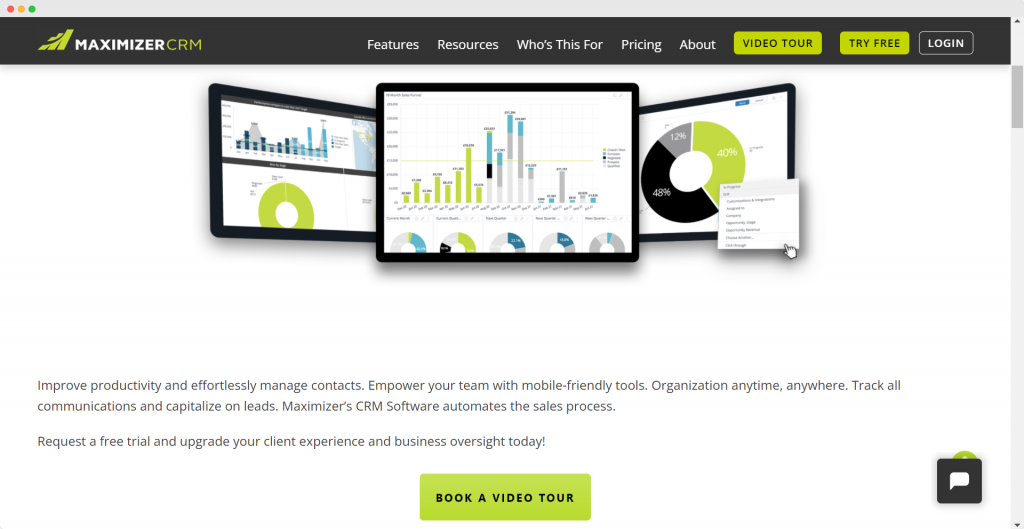 This CRM uses sales analytics and customer insights to grow a company's revenue. Maximizer allows you to:
Bond campaigns to possibilities to see how much revenue is being generated from each one.
Keep your salespeople focused on achieving your revenue goals, while maintaining productivity.
Enable your sales team to generate more leads that are easier to convert.
Major benefits of this small business CRM system are:
user-friendly interface,
analytics reporting,
excellent customer support,
automated sales functions.
Major drawback:
Funnel
Every business goes through a phase of dealing with lost leads. Funnel was created to never let you miss out on your chances to follow up with customers.
Use our pre-built contact forms to easily create forms on your website or blog. Contact form submissions enables the business to have more opportunities to generate leads, convert them into paying customers, and have them enter into a sales funnel.
Send customers a professional, well-formatted proposal that summarises your product and services specifically for them. When you have information about your contacts, Funnel will store that information in order to create a contacts database.
You can reply to your customers with your email client of choice or your favorite mobile device via email, instead of logging in to Funnel. Your inbox is safe, as as it is never accessed by Funnel.
Major benefits of this small business CRM system are:
creation of contact form,
sales funnel automation,
user-friendly,
highly-efficient customer communications.
Major drawback:
integrations need improvement.
Insightly
Insightly allows to:
Simply create a well-designed customer journey and gather customer feedback to gather pipeline through the process of identifying the relevant customer.
Take customer input and convert it to actionable data to drive the growth of your business.
Keep up with your favorite apps by easily integrating data from them into the new systems.
Major benefits of this business CRM are:
superior customer communication tools,
user-friendly interface,
useful add-ons and extensions,
feature-rich.
Major drawback:
can be too expensive for large companies.
Freshsales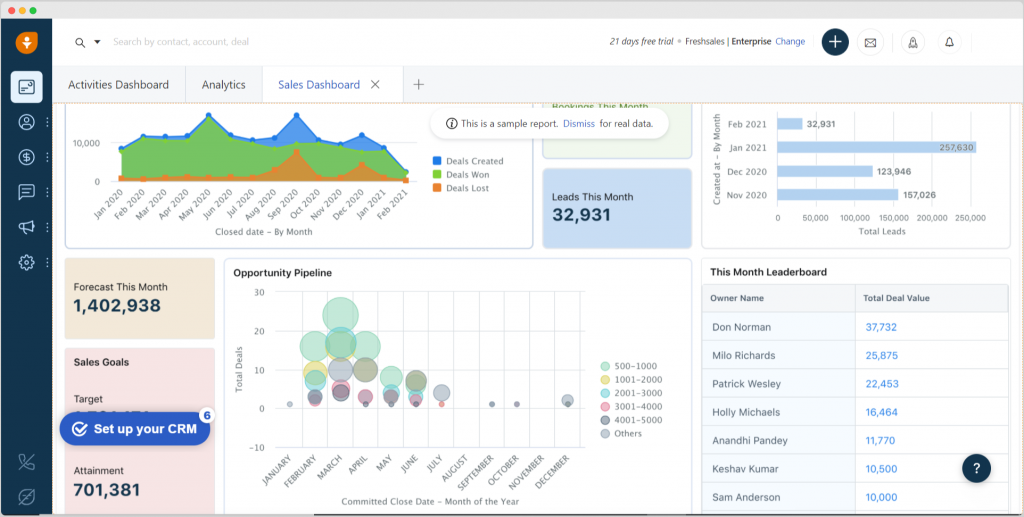 Freshsales enables sales and marketing teams to be brought together around the customer using an integrated CRM. It allows you to:
Focus on leveraging your marketing and lead generation teams to deliver customer satisfaction.
Read customer intention and communicate the right messages to seal deals quicker.
Make your team satisfied with one versatile solution that's affordable, easy to implement, and use.
Major benefits of this CRM software for small businesses are:
user-friendly interface,
easily integrated with Slack,
feature-rich, 
easy to get started with.
Major drawback:
search engines are less user-friendly.
FreeAgent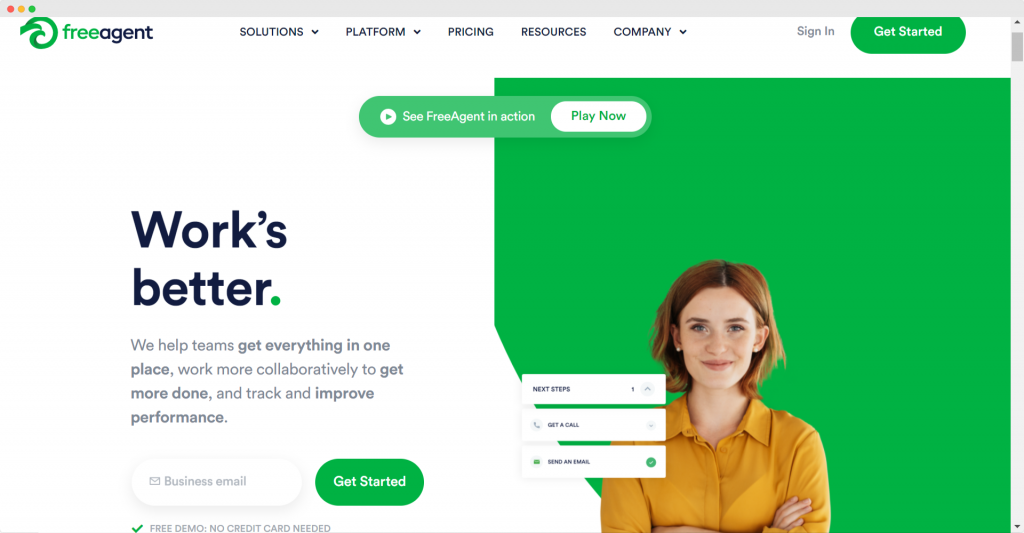 FreeAgent allows users to optimize sales, marketing, customer success, project management, and more to effectively handle their businesses. It was built in order to:
Allow you to plan and prioritize any business process in a pleasant, resilient, and fulfilling way.
Let you customize your workspace by integrating it with your favorite applications.
Increase sales efficiency and predict future revenues and deals.
Major benefits of this CRM for a small company are:
fully customizable workspace,
organized boards / lists / cards,
multifunctional,
easy to use.
Major drawback:
search function can be time-consuming.
EngageBay
This is a one-in-all tool for marketing, sales, and support teams.
EngageBay maintains all your customer contacts and strengthens relationships by keeping track of organizing your customer information in one place.
Saves your time on repeated personal communications, and sends personalized messages to target audiences.
It boosts customer satisfaction and raises conversion rates by allowing on-the-spot help when your clients require it.
Major benefits of this CRM for a small company are:
user-friendly interface
highly-efficient functions
fits small businesses
useful integrations.
Major drawbacks:
can be clumsy sometimes
lacks design templates.
Keap
Formerly known as Infusionsoft, Keap CRM helps businesses stay more organized. It allows you to:
Use custom lead forms, landing pages, and social media to collect and organize contacts automatically.
Search for and download contact and company information from the Keap dashboard and mobile app.
Tag and segment each contact to connect them with customized automation based on their contact data and activity.
Major benefits of this CRM software for small businesses are:
user-friendly interface
highly-efficient functions
fits small businesses
useful integrations.
Major drawbacks: 
limited integrations,
might be too pricey.
Salesflare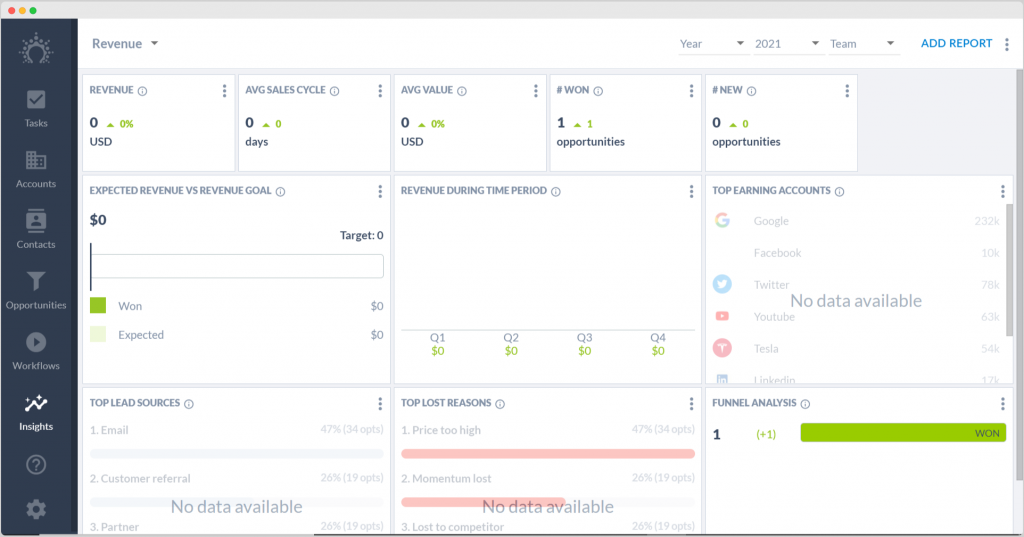 What is this CRM good for?
Salesflare collects and inputs all vital info and automatically sends it to your address book.
Salesflare boasts a plethora of intelligent insights and shows the actions to be taken for which opportunities are due.
It keeps your team members up to date with conversations or emails they weren't even part of.
Major benefits of this CRM for a small company are:
extended capabilities
easily predict sales
simple pipeline control
updated regularly.
Major drawback:
navigation is sometimes complex.
Monday.com
With monday.com, you can easily build, run, and scale your workflows on one platform, regardless of your skill level. With the help of this CRM, you can:
Get things started quickly with hundreds of visually appealing, customizable templates – or create your own.
Avoid human error and spend your time growing your business by automating your repetitive work.
Take advantage of a wide range of tools for your projects' data visualization.
Major benefits of this CRM software for small businesses are:
clear and easy UI,
Kanban boards and Gantt graphs,
flexibility and customization,
add-ons and integrations.
Major drawbacks:
lots of use cases but fewer features centered around sales and customer success,
installation and configuration required.
Zendesk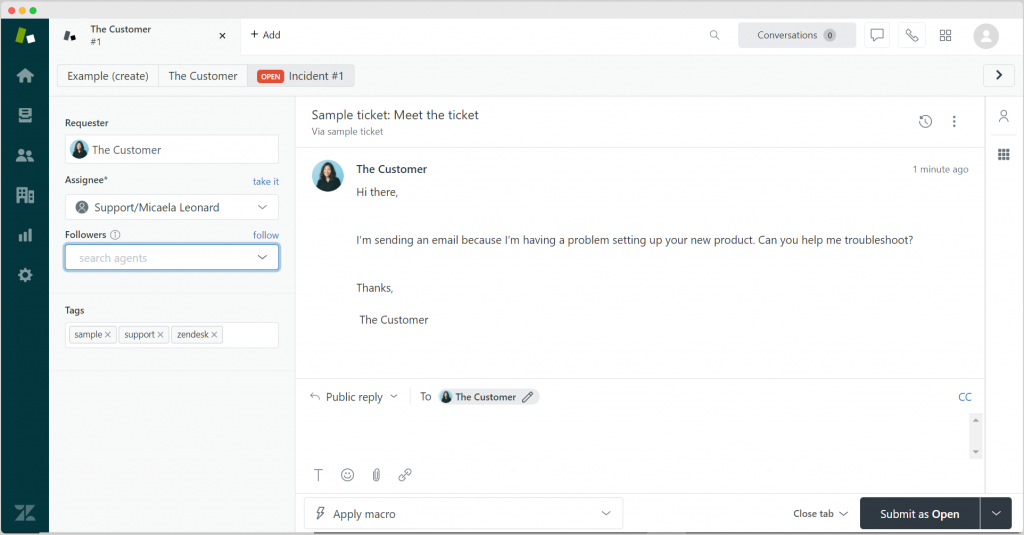 This CRM was designed to provide excellent customer communications experiences through any type of channel. Zendesk offers:
Sophisticated, seamless support that flows across channels, making it easy for everyone to get on the same page while connecting with customers.
The combination of automation and AI-powered bots providing users with consistent contextual data allows customers to never have to repeat themselves.
The possibility to build and maintain an integrated help center or community forum that makes it easy for customers to resolve issues at their individual pace.
Major benefits of this CRM software for small businesses are:
intuitive interface,
configurable parameters,
corporations across communities.
Major drawback:
Salesmate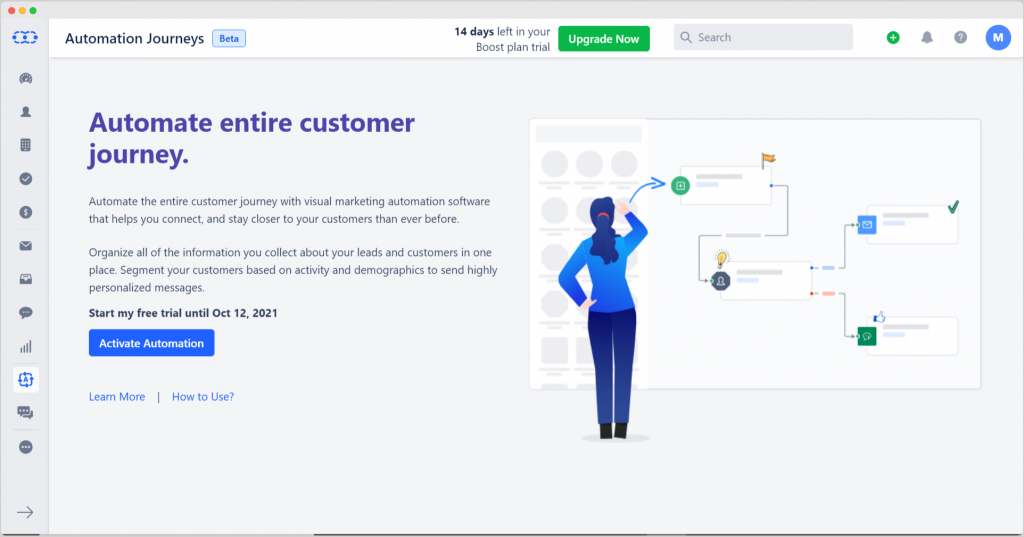 The Salesmate platform has the ability to provide you with simple, personal, and productive experiences for your sales team and your customers.
Promote and target your leads and prospects with targeted and automated email, text, and call follow-ups to earn more conversions and consistently convert more leads into customers.
Manage your team's sales activities by keeping track of the progress on contacts, deals, and sales activities as they happen so you can focus on selling instead of sorting through tedious details.
Create playbooks, cadences, and tools that turn your reps into a revenue-generating machine.
Major benefits of this CRM software for small businesses are:
intuitive interface ,
fair price,
high-level customer support.
Major drawback:
data exchange feature should be elaborated.
ClickUp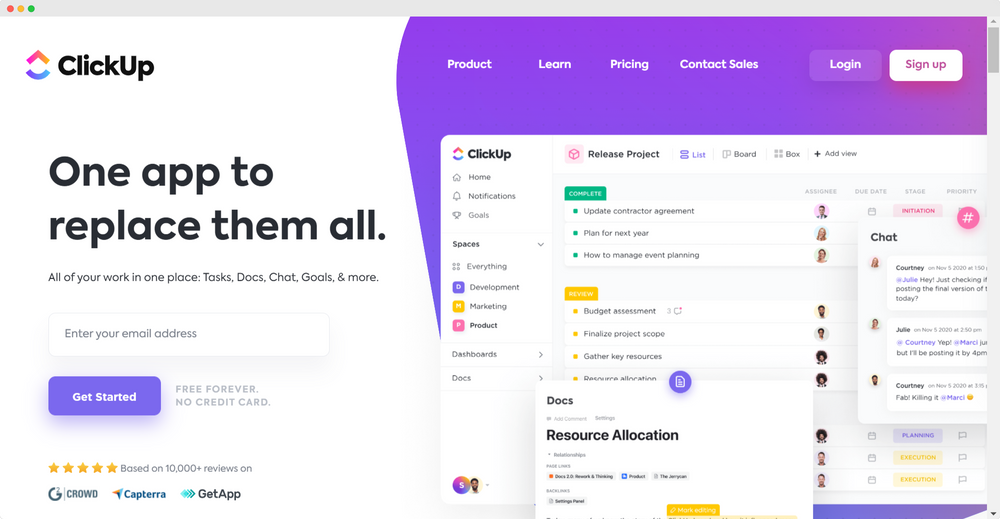 ClickUp has become increasingly popular in the last couple of years. The team behind it claims that it is "one app to replace them all". Indeed, it does have some amazing features:
You can work with documents, tasks, chat, and set goals in one workspace.
Plan, manage, and track projects with easily customizable tools to meet the needs of your team, at scale.
Automatically import your work from other tools, eliminating the hassle of switching between them.
Drag the data from excel or tools that aren't supported using a custom import.
Manage any project from start to finish with highly customizable views that make project planning a breeze.
Collaborate with your team in real-time with Chat, authorize changes to your status, and stay afloat with notifications.
Use visual tools for your team, including tasks, sprints, statuses, and timesheet management tools incorporated into the collaboration system.
Major benefits of this CRM software for small businesses are:
integral feature-rich system,
fully customizable,
file auto importing,
user-friendly interface.
Major drawback:
takes time to learn how to use it.
Apptivo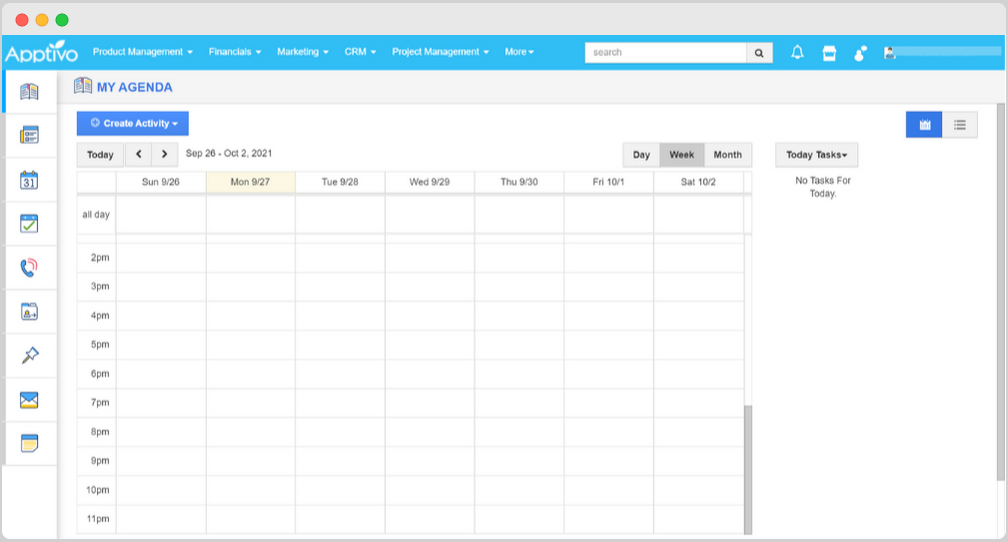 Apptivo does the following:
Helps your company generate leads by embedding a form on your site and automatically gathering contact information from site visitors.
Creates and sets a quota, measures and tracks the performance of and revenue generated by your team responsible for the sale of your products and services.
Helps you manage your sales pipeline to stay on top of employee activities, close more deals, and be able to focus on better business decisions rather than on human resource tasks.
Major benefits of this business CRM are:
excellent customer support,
very easy-to-use,
full customization,
feature-rich,
cost-efficient.
Major drawback:
incompatible mobile and desktop features.
Capsule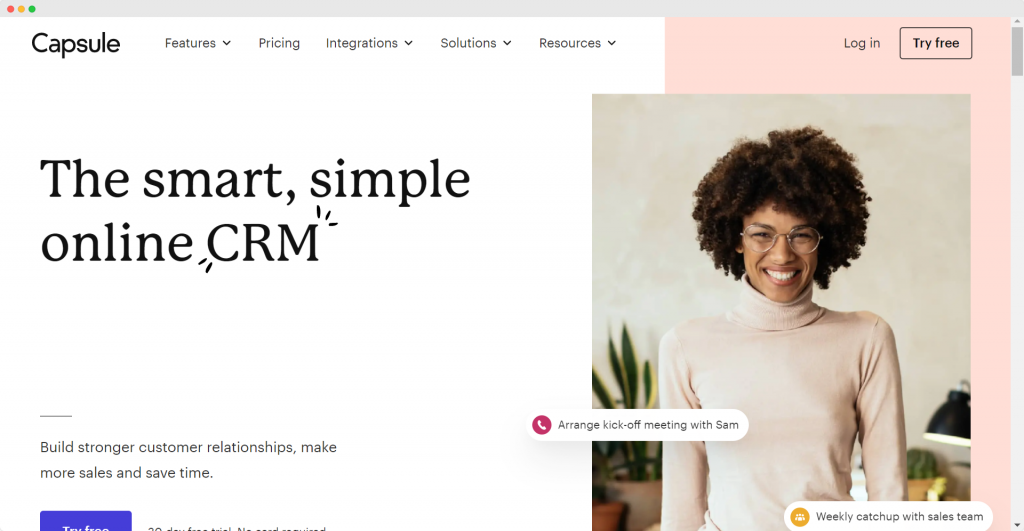 This CRM is built for ensuring customer relationships, generating sales, and saving time in the process. Capsule allows you to:
Create accurate customer data, compile multiple data sources, send unlimited texts with just one solution.
Ensure your pipeline seamlessly matches your process and spot opportunities in need of attention.
Make more accurate decisions by understanding your key performance indicators and quickly spotting what opportunities and activities are having the greatest impact on your business.
Major benefits of this CRM software for small businesses are:
customer monitoring,
intuitive interface,
full customization,
integration with Microsoft 365, Google Workspace, Xero, Mailchimp.
Major drawback:
NetHunt
The NetHunt tool was built for sales and marketing teams. It automates and manages all aspects of business data and productivities, with minimal delays.
NetHunt CRM integrates with a number of tools to make lead generation less time-consuming.
Provides insights into what works for your sales process by keeping your deal ideas organized.
Provides guidance in how you should prioritize your deals, giving you the control you need to grow your business.
Major benefits of this CRM software for small businesses are:
automated emails and sales, 
useful add-ons,
user-friendly.
Major drawback:
Ontraport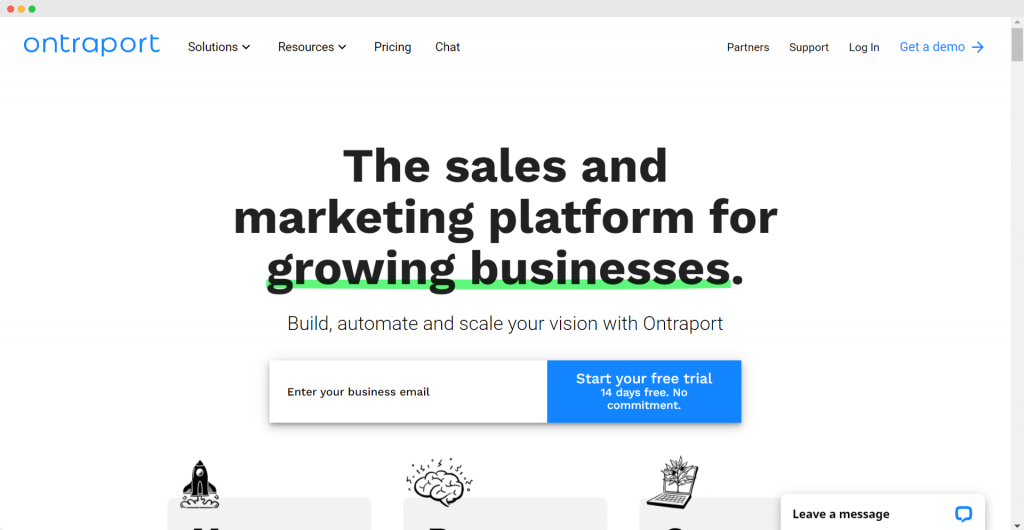 Ontraport is a tool for sales and marketing teams. Its main features include:
Having all of your data and tools in one platform allows you to launch your ideas faster than ever.
Take into account more details about each contact to make better decisions and improve the experience of the overall customer.
A platform designed for those who keep expanding businesses, those who want their team members to be engaged and invested in their communities, and those who want to stay with them for years.
Major benefits of this CRM software for small businesses are:
automated marketing and emails,
full customization of campaigns,
speedy and responsive.
Major drawback:
Sugarcrm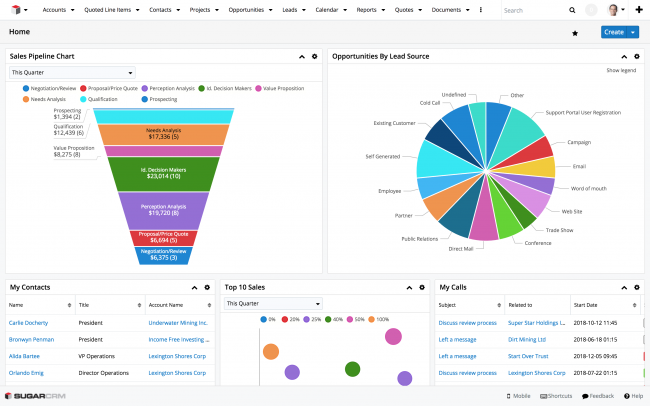 Marketing, sales, and customer service teams can let Sugarcrm with its workflow-driven features by harnessing its powerful, data-first platform do the work for them. The advantage of using this cloud-based software is that it provides a clear picture of each customer without the complications or work that comes with traditional CRMs.
Receive immediate relevant and connected insights, including past, present, and future customer data.
Easily and effortlessly collect customer data and present it in context to those who need it.
Set up a CRM platform to work with your business and your needs seamlessly.
Major benefits of this CRM software for small businesses are:
intuitive UI,
full automation,
speedy and responsive.
Major drawback:
Takeaway Message
The longevity of your company depends upon your ability to nurture your customer relationships and keep your pipeline full. That is what CRMs for small businesses were created for: they have revolutionized the way companies provide customer service and transform their businesses. The business world is reliant upon CRM systems, and if you don't want to lag behind, you should consider using one today.
You definitely need a CRM if:
Your company is focused on building long-term customer relationships.
Sales processes usually include several stages and contacts with the client, negotiations before making a decision, with the involvement of various departments and specialists.
Your business provides a long-term service, which implies "leading" the client throughout the entire cooperation.
The company strives to have high-quality sales analytics and an active customer base.
Follow us!
Interested in our monthly newsletter? Get the insights, updates and discounts right into your inbox only once a month.