Ein-des-ein blog
Outstaffing vs Outsourcing: Advantages of Dedicated Teams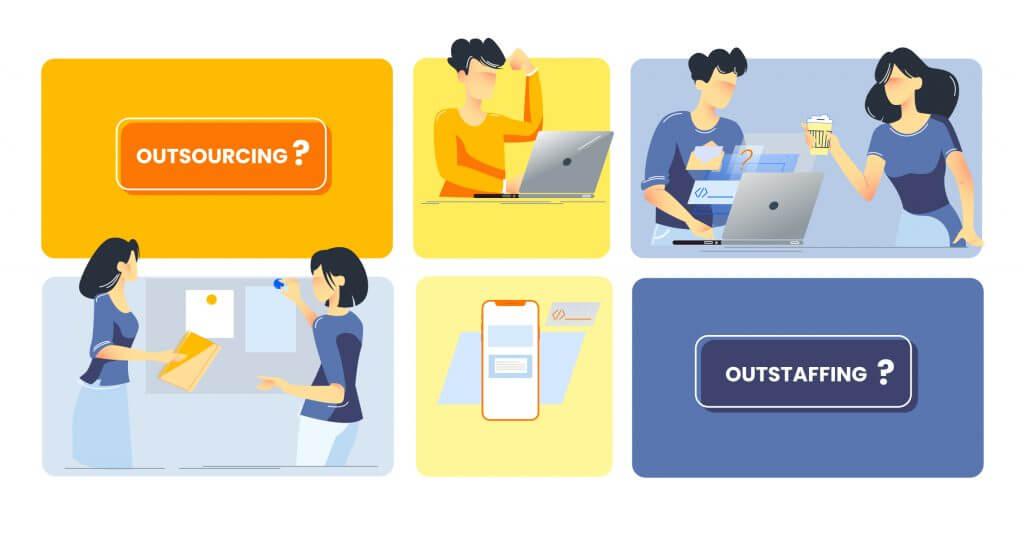 Choosing the right engagement model when contracting a development team outside of your company can be a crucial factor in your project's success. In this article, we explain the differences between outsourcing the development work and hiring a dedicated team that works side by side with the internal team and concentrates only on your project.
What Is Software Development Outsourcing?
Outsourcing is the practice of hiring workers from another company (for example, a web development agency) to perform a certain type of job for a client. This job can be developing a website, creating an app, building a software product, providing UX/UI design, etc. Outsourcing is the opposite of insourcing — creating an in-house department or delegating tasks to employees inside the organization.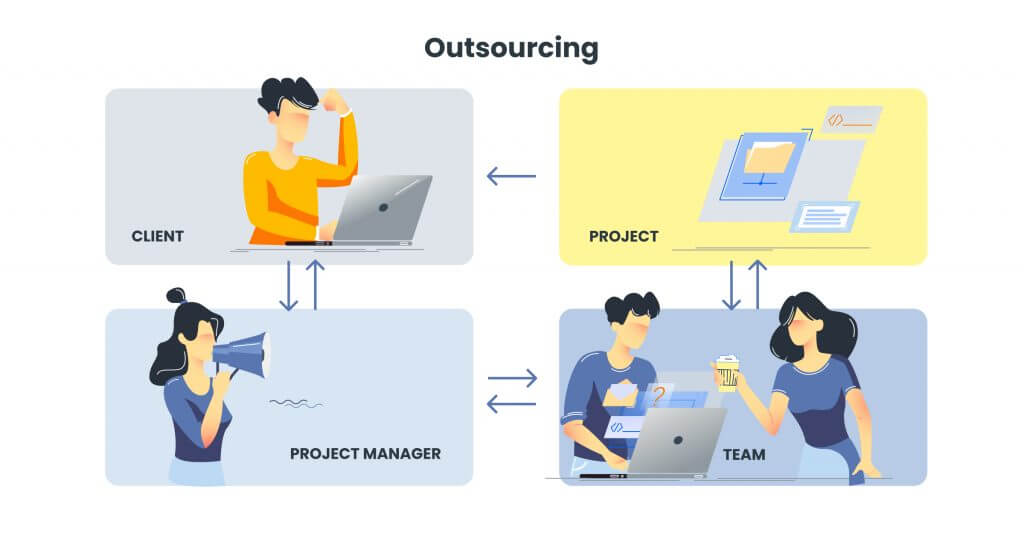 Benefits and Disadvantages of Outsourcing
Outsourcing is a broad term and includes different forms of collaboration between the client and the outsourcing agency. There are several engagement models or collaboration modes that can be used in the outsourcing scenario. The main factor is a project's scope of work.
Major benefits of outsourcing
Cutting costs
Hiring an in-house team is more expensive and time-consuming in comparison with hiring a ready development team.
No management routine
As a client, you don't have to manage and control processes on a daily basis. You only communicate with a project manager.
No additional expenses
All software and hardware, as well as professional training, are on the outsourcing agency.

No delay for a start
If you plan to start work on your project right away, that's always possible with outsourcing.

Extra resources at hand
Usually, when you need an extra tweak, say, in design or with ASO, an outsourcing vendor has connections and can refer you to the right specialist very fast.
Disadvantages of outsourcing
Overall higher rates
Because outsourcing solutions often include all the risks into the final pricing, the rates are usually higher than outstaffing. At ein-des-ein we try to minimize the risks by focusing on high accuracy of planning at the initial stage.
Lack of control
The project is led by a project manager or someone in a similar role at the service provider company. As a client, you have limited power over the project. So you have to effectively communicate with the project manager to ensure that your ideas are conveyed.
Fixed price model
One of the most popular engagement models is Fixed price. It has its attractive aspects, however, it does have serious limitations for huge projects and complex products. The fixed price model is ideal for short-term projects with clear specifications.
The cost is discussed beforehand and any significant changes that may alter the cost are very unlikely.
The benefits of the Fixed price model
Concrete project scope
Fixed cost and time estimates
Limited flexibility
No need to be involved
Limited control of the final result
Time & Material Model
Another popular engagement model is Time & Material. This is the best model for complex projects with several stages of development, projects that call for maximum flexibility, or projects with undefined ideas that have never been tested. This might be the most suitable solution when it comes to time management and dynamic development.
The advantages of the Time & Material model
Budget flexibility
Control over the project's scope
Efficient prioritization
Shorter time-to-market
High quality of the final product
The overall benefits of outsourcing are substantial. Many choose outsourcing to save money and get a quality product without managing too much.
By the way, if you're interested in how outsourcing teams can keep any client project on track, check out our blog.
What Is Outstaffing?
Outstaffing is a type of engagement model where a client and a development agency sign a contract for a third-party team to perform a certain amount of work for a client. Administrative and recruitment daily task performance and execution are the responsibility of the agency. With outstaffing, you'll be able to work with a team that is almost your own but costs much less. Daily communication and instructions allow maximizing the benefits of working with a dedicated team focused on your development process along with your in-house employees.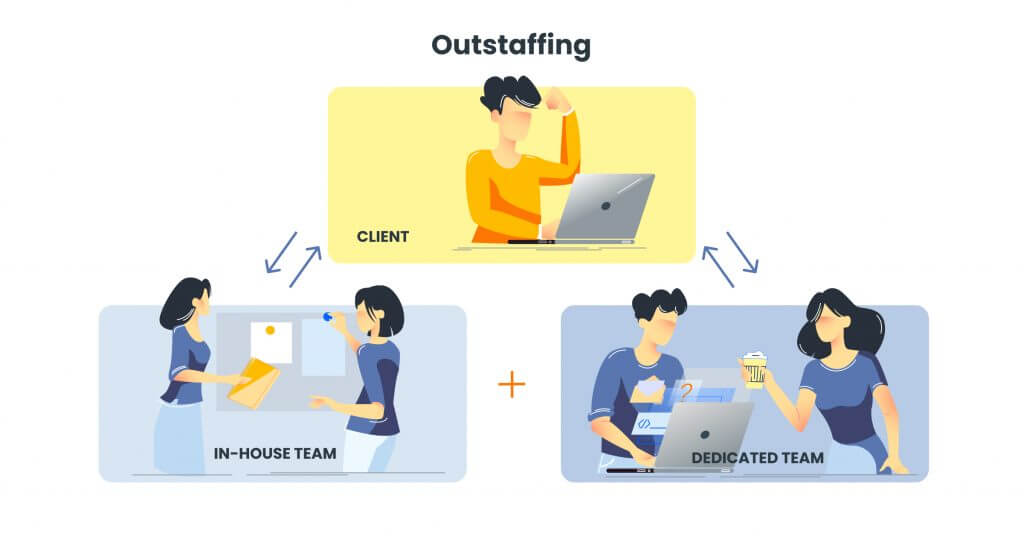 Note: Outstaffing and Dedicated team are interchangeable terms in this article.
Benefits and disadvantages of Dedicated teams (Outstaffing)
The outsourcing route is quite popular and made companies thrive in the past. However, as time went by, some drawbacks accumulated and companies began viewing the classic outsourcing model with more scrutiny. There are reasons why some outsourcing projects were never finalized—poor motivation and understanding of business specifics among outsourcing specialists, missed deadlines, growing budgets, and unpredictable end products.
And then, the outstaffing model came to the scene as a new method of hiring remote talent. While still technically outsourcing, outstaffing gave the client more control over the project by allowing them to manage remote workers directly.
Major benefits of outstaffing
Technically skilled professionals
You hire a talented team and can even specify what level you expect.
Cost efficiency
You don't spend anything on recruitment and HR services, as well as administrative tasks. This also includes no extra expenses on training, infrastructure costs, payroll. If a client needs more staff, but cannot afford to build an in-house team, then hiring a dedicated team is the next best thing.

Risk prevention
You have daily control over the development process and there are no barriers between you and your dedicated team.

Time efficiency
You increase organizational efficiency and flexibility because the dedicated team follows your company's reporting procedures to monitor productivity and results.

Dedication
The team focuses solely on your project.

Global talent
Choose developers from regions all over the world; some regions are advantageous when it comes to the balance between the level of expertise, ratings, and development fees.
Disadvantages of outstaffing
More responsibility
As a client, you are responsible for leading the project and making sure your remote team is aligned with the rest of the team and understands the project's goals.
Potential for miscommunication
If you are not prepared to devote time to remote team members who might be from a completely different cultural background, there is a threat of them misinterpreting or misunderstanding you at some point. Make sure to do some reading on the topic and think about the different approaches when it comes to different cultures.
Within the tech industry, the outstaffing model is quite popular among SAAS companies, tech startups, middle-sized businesses, and global enterprises.
Differences Between Dedicated teams and Outsourcing
The main difference between these two forms of collaboration is in the quantity of control over managing a team working on your project.
With outsourcing, it is usually a project manager outside of your company who manages the employees occupied with your project and controls the full scope of work.
On the contrary, with outstaffing, clients are in full control and can directly manage their extended team and give them instructions. Specifically, it is either a CTO, product manager, or project manager that is in charge from the client side. However, you don't have to worry about the paperwork for the team, because the service provider takes care of hiring, accommodating the team with all the software it needs, and providing consultation and training.
However, the primary motivation for choosing either model is cost-cutting opportunities. There is no doubt that both outsourcing and outstaffing are cheaper than insourcing. According to the results of the Deloitte survey, here are the reasons why companies prefer hiring a remote team when it comes to IT talent: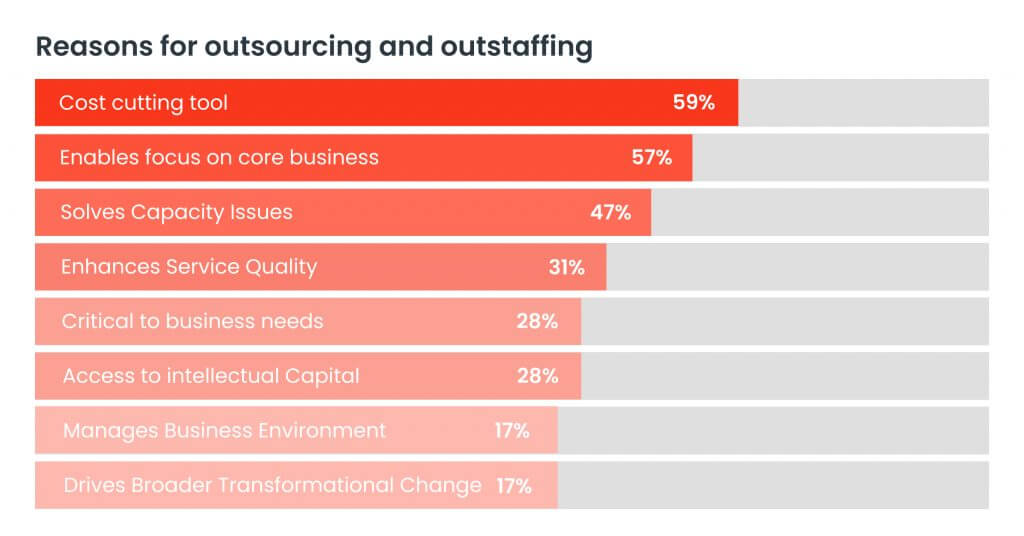 Summary of differences between outsourcing and outstaffing
To summarize, outsourcing is great for work on complex projects or massive tasks that require a team of developers and designers. In this scenario, the service provider communicates with the client, but manages the project on their own, while the customer gives feedback through a project manager.
In the outstaffing case, customers may choose the size of the team they need and even work with only one employee. For example, if a client needs to extend the team with a specific skill, they may hire one or two developers who are experienced with a certain programming language or technology.
Why a Dedicated Team model might be ideal for you?
The problem with outsourcing lies in the fact that complex projects are rarely 100% smooth. This means that there are usually a lot of variables that result in prolonged deadlines, increasing costs, developers working on your team change, etc.
With a Dedicated team, customers have more control and can communicate directly with all the extended team members. This mitigates the risk of incorrect interpretation, delays, and misunderstanding.
Perhaps, the most important benefit of dedicated teams is the fact that you hire for a specific skill that you know is lacking internally. This is a great way to quickly start a big project or launch a product with the help of an extended team that you manage, but don't have to relocate to your company.
Why choose Ukraine for outstaffing?
Hiring a dedicated team composed of middle and senior specialists in Ukraine would be considerably cheaper than in Western Europe or North America. There are more than 150,000 qualified developers in modern Ukraine. It is an efficient market, with vast opportunities and great specialists in the IT sector. With a wide network of partners, ein-des-ein helps match companies and IT candidates for Dedicated teams.
This means that finding the right team or individuals can be done quickly and without the risk of running into poor quality specialists. In fact, you can get a team of 3 or a team of 30 faster in Ukraine than anywhere in Europe. And you can dissolve it quickly, in case your priorities change.
The speed and quality play a great role in the success of any project, so it makes sense to hire now rather than spend months building your in-house team.
It's a win-win situation—local developers win by getting higher rates, businesses win by completing projects faster and receiving a quality end product.
What are the saved costs with outstaffing?
One of the greatest benefits of outstaffing is cutting costs and saving money you can direct to your other business needs. Apart from recruitment and administrative costs, clients also don't have to pay for HR activities and certain quality control to make sure that the team you've hired is equipped with everything they need, software- and knowledge-wise.
It is, by all means, more affordable and cost-efficient to hire a dedicated team rather than take on full expenses for an in-house team building. In some cases, fully in-housing development can be indispensable, but it is easy to hire a dedicated team for a limited period of time to solve a specific business issue. After the work is done, dissolving the team and returning to your own resources is not a problem.
What is usually the process of hiring a Dedicated team?
The first step is gathering project/product requirements, getting information about the skill set requirements, and then launching the recruitment process. After looking at the profiles of talented professionals, the client makes the final decision about the composition of the team.
Next, the service provider and the client sign the contract and the NDA. As a rule, the minimum contract length is 4 months. Once the team is finalized (however, big teams can take up to 10 weeks), the client starts working with the best candidates right away. The service provider leads the onboarding process and takes care of providing all the equipment, office space, and facilities.
After the work begins, the service provider monitors the team's performance from time to time to make sure everything's fine. This is an additional step in the process to ensure that the project is on track and there are no problems in communication between the client and the dedicated team.
What to look out for in order to avoid risks?
Risks are inevitable with any type of deal, but you can minimize them by paying attention to details in your outsourcing or outstaffing journey. Here are several tips that we prepared for you.
Study portfolio, ask questions
If you want a service provider that has relevant experience, then you have to carefully go through their portfolio to make sure they have worked with a product similar to yours. Pay attention to the industries listed on their website and what expertise they possess. In your initial request ask all the relevant questions that will help you find out more about the company.

Check references

It's important to build trust with your service provider and have good communication. That's why it's a norm to check the references they have on the website as well as look through the reviews and ratings on platforms like Clutch, GoodFirms, AppFutura, or Upwork. If you can, reach out to former or current clients about their impressions.
Provide clear definitions, deadlines and guidelines
To conclude with a successful project, both sides need to establish clear communication and provide the proper guidelines from the get-go. There are a lot of collaboration tools to help you keep everything under control—Jira, Asana, Trello, Github Project Management. When creating a contract with your dedicated team, make sure to mention all the important metrics you'd like to track. Emphasize everything you think is obvious, because it may not be obvious to the other party. Clear communication is key.
Our Experience at ein-des-ein
At ein-des-ein we provide both outsourcing and outstaffing services. Our portfolio grows and includes such services as mobile app development, web development, and UX/UI design. You can check out our portfolio here. If you're interested in estimating the app development cost and/or in hiring an extended team, reach out to us by filling out the form, leaving your contact info in the chatbot, or contacting us directly at contact@ein-des-ein.com.
Mini-FAQ
Why are some people against outsourcing?
Some companies have been unfortunate to hire freelancers or teams that demonstrated poor communication and performance. Unfortunately, because the market of outsourcing services is quite large, it is inevitable to run into those who do not wish to understand how the client business works and who shift between projects too often, ultimately sacrificing quality. Note that if you see unusually low rates, consider it a red flag. Any considerable delay in communication is another red flag.
What's the difference between outsourcing and insourcing?
Outsourcing is when you hire outside of your company. Insourcing is when you hire internally, either creating a team from existing employees, or extending teams with new hires that join the company. For speed and quality, it's better to hire an outsourcing team. As a rule, it's also much cheaper than keeping a full team in-house.
Are Outstaffing and Dedicated teams different models?
No, actually outstaffing is just a broader term describing the practice of hiring a dedicated team. Another term is Extended teams. A dedicated team can consist of just one employee or a whole team of up to 50 employees. Everything depends on the scale of your project.
How to find the right outstaffing partner?
Ukraine is a huge market for outstaffing with a multitude of great tech specialists and affordable rates. Ein-des-ein is one of the companies that offer quick and efficient outstaffing services with 6+ years of experience in the industry. Our partner network continually grows, so we are able to compose extended teams rather quickly. We specialize in mobile app development, web app development service, and UX/UI design.
Follow us!
Interested in our monthly newsletter? Get the insights, updates and discounts right into your inbox only once a month.