Ein-des-ein blog
Fintech App Ideas for Startups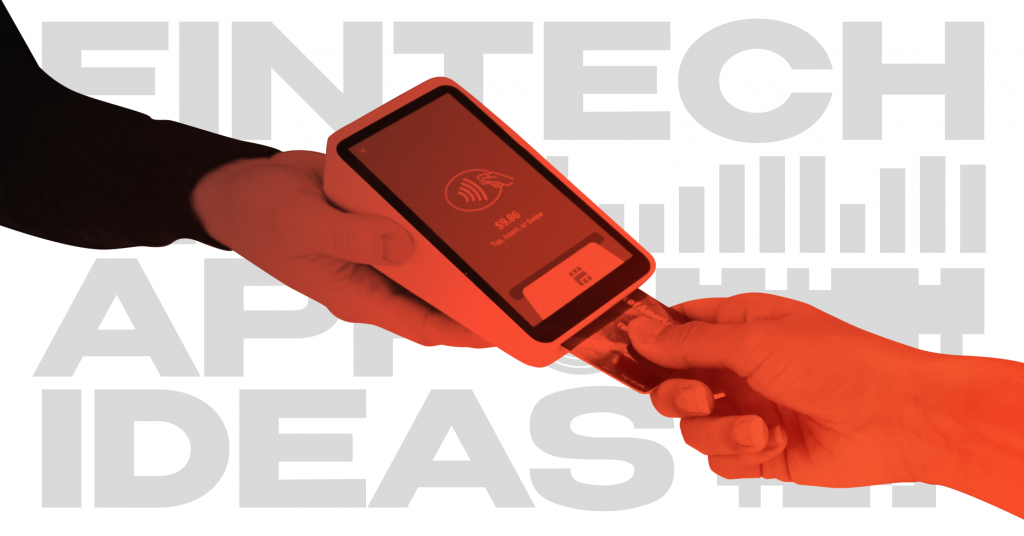 Top 15 Ideas for Fintech Projects
The world of digital banking services is changing rapidly. With an influx of new data, fintech app ideas, and financing options, startups are increasingly looking for innovative ways to improve what is already happening at the scene. The global pandemic had a huge impact on how fintech companies are operating and on their development objectives. Startups are now less interested in the quick returns and rapid innovations of the last few years and instead seek to provide reliable customer service in order to maintain and grow their customer base and long-term sustainability.
Building a successful fintech project is tough. You have to consider the plethora of specialized tools on the market, your personal experiences, resources, and your competitive landscape. This article is poised to help you pick the best digital banking ideas considering the latest and most popular high technologies.
Lending Apps
Lending applications are coming to dominate the fintech app industry. COVID-19 has changed customers' attitudes towards financial services.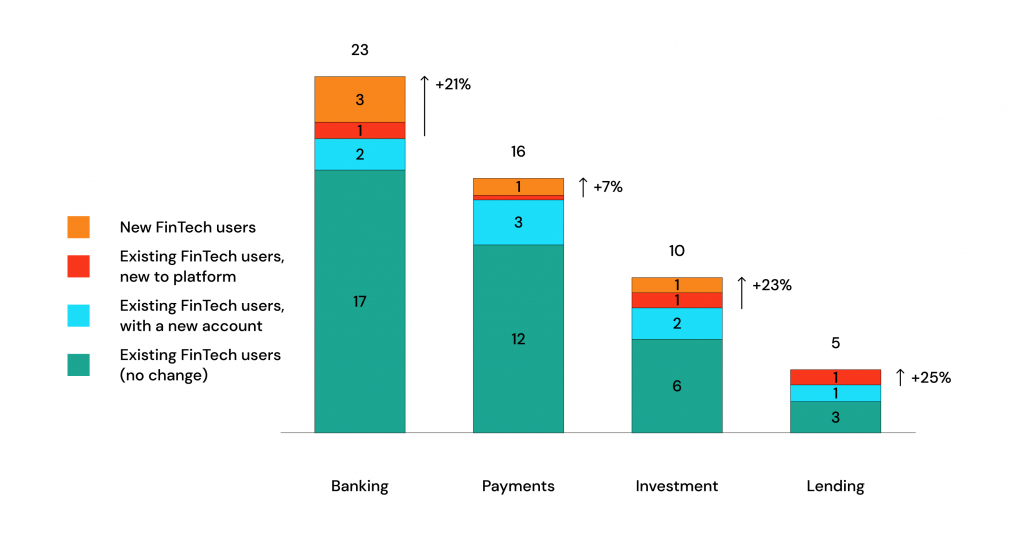 Lending apps powered by artificial intelligence and big data analytics simplify the loan disbursement process by analyzing customer data, behaviors, credit history, and purchasing activity to determine if a customer is eligible for a loan.
Deep focus on business process management and full awareness of the end-users is a must for leaders who aim to innovate on the routes to lending via apps.
Online Mortgage
Pushing the envelope to create mobile super-applications, banks and fintech companies are riding ahead on the mobile fence to keep their customers happy and serve the growing needs within and outside the industry. Unleashing a revolution in digital banking best practices, a new breed of online super-applications enables customers to do everything from allocating their assets to checking their balances to getting a loan. The fintech industry is expecting more contactless mortgage apps to become the new standard after the COVID-19 outbreak.
Electronic mortgage apps are changing the way the financial services industry does business. From mortgage lending to credit card companies, these apps offer businesses a cost-effective way to remove the analog, paper-based systems that are common in financial transactions. It is only left for banks now to leverage these apps.
Insurtech Apps
If you don't know it yet, insurtech apps are becoming increasingly popular among banks and other financial service providers.
As digital innovation takes center stage for many companies on how they operate on a day-to-day basis, new solutions must be created to overhaul the outdated, imperfect approach of the finance industry. One such example is insurtech. The cornerstones of insurtech include claims, risk modeling, loans, and insurance. Insurtech applications use artificial intelligence and data science to gather, process, and assess customer data, determine associated risks and support the insurance underwriting process. By using fintech applications, insurance companies can speed up operations and improve customer service.
Mobile Banking
Organizing finances or checking your account is not an easy or quick task. Keeping hold of your bank details is even more difficult. Regardless of the time, the mobile app has come to provide users with an interactive interface with quick access to account details.
Banks are learning that mobile banking is just as important as checking your balance in the app, so they are now focusing more on enriching their mobile experience than ever before. This Statista report claims that 75 percent of Millennials in the U.S. use digital banking services.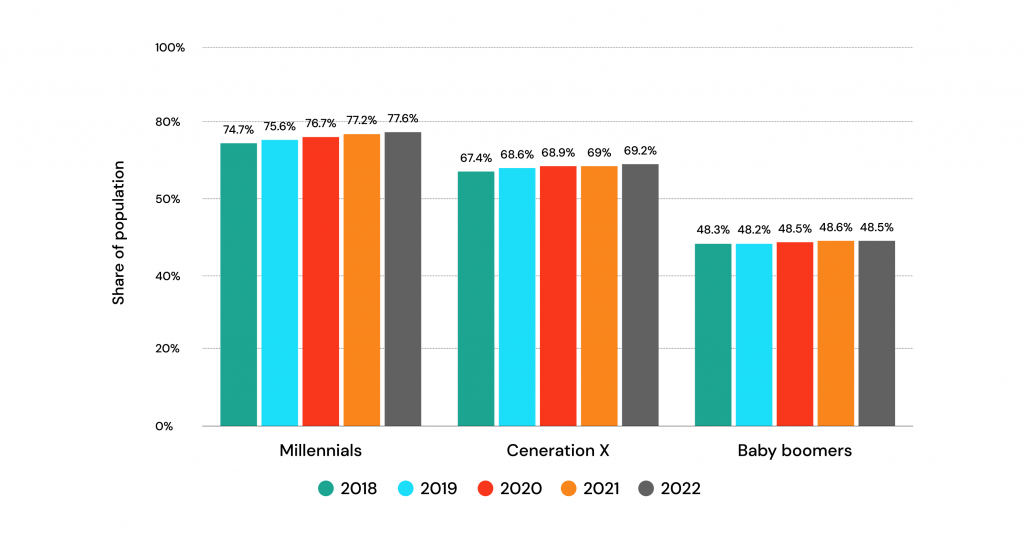 P2P Payment Apps
P2P-based payments are opening up new opportunities for companies who decided to create a fintech project capitalizing on the need for technologically advanced payment instruments beyond what banks offer. From messaging to social lending, companies are rapidly adopting these systems to expand their reach and increase their revenues.
Many companies in the financial sector, such as banks and alternative credit companies, are aiming to form strategic alliances with P2P payment products in order to tap into the consumer market. Companies that decided to create this kind of platform recognize it as a way to encourage new-to-the-industry customers to pay their invoices on time and save money on returns and fraud prevention. They're finding that the technology not only helps them retain customers but also makes their businesses more profitable.
Trading and Investment Apps
Like many other tools and websites on this list, trading and investment apps offer a neat and simple insight into the world of trading. These apps offer quick and easy capabilities that ensure you stay abreast of what is happening in the world of trading and investing. Whether you're a newbie or a seasoned investor, these applications will give you a quick glance at everything from trading stocks, to foreign currency trading to cryptocurrency trading, with their easy user interface.
Crowdfunding Apps
The use of crowdfunding in the fintech industry is growing; it takes on different forms for different fintech companies and thematic areas. Many startups use this kind of model for attracting investments. For a straightforward way to communicate their fintech project campaign to audiences, startups are increasingly utilizing applications built specifically for crowdfunding.
Many are now developing apps to make it simpler for people to take part in funding various startups. Such apps include apps for collecting money, requesting loans, reviewing loans, and swapping debts. They also give valuable proof-of-concept opportunities: by displaying their startup plan on a crowdfunding app, they can immediately see if users are curious about it.
Regtech Compliance Apps
Fintech is no longer an acronym, it is an industry of its own. And like any other, it has its own unique problems, challenges, and opportunities. The most significant of these are the lack of robust compliance resources in the industry, the lack of transparency in reporting, and the lack of rigid legal frameworks related to digital banking services. With so much in need of addressing, the fintech industry has seen solutions coming in different forms. Many fintech firms are turning to regulatory technology solutions to meet the growing challenges imposed by the Financial Conduct Authority (FCA).
Regtech applications promise to not only address compliance but also improve the internal operations of financial institutions.
Crypto Apps and Digital Wallets
When it comes to cryptocurrency applications, there are nearly unlimited options for fintech startups. These apps are designed to be effective in helping bank customers with personal cryptocurrencies. Digital wallets have also become a popular way of managing cryptocurrency by allowing the customer to transfer, sell and exchange their crypto securely in just a few short taps.
Much is still unknown about the future of the crypto sphere, and there is a lot of volatility and confusion, and overall uncertainty. That is why fintech professionals and big banks need to be way more cautious and careful when developing this type of app and put more effort into educating their users about the state of the industry.
Digital Banking
Digital banking services are taking the world of finance by storm. The market cap of digital banking apps was estimated at $803.8 billion in 2018 and is predicted to reach $1610 Billion by 2027. Mobile banking apps help users list and view transaction history, deposit checks, transfer money, pay bills, or even check their credit score without ever having to visit a bank. These types of apps are revolutionizing the banking industry based on the natural progression of digital trends.
With the invention of the internet, the concept of the bank is now outdated. More and more people are shunning the traditional banking systems and using the new digital banking services. These apps are smart, futuristic, and most importantly, more convenient and offer better service than any bank.
Online Wallets
Digital wallets or eWallet apps are software-based apps that allow users to link their bank accounts, store their cards digitally, manage crypto activities, or add funds to make online payments using a mobile device. In layman's terms, they are the digital version of a real wallet. Unlike traditional banking apps, e-wallet apps allow users to add an amount of cash, or a card number, directly on the app to pay online or in a physical establishment.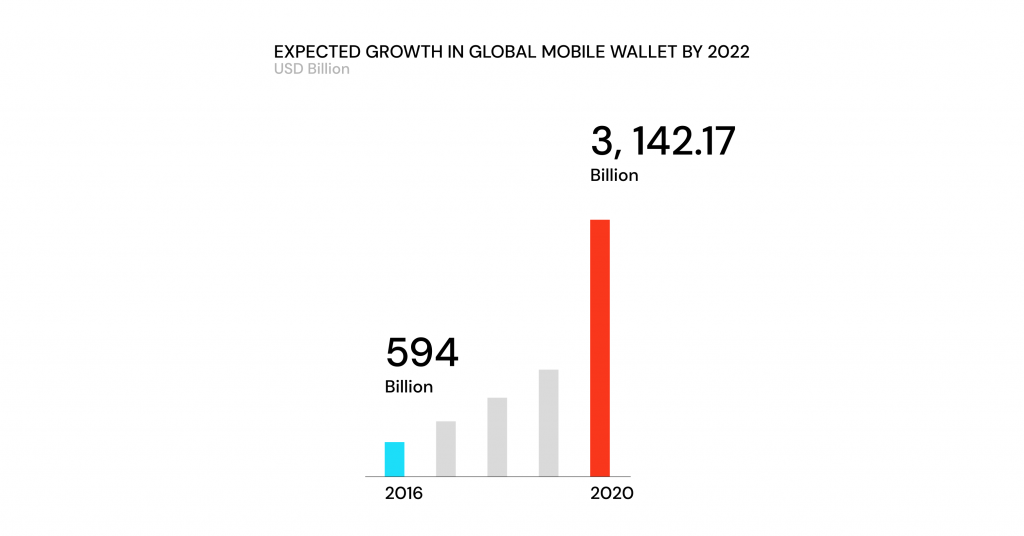 Depending on who the users of the e-wallet app are, you can add payment methods such as QR codes or Near Field Communication (NFC) compatibility to make transactions easier. Some e-wallets can even "communicate" with a mobile phone SIM card, which allows them to work without the Internet. What makes e-wallet apps so winning is that they are a reliable, fast, contactless, and secure alternative to physical payment methods.
Personal Financial Management Apps
The global financial industry is actively encouraging the use of powerful and easy-to-use Personal Financial Management (PFM) apps. According to Customer Think, 63% of smartphone users have at least one app installed on their phones. Banking apps that help you decide how to manage your finances are now everywhere, with an estimated market value of $1,024.35 million in 2019. It is estimated to reach $1,576.86 million by 2027, rising at a CAGR of 5.7% from 2020 to 2027.
PFM apps serve as convenient alternatives to the high-cost services of traditional banks and, in many cases, replace brick and mortar bank branches. Personal Finance Management apps use technology and data to help users stay on top of their personal finances and generate more effective financial plans. They allow users to view financial data, create budgets, track their spending, earn money, create savings plans, pay bills, negotiate loans, etc.
Blockchain-Based Apps
Blockchain is the technology best known as the backbone of cryptocurrency. It can be used as a distributed database to record transactions, which are continually linked in a chain. The fintech app industry is particularly benefiting from blockchain technology. The blockchain is a new way of maintaining and controlling real-world assets for a fintech project. For this reason, the fintech industry has been able to adopt this technology and invest in its development. The graph below illustrates blockchain use in banking and financial services.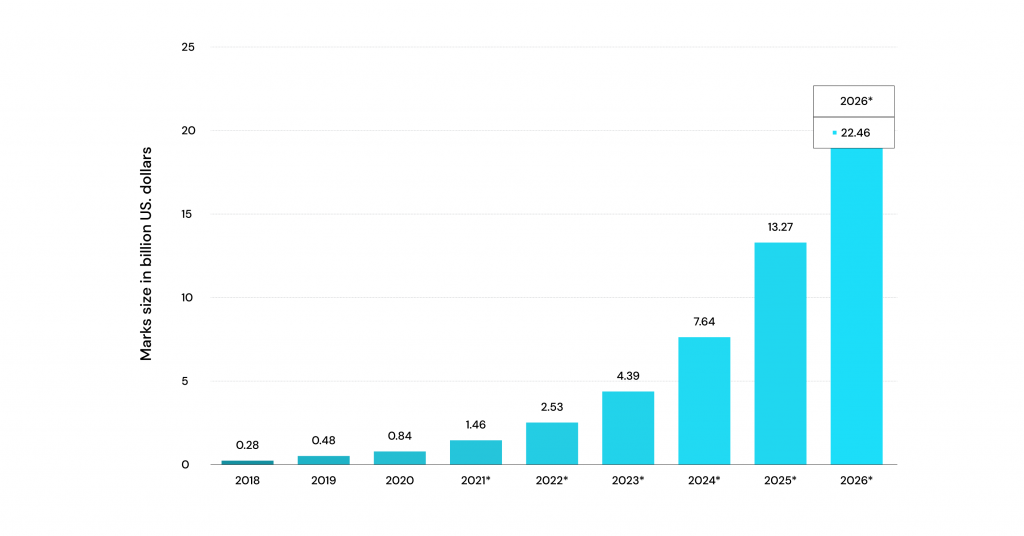 Blockchain enthusiasts believe that in the future we will see the emergence of blockchain applications that reinvent the financial landscape and democratize the world's economic systems. The blockchain application development industry is booming as companies come up with new and innovative ways to leverage the power of blockchain technology for different sectors of the economy. The new applications allow the decentralized ledger to be used for not just cryptocurrencies, but also new security protocols, identity management, and new AI tools.
Insurance Apps
The insurance industry is constantly looking for newer ways to cut costs and generate revenue from their investments. Alongside this, they are constantly employing mobile app performance testing trying to add more features to insurance apps and that's why they vary a lot in what they offer and how they provide services.
The era of digital banking services poses a lot of hurdles for startups, but insurance apps have settled in nicely to help alleviate some of these hardships. There are a number of common points of reference when it comes to insurance apps, but these can vary from market to market. If you're looking to test the waters in the fintech industry, insurance apps are a good place to start.
Robo-Advisory Solutions
Wouldn't it be great if you could have a personal financial advisor that would help you grow your wealth? Well, recent advances in automated financial advisory technology may now be realizing this dream.
AI and machine learning are considered to be digital banking best practices. They are disrupting the financial industry, creating new job opportunities, and transforming data analysis into more effective games that can effectively generate higher returns. This is why the industry is seeing an increase in the demand for robo investing advisory programs designed to manage portfolios for better risk-adjusted performance.
Robo advising programs provide financial services by robo-advisors who automate the process of investing and asset management. Robo advising apps offer cheaper and better financial consultations than bankers.
Trends in Fintech Technology
The global fintech market is growing, and there is a demand for niche and creative fintech project ideas. Customer needs and preferences vary depending on the type of services and lifestyle they lead. Hence, developing a long-term relationship with a specific niche will help your business.
The current state of digital finance is in a constant state of evolution so you need to study the trends carefully before deciding on future banking ideas.
Artificial Intelligence and Machine Learning
Artificial intelligence (AI) is beginning to make its way into financial services. New types of data collection and machine learning techniques designed to detect fraud and detect anomalies in the data are rapidly advancing. Artificial intelligence (AI) is now used by many fintech companies to make decisions based on the patterns of trends and to forecast customer behavior which can strengthen customer acquisition.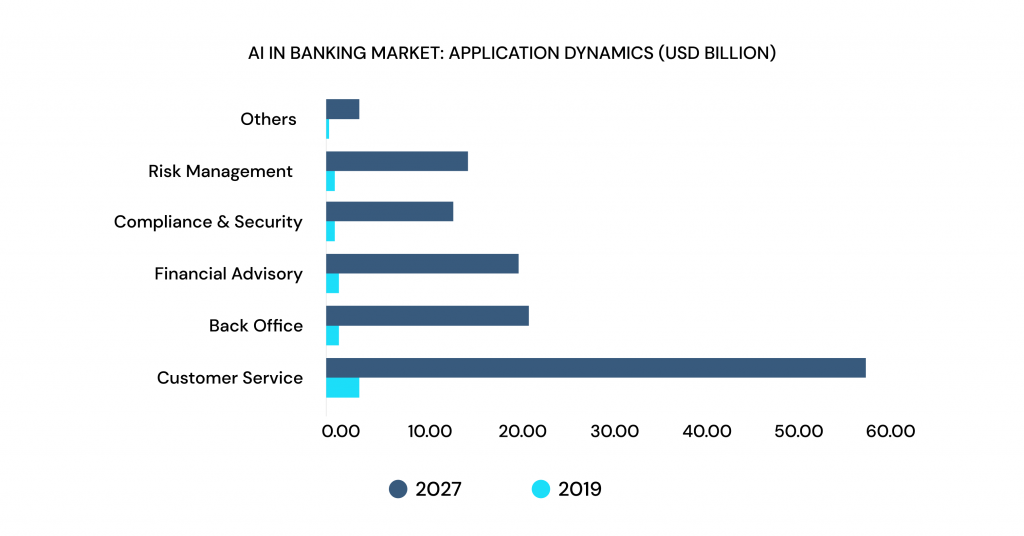 AI is now increasingly being tested in Android development for face detection, image labeling, and text recognition. Machine learning algorithms are applied for the loan underwriting processes, security consultant engagements, and even perform market research. As the industry embraces artificial intelligence, fintech companies are able to offer improved customer experiences that are customized to preferences and demands.
Big Data Advancements
Many fintech companies have leveraged big data to become more efficient and cost-effective with their business activities. In the past, banks calculated credit scores using data from tens of thousands of people. Now they can use a single source of data, a portion of a million people, to predict a credit score for a person. This is a striking change in the recruitment of money from people that would have been otherwise impossible.
Although the use of big data in fintech has been around for a long time now, it has gained increased attention in recent years due to emerging fintech start-ups, the financial crisis, the widespread adoption of the Internet of Things, and advancements in digital payments. The increased attention has led major players in the financial industry (Goldman Sachs, Fidelity Investments, State Street Bank, and BlackRock) to further use Big Data in their digital banking best practices.
Blockchain-Based Payment Systems
Blockchain is set to shake up the financial services sector with changes in processes and transactions, but it's also creating a perfect storm of opportunities for the fintech industry. Using this new-fangled technology, financial companies and banks are finding new and innovative ways to market their digital banking services.
Blockchain-based payment systems are created with speed and traceability that are accessible by anyone. Moreover, the use of blockchain in the fintech industry gives the guarantee of complete data security, certified data, and transparency of activities, which further enhances the business model.
Data Security
Full data security is one of the toughest things companies around the world are trying to achieve and it's one of the major reasons for the iOS vs Android app fight. Just take a look at how many security incidents users faced during 2019-2020: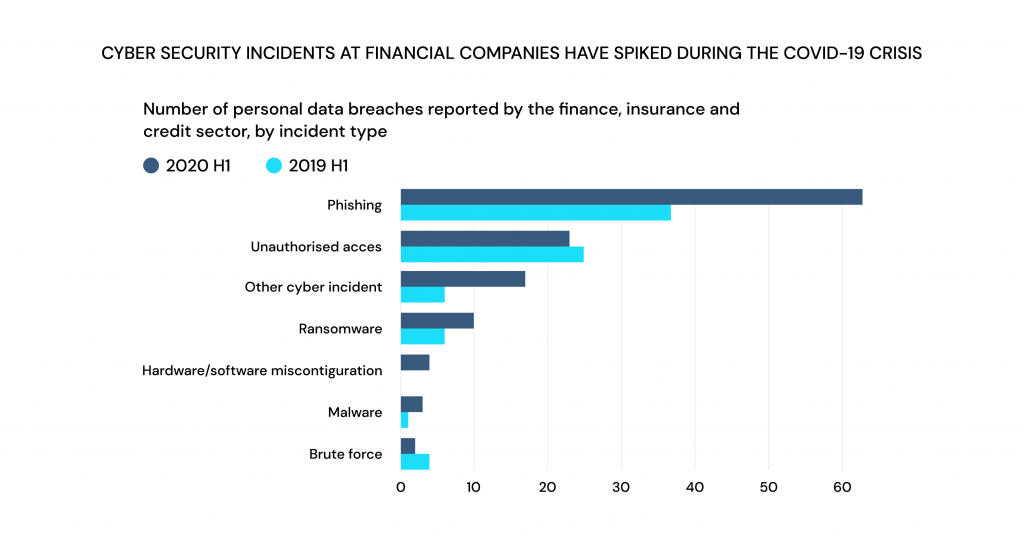 Risk aversion has changed how people use technology, prompting services to shift focus to security, privacy, and data protection. As new standards and regulations emerge, companies see new methods to secure user data. As almost every data breach, ransomware attack, and hacking incident happen due to insufficient security of online apps, it's important to reassure customers that their finances are safe.
Microservices
Companies looking to move work to the cloud are often faced with a dilemma. Do they run just one big monolithic application or do they break out applications into small, focused, reusable services that can be scaled independently?
One of the most popular approaches in modern fintech companies is the use of microservices. Unlike traditional water-tight apps, microservices are designed to be modular, independent pieces of software working together to form an entire application. They're built for scalability, performance, and extensibility. Choosing between Angular or React for the development of microservices apps, keep in mind that due to Typescript, Angular is best for a single-page app while React provides more versatility for microapp creation.
Key Features for Fintech Apps
Although the underlying fintech app infrastructure and processes vary, there are certain features that all fintech applications should include.
Authentication
Today's fintech app solutions were all created with mobile users in mind. Using your phone number, email or social media account is the typical way to sign in to an app. Traditional sign-in processes can be clunky and rigid like many online experiences, but modern fintech applications make it much easier to integrate their features to keep users engaged and onboarded.
Quick Scan
The quick scan feature is another great banking idea. It was first introduced to provide customers with a report that includes financial information like balances, expenses, accounts, and usage rates. The feature also offers advice on which accounts can be closed to help customers save money. The function scans documents for certain words or phrases that can trigger alerts, emails, and other notifications related to certain sets of events.
Custom Alerts
By understanding where your audience is focusing their time, you can tailor your fintech project content to meet their interests. Custom push notifications combine a targeted message with a given time limit. As a marketing strategy, they have a number of benefits, most notably the ability to increase engagement and conversions with a specific style of marketing.
AI-Powered Chatbots
Chatbot development was one of the major trends for iOS app development in 2021. AI-powered chatbots are still primarily being used in fintech apps as an extension that helps banking and insurance businesses offer better customer support.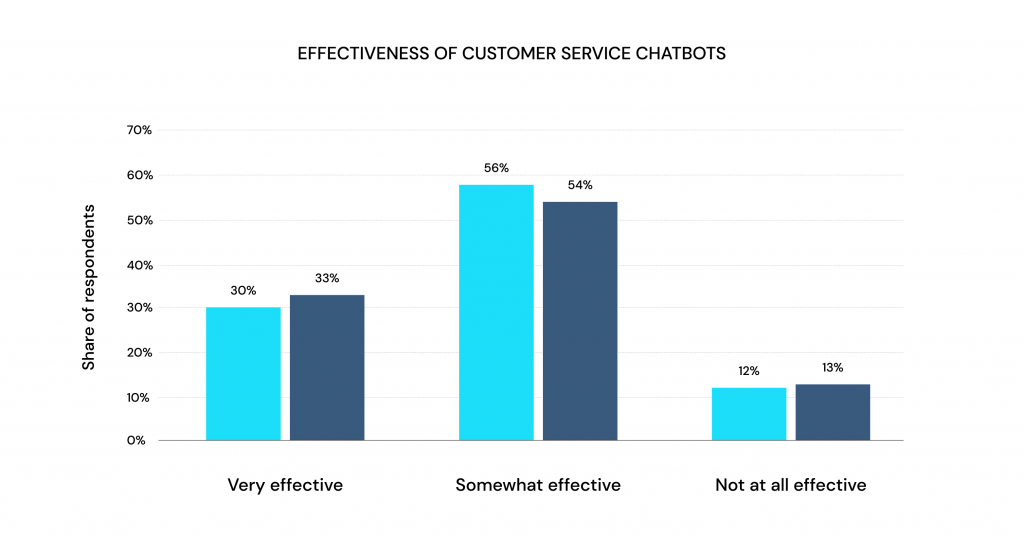 AI bots also help digitize processes and automate transaction workflow.
Third-Party Services
Businesses, due to their complexity and mobility, are growing increasingly reliant on third-party providers for tasks such as payment processing, which can be hard to manage. Third-party services in fintech applications can provide a variety of benefits when used judiciously. They can increase brand awareness, drive brand loyalty, support enterprise-level customer care, and increase the likelihood of existing customers becoming repeat customers.
As the fintech app market grows to be more complex and feature-rich, the need for third-party services to be integrated and deployed in the app becomes more and more important. That's why many companies today resort to mobile app development services seeking help implementing various add-ons.
Mini-FAQ
This is the series of questions that agonize the fintech banking companies. We tried to shortly answer them:
How to develop a fintech app?
To develop a fintech application, you first need to define your business goals. Then, actively develop a go-to-market strategy. To do this, it's important to consider the tools, skills, and knowledge as well as the target market as a building block for your fintech project promotion strategy. Which sectors are more suitable for the application you are building? How will you make sales easier? What is the path to customer engagement? All of your answers need to be clearly mapped out and documented into a fintech application development
What languages to choose for fintech app development?
Today, almost all fintech app solutions are developed using modern programming languages like Java, Python, C=+++. This is because fintech software is built around complex data management that's then used to deliver a financial product or service.
How to secure a fintech app?
If you are considering building an application for the financial or payments space, integrating security in each step of the application usage process is of utmost importance. Here are several tips for a good start:
Allow complex passwords
Log all user activity
Track all transactions and block suspicious ones
Ensure the security of your code and infrastructure
Integrate multi-step approval processes
How much does it cost to build a fintech app?
Most fintech apps in the marketplaces (with essential functionality and a simple UI for one platform) cost around $30,000 and take about 12 weeks to build. The amount of money you might need to build a more sophisticated fintech app ranges from $5,000 to $500,000 and more.
Follow us!
Interested in our monthly newsletter? Get the insights, updates and discounts right into your inbox only once a month.