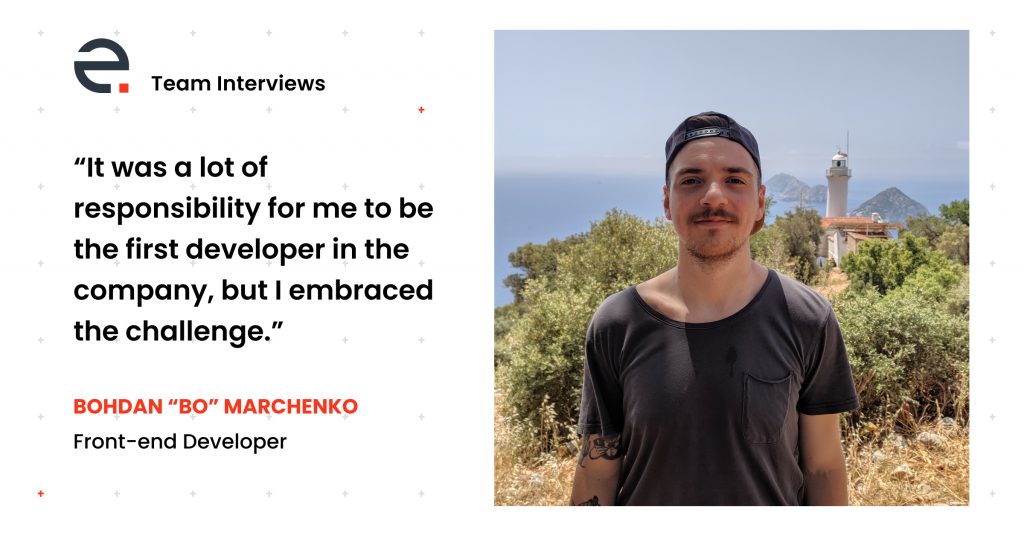 Team Interviews: Meet Bohdan Marchenko, Front-end developer
Today we continue our Team Interviews series that features our Ein-des-ein family! Meet our first front-end developer and the person who has been watching the company's growth over the years, Bohdan "Bo" Marchenko!
Hi, how are you doing? What is your current position at the company?
Hey, everything is great for now. At the moment I am working as a Vue front-end developer in the company, and I like that a lot honestly! I've been on the front-end team since 2016 and I am glad I always get new opportunities for professional growth here.
What are your day-to-day tasks and responsibilities?
Recently, I have been working on a particular project: we are developing a very interesting and useful service for sports studios class booking. But sometimes I can "pick up" some more tasks from other projects.
How did you get into front-end development?
Actually, I got into front-end development a long time ago before it had gone mainstream. (smiles) Like many other developers, I started attending courses. It was during my first year at the university so after finishing courses I started to earn my first money by getting projects on freelance websites. Some useful acquaintances also helped me with getting my first website layout development projects. And here I am, working in front-end for over 10 years and counting!
By the way, are you and Vue.js friends now? Why did you decide to change the framework?
Definitely! I have chosen this framework because of its many advantages. The obvious one is the ease of development. It is very flexible and adaptable, you do not need to jump into learning brand new concepts in-depth.
Moreover, with the help of Vue, you can solve a number of complex issues with simple actions. Such an approach is very appealing to me. I also like its easy customization and nice documentation to work with.
For those who are thinking about switching to Vue.js, I recommend visiting their website to read more about it. Some specialists recommend checking out such tools as Visual Studio, Atom support Vue, Sublime Text. Personally, I like to use VS Code and Vue Dev Tools Chrome extension so check them out too!
By the way, you do not need a Senior level knowledge of CSS, HTML, and JS frameworks for it, basic or medium-level would be enough to start.
As a first developer in the company, how do you feel? What's the most memorable moment in the company's history for you?
It was a lot of responsibility for me to be the first developer in the company, but I embraced the challenge. I was working with all the company's projects for a few years and the responsibility for them was on my shoulders exclusively. I liked that I could choose architecture by myself, though.
Now I find it more interesting to work with a team because there is a constant exchange of experience. Not to mention I also like to spend my spare time with these people. For example, we play table tennis during lunch breaks.
There are plenty of memorable moments for sure. Of course, like every other company, we face difficulties and need to meet hectic deadlines from time to time. But eventually, I remember only the big wins of our team, big projects we successfully accomplished, and, of course, our corporate annual parties! But all the most fun memories will remain a secret because I don't want to anger my colleagues. (smiles)
You have been happily working here for 5 years. In your opinion, what are the most important things a company could offer to keep a specialist satisfied and motivated?
Personally, I can't imagine a happy worker without proper rest. Burnouts are a recurring story among many specialists, no matter what sector they work in. We have a well-structured work environment so I am glad I am able to plan my weekends and long-term vacations properly. I mean, I like fixed timings so I do not have to worry about super sudden tasks to do ASAP on Friday night! Of course, exceptions may happen, but in general, we are good at following deadlines.
Other factors essential for me are opportunities for professional growth and a competitive salary.
How do you keep up with the latest technologies and trends?
I often learn about everything new in the industry from online conferences or social media. Before the pandemic, I liked going to offline meetups to communicate with people so hope such meetings will come back soon!
First WordPress, then Vue.js. What's next?
I am highly interested in improving my skills in Vue development still so for now I don't plan any changes or switches.
What are your hobbies? How do you spend your spare time?
I like mixed martial arts, I also often play table tennis, it's a great energy boost during your workweek. I love hiking! The greatest thing about it is that you think about nothing other than a path in front of you, a beautiful forest, or a lake you pass by. It is a real meditation for me and nothing compares with it. For those who want to try hiking and are still in doubt, you won't understand its therapeutic effect until you try it yourself. A calm mind is worth walking a thousand miles. (smiles)
If you're interested in learning more about our teams and their star employees, check out our previous interviews in this series. For example, Irina Repnikova, Sales Manager.
Follow us!
Interested in our monthly newsletter? Get the insights, updates and discounts right into your inbox only once a month.