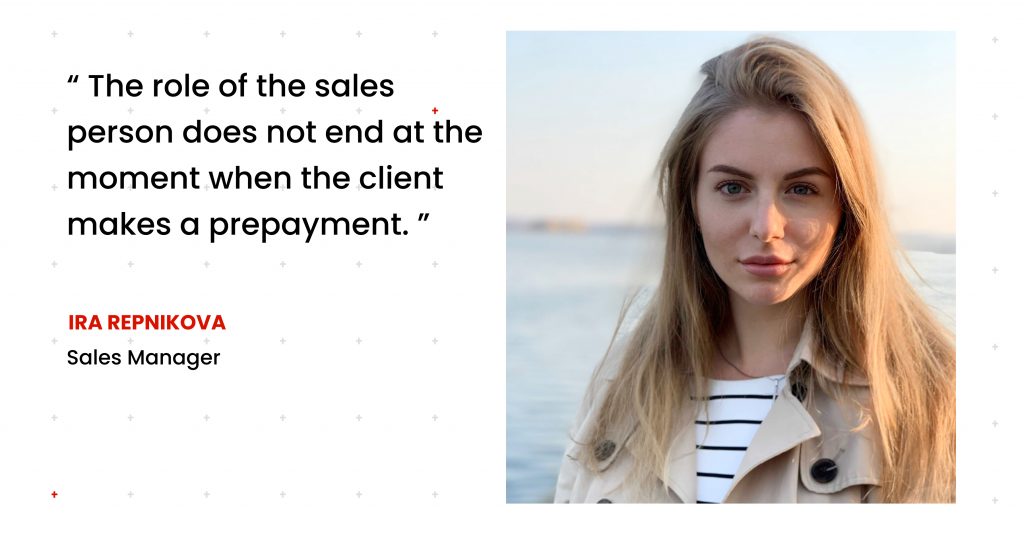 Team Interviews: Sales Secrets with Ira Repnikova
Today we continue talking about our talented team members and their professional journeys. We're sure you might wonder about those who are your first contact in any project, so it's time to turn to the Business Development department. Meet Irina, the sales power of our company!
Hi, Irina. Share your journey with us, please. What is your current position at the company?
I have been working as a Sales Manager for 3 years. My starting position was that of a Junior Lead Generation Manager and after 3 months of intensely learning about the sales practices, I got to lead my first deal with a client. I always thought and still believe that my marketing background helped create an excellent foundation for a strong sales future.
My daily work consists of negotiations, calls with clients, and searching for new prospects. In addition to this, I am now delving deeper into the development processes themselves and try to observe every step of the projects. It is important for me to make sure that the customer is satisfied at every stage.
What does your typical work day look like?
My typical day does not start with an alarm clock, but with a new email alert. The number of unopened letters in the morning is always an indicator of the workload for the day.

The negotiation process is the biggest part of my job. Identifying a need, consulting, and preparing an assessment is the major part of the pre-sales process.

I should also mention that I communicate a lot with the team and the customers as part of the project workflow. The role of the sales manager does not end at the moment when the client makes a prepayment. (smiles) You should always keep your finger on the pulse and be ready when a team or client needs your help or when something goes wrong.
What do you like the most about your job?
The feeling you get right before a meeting with a potential client. It seems like every nerve in your body is stretched. Even as I talk about it, I get goosebumps. (smiles) I'm a fan of face-to-face conversations because correspondence and calls are just dust in their background. When you talk in person, you are immediately aware of the client's emotional disposition and can adjust to their wavelength.
Describe your selling style. What qualities make a great sales manager?
I always try to put myself in the client's shoes. What is their problem? How can I help them solve it? What supports my words? I do not work with companies, I work with people, and it is important for me to understand them and to care about their actual needs.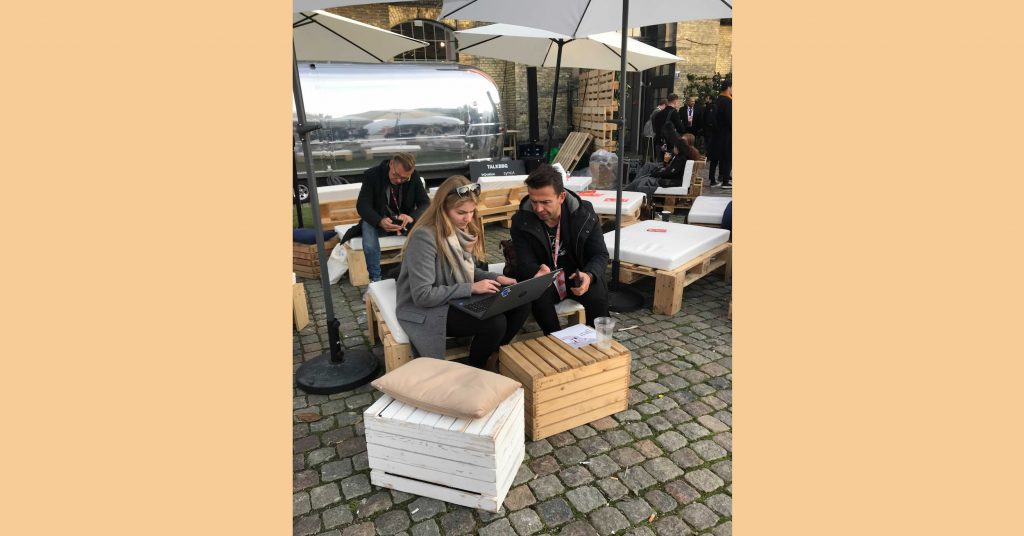 A great salesperson is characterized by a set of qualities that are within their control and outside of their control. For example, it's extremely difficult to develop great charisma if you are not charismatic from birth. But you can work on yourself and become a cool diplomat, psychologist, or analyst, and learn how to handle objections.
Some people manage to make a name for themselves and become the best employees in their companies due to just three or four developed qualities. This happens when they are in a suitable environment and choose the right path for themselves.
Who's your ideal client?
It is important for me when the client has a clear image of their goal, is open to cooperation, and trusts me. For me, these are the three pillars of a successful project start.
Have you ever felt anxious talking to C-level people/top management while in negotiations? And if yes, how did you deal with it?
Once I had the honor of meeting with the CMO of Tesla in the Austrian-German region. This meeting taught me a lot. (smiles)
The important thing is you should always sound calm and confident. This is a necessary foundation. The top manager wants to talk to an expert. And experts always sound confident. My advice for salespeople is to work with their voice and speech production.
What is in your opinion the best motivator for a sales team?
The sales team is often motivated by money, in one way or another. The reason is quite obvious—the more you earn for the company, the more you gain as an employee.
But the emotional side of the process is also very important since salespeople are usually those who burn out more often than others.
In order to maintain a good emotional state, I believe there should be a team spirit and achievable team goals. For example, generate a certain revenue sum per year. Or strive to make a deal with a big client like Deutsche Bach. We usually set these goals in quarterly meetings. For sure, goals should be realistic. Each person has their own role in achieving the goal, which does not overlap with the roles of others. If you fail to reach your goal, you let the team down. This motivates you to move forward and do better.
How would your colleagues describe you?
The Director of Panic. (laughs) I always have a clear plan and if something goes wrong, I fidget around a lot.
How did you decide to become a sales manager? Can you share some advice for those who want to become one?
It might be upsetting to some, but I didn't have a specific dream of becoming a Jordan Belfort. I started with a junior marketer's position, which turned out to be more direct sales-oriented than marketing. And I fell in love with what I was doing. That's it!
I would recommend initially looking for a sales internship/junior sales position in a US-based company. Americans use the most diverse selling styles and can teach you a lot of useful stuff. Of course, in addition to this, you can watch videos, read a Salesforce blog, and the industry literature. My top books are "Customers for Life" by С.Sewell and P.Brown, and "Selling the Invisible" by H.Beckwith.
What fictional character do you identify yourself the most with? And why?
I don't identify myself with anyone. I will have to become the one who will be the prototype for a fictional character. (smiles)
How do you like to spend your free time?
I have practically no free time. If this happens, I try to use that time for self-study. I watch webinars, read articles, and lately, I have started to hang out in the Clubhouse app and tune into the topics of sales, IT, and marketing.
Your 2021 resolution is…
Investing in myself!

You can see more of our office life on our Instagram account. We love to post about our work and our everyday moods and inspiration. Check out the previous interview with our Project Manager.
If you'd like the ein-des-ein team to handle your project, reach out to us at contact@ein-des-ein.com or simply fill out the form on our website and we'll contact you as soon as possible.
Follow us!
Interested in our monthly newsletter? Get the insights, updates and discounts right into your inbox only once a month.