Ein-des-ein blog
The Best Way to Build an e-Commerce Website from Scratch
Want to build an e-commerce website? The current post-covid reality has greatly influenced the e-commerce sector. According to eMarketer survey results, a worldwide e-commerce market is expected to reach $5.42 trillion in 2022. This growth is impressive considering the period of just a few years. In addition, traditional offline vendors realized the necessity of their e-presence—a global pandemic has been dictating current shopping principles so a modern society is getting used to ordering goods online even if local shops are open again after lockdowns.
So an e-shopping business is totally worth investing in. The question is how to build an e-commerce website from scratch, successfully run it and generate stable revenue? What information would be essential to planning your winning strategy and what instruments should be applied during all steps of its creation? Let's get all the answers in this article.
It's important to note that Shopify, Magento and Squarespace are code-free platforms. WordPress is primarily for those who can code. However, you can leverage platforms such as Elementor that offers a WooCommerce website builder that allows you to create WordPress-based online stores without having to tinker with code.
WooCommerce website builder – anchor
https://elementor.com/features/woocommerce-builder/ – link.
Feature Sets of eCommerce Platforms
E-commerce projects in website development usually have common features. More complex ones are added if there are very particular needs.
The basic features include:
Registration/Profile creation
Item search (filters, comparisons, wish lists are placed here)
Product pages with its characteristics, reviews, overall rating
Cart/checkout with different payment methods
Order history
From an enterprise point of view, the following features are also essential:
CMS+dashboard
Services Integration
Security Tools
Let's talk about each feature narrowly. They are divided into groups:
User-based and product functionality
UX is extremely important, a perfect layout and branding won't work until they actually start attracting users and help convert leads into sales. Moreover, user-friendly functionality and SEO are strongly connected. If your e-platform is confusing and messy, people leave it immediately which affects SEO indicators dragging you to the bottom of Google results.
Let's define general user-related and product features significant for any e-store, no matter what goods are being marketed.
Registration/Visitor profile
A page where users save their data: address, personal info, payment method, preferred delivery agent, etc. Here they review their shopping history and wish lists. As a vendor, you are able to analyze possible preferences to plan your promo campaigns based on the user info.
Item search and site browsing
Here quality UX is vital because visitors should easily figure out where to find a specific item among many others, filters should be easy and overall search should be intuitive to simplify the client's path.
Product page
The info about a specific item is shown here, a description is easy to read, reviews and ratings are found quickly so buyers could decide faster.
Shopping Bag
The main task here is not to complicate the buying process. When pushing the "Add to bag" button, no additional options except for "Check out" (better in a single click!) or "Continue shopping" should be placed here.
Checkout process
A top priority is to shorten it so a user would not change his mind because of a confusing or difficult flow. The 2021 trend is for sure a 1-click purchase with a typical multi-step journey left behind. How to achieve it? Embed an auto-complete function where possible, involve your call center/support managers in the chatbot to gather all necessary info, and don't bother your clients with too many questions.
Confirmation stage
To avoid any incomprehension, show all the final details when an order is placed and a\the payment is successful: an order number and its details, all positions with prices, a delivery agent, etc. Moreover, send a confirmation e-letter with this info so your client could review it at any moment. Don't forget to add "Cancel", "Modify", "Track package" buttons too.
Search Functionality
Search functionality is among the most significant parts as you have to provide your potential buyers with any possible means to successfully find an item they have been looking for and, of course, buy it FROM YOU. Don't worry, it is very easy to add this feature: for example, popular CMS's have their own widgets; select CGI scripts or remotely hosted CGIs (check out Google Custom Search Engine), etc.
If your desire is to achieve an awesome SF, be sure to cover the following:
1. Search box
Its placement is extremely important: a header would be a suitable choice so it would be noticeable, accessible, appearing on every page. Work on a proper auto-complete and also think through possible misspellings providing users with a "Did you mean…?" solution so the results can be more relevant.
2. Introductory text
It is also essential to put such text above search results for both visitors and Google robots: visitors navigate through results more easily, your SEO indicators are getting better and you place keywords in this text as well.
3. Filters
Narrow the selection down to a specific category or quality such as collection, brand, style, size, color, origin etc. Try to make it simple, fast, intuitive so potential clients could find what they want.
4. Sort by Function
Help users to sort by recommended, top-rated items, new arrivals, A to Z/Z to A names, or filter by price (Low to High, High to Low).
5. Nothing Found Page
Provide users with alternatives when they can't find what they want if an item is out of stock/sold out. If there is just a spelling mistake, suggest correct words, synonyms if possible. Further manual refinement of common searches would be useful. Additionally, not to waste precious space here, show top-selling categories or items your visitors have already searched for.
Choose your CMS
A content management system, often abbreviated as CMS, helps owners to keep and manage content (pictures, videos, documents) easily and more: with such software, you change design elements, analyze sessions, host forums, etc. The benefits of implementing it for your store are endless:
No matter how small or big your e-store is, CMS can still be useful. It simplifies all the flows, you are flexible to do any changes quickly, the content organization becomes simple.
The system is user-friendly so basically a beginner masters it pretty easily. A CMS process is simplified and any uploads and alterations are done in seconds.
Trouble-proof and easy content integration. Updates are processed right away without problems if a platform operates on a proper CMS.
Worldwide accessibility. There is no need to be afraid to travel as you log in into your CMS anytime anywhere. These systems are browser-based so if you have a good internet connection, you can manage everything remotely.
Alternative Payment Methods
Alternative payment methods (APM) are described as all means besides actual paper cash: select among credit/debit cards, bonuses/points, bitcoins, virtual wallets aka Google/Apple Pay, etc. You have definitely heard about these ones in your region so get acquainted with alternatives:
Klarna is an APM that allows you to buy goods right away but pay for them later. Klarna is well known in a majority of Northern European countries.
In Russia, e-wallets are gaining more popularity so such leaders as WebMoney are totally ruling the game. It has been operating in many countries but Eastern Europe has been its main geographic segment. By using WebMoney you can deposit, pay, withdraw, and collect funds.
NeoSurf is a prepaid card that has been gaining international popularity among gambling/entertainment sector audiences. Right now the service is operating in 40+ countries including Australia, Canada, Africa. AstroPay Card is the same kind of service present in LATAM.
iDEAL is widely used in the Netherlands: a popular service that enables consumers to pay through their own preferred bank. If you plan to be present on the Dutch market, consider implementing it to simplify the buying process for your audience.
One more service worth mentioning is Trustly, mostly famous in Western Europe. With Trustly people accept payments, issue payouts, and access insight data.
eWallets have also become practical APMs nowadays, depending on a region/country, different ones are frequently employed. For example, Alipay is a giant on the Chinese market so if you consider selling goods in Asia, consider implementing not only Alipay but also Qiwi. If you are planning to sell products in Russia, do not forget to read more about Yandex Wallet.
Before entering a specific market, study the payment preferences in a region, for example, which mobile device is used more often to pay for services or goods: GooglePay would be the first choice for Android users in Asia and ApplePay for iPhone users in North America. PayPal is the pioneer in this industry, and they continue to grow their presence worldwide.
Innovation in eCommerce Platforms Development
When it comes to modern trends and notable technological innovation influencing an online shopping experience, here are some that you should consider so your store can be relevant, modern, and profitable.
M-commerce
More than half of all online purchases are made with mobile devices so a majority of companies switch to mobile apps. The rest are improving their adaptive versions every day not to lose precious traffic. Mobile commerce (or simply m-commerce) refers to the usage of smartphones/tablets for a better e-shopping experience. Calculate your budget and analyze your target audience activities to understand if it is worth investing in a separate app. If you decide to move forward with an adaptive version, ensure it operates correctly in all browsers, on all devices.
One-click Checkout
In order to simplify the funnel make sure your customers don't fill unnecessary fields, especially if they have already purchased something from your e-store before. Simplify the registration so users wouldn't have to waste their time during the next session.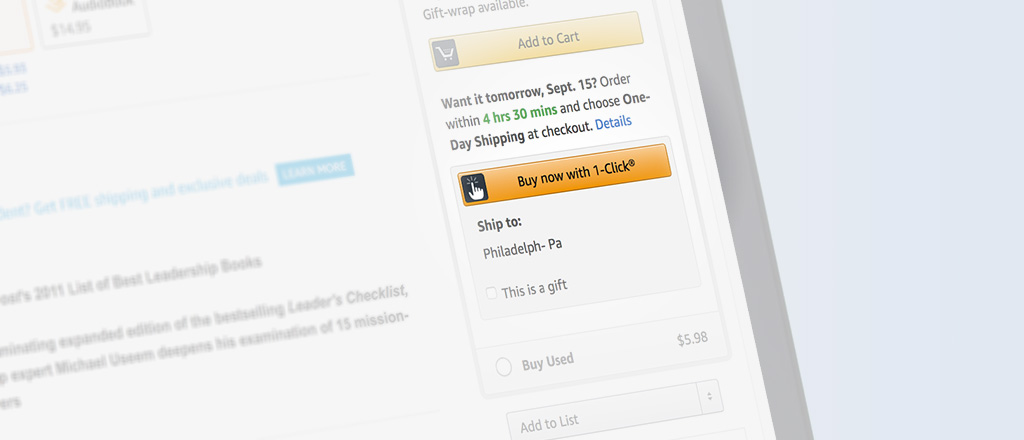 Chatbots
A chatbot has become an essential technology for huge companies to optimize their customer support. Now it is implemented everywhere no matter what size your project is. Conversation marketing and support allow business owners to reduce costs when it comes to common customer problem-solving. You don't need a huge tech support department anymore. If you consider implementing chatbots into your business, choose among site bot, chatbot app, social media bot – analyze where your target audience would prefer to communicate. In addition, such bots actually generate leads/sales as they get introductory info about potential customers.
Voice Assistants
Voice search is obviously not a new technology as such tech giants as Apple, Google, Microsoft have been using it for years (Hello grandma Siri, how old are you actually?!). However, voice assistance is actively present in the e-commerce sector so such "audio bots" could help to make a purchase faster. Consumers order from Amazon easily just using a voice command already, so this trend is going to grow for sure. Not only online retailers are now implementing this technology, but the food delivery sector will also benefit from it as well.
AR/VR
Implementation of VR/AR technologies has already been changing customers' shopping experience in particular sectors: large furniture online retailers have already been showing a customer how a specific sofa or a chair set may look in a real interior. Some clothing e-stores allow their customers to "try on" a t-shirt or a skirt virtually, just using a camera as a mirror. Are you wondering if the technology's popularity is really growing that much? We are talking about billions of dollars: Facebook and Apple have already invested in this industry and such giants as Alibaba and Microsoft have been developing their own custom technology.
Read more about top trends in mobile app development 2021 in our blog.
How to build an e-Commerce website from scratch: Costs & Timeline
A total cost strikingly varies (usually $50k to $240k) as it takes approximately four to six months to develop a basic version, six to nine months for a medium project, and more than nine mos for a large complicated one. Planning your budget and timing, you should take into consideration such factors as:
Development studio choice and its pricing (foreign or local staff, rates per hour)
Design and customization, functionality
Hosting, domain, marketing, SEO etc.
How to set up an e-commerce website: Step-by-step guide
Obviously, the first phase would be market research so you could pick a lucrative niche. If you have already determined what type of goods to sell and who your precious target audience is, you still have to perform basic marketing assessments like SWOT analysis, pick a convenient business model, set an optimal budget, etc. as your marketing strategy would become a basis for further steps. Let's imagine this phase is complete, so we move to website creation. Firstly, decide if it is going to be a custom-built store or a website DIY builder is your cost-efficient choice for now. Evaluate both variants carefully!
Pros and cons of website builders
Such giants as Shopify, Magento, Wix have achieved popularity among startups globally due to their simplicity and user-friendly approach. If you don't require sophisticated made-to-order features and extensive scalability, here is plenty of already existing templates plus you receive proper web hosting! Furthermore, there is an ability to acquire a free domain or create your own custom domain, utilize SEO tools, etc.
If you have spare time to test new instruments, you might try to do everything by yourself. But there are many developers who specialize in Magento/Wix development, so it would be faster and more efficient to work with them.
When it comes to a domain name, your desired variant may be already unavailable. In this case, look for instruments like Shopify's Business Name Generator to pick an available name.
If you decide to move forward with a builder, you should also assess risks and analyze their disadvantages:
Not all WB don't require knowledge in this area so apparently you would still have to hire a good developer
Not all WB are suitable for ecommerce sector in general, find out beforehand
A subscription and additional expenses on plugins, hosting etc. are still obligatory
Limited functionality makes many platforms seem pretty similar so focus on what can make you stand out
Pros and cons of custom-built solutions
Many projects, especially big enterprises, select custom-built solutions with preferred technical stack, unique features, faster bug elimination, further technical support, etc. Other advantages of such choice include:
Full customization so it becomes more user-friendly/recognizable among competitors, a unique UI/UX;
Based on your own requirements, it would 100% meet your personal needs without any compromise
Full code ownership afterwards;
ASAP implementation of latest technology updates in your functionality;
A convenient hosting provider selection
Once you have decided what approach you move forward with, define, analyze and start developing features & project architecture.
Design of eCommerce website
Here at Ein-des-ein we believe that good web design often becomes crucial when it comes to customer decisions. Even such small details as fonts, colors, chosen pics greatly convince people to make a purchase or not, it is all about your image. Good web design should solve several issues when it comes to e-commerce projects.
It should attract potential buyers
Provide proper UX so the whole process would be easy, quick, and intuitive
Nothing should distract people from making an order.
When setting your design goals, keep these basic tips in mind to make your store modern, stylish, and cost-effective!
Choose minimalism
Try to avoid adding any additional elements which can distract users from buying your items. Bright, "screaming" colors, annoying pop-ups, constant noises, etc. only cause people to leave your website forever. Choose references you like and study the concepts created by your design company. There are great studios out there that keep up with the latest trends and know which solution may be the most convenient for your type of business.
Be unique when it comes to branding
Stand out amongst your competitors so potential customers would 100% remember where they shopped from. Plus, good branding is crucial nowadays when there are scammers creating similar platforms—people should trust your shop and know that their privacy and card information is safe.
Try walking in visitor's shoes
Try to behave as your potential consumer (focus groups would be an awesome selection too!), always analyze every new feature from your audience position. Would the layout be comfortable to navigate? How to arrange items in the most practical way? Is the checkout stage simple and quick enough? Constantly asking these questions and improving features, you would simplify an ordering process and optimize a sales funnel drastically.
Study a color scheme
Discuss color options with a design team so they may recommend good variations on every stage. Check out surveys on how a particular color impacts consumer decisions. Even the wrong combo of red/green colors may change consumers' minds so pick colors carefully.
Use HQ pictures
When people are not able to see a product with their own eyes, you should provide high-resolution images so all the details and angles would be clearly visible. It would be an even better option to create 3D models as well. But if not, at least have good quality product photos or/and videos. Bad image quality equals a scam in users' perception!
Avoid long descriptions
In the modern world, people don't have time to read a lot, especially when it comes to online shopping. It is great if users would be able to read it "diagonally" in seconds. Avoid long introductions, "watery" descriptions, unnecessary or obvious details which only take extra space. Keep phrases short and simple, highlight the most important information, break large text blocks into smaller ones. Do everything to make your audience get all the necessary info and add an item to a basket faster!
Show reviews and feedback
People listen to other people when making a decision, so create a review section for users to give feedback on a purchased item! If people add photos/videos of products, mention the color/size they have chosen, characteristics they liked, etc., they will help others to choose the right item. If you receive a bad review (yep, it happens!), then yay, it is a great opportunity to grow and work on product quality/customer service to improve the situation. Determine if you need a separate reviews page or a review section for each item in particular.
Good filters are everything for UX
The bigger your e-store gets, the easier a navigation process should be. Constantly improve filters especially when new characteristics appear (brand, fabric, country of origin, skin type, purpose, etc.). Make sure search results meet user expectations. If there are misspellings, provide users with the right option; if an item is out of stock, show alternatives to choose from.
Make it mobile-friendly
Indisputably, a mobile/responsive version is a MUST if you do not want to lose more than 50 percent of your potential audience. Verify that an adapted version operates correctly from all devices. Simplify the checkout and give an opportunity to auto-complete fields and check out as a guest. If you move forward with separate mobile app development, then make it as qualitative as possible.
Payment Gateway
Payment gateway is the technology that captures and transfers payment data from the customer to the acquirer, then transfers the payment acceptance or decline back to the customer. It validates card details securely, ensures the funds are available, and eventually enables merchants to get paid. As a business owner, you should choose a convenient option, good. The preferred payment gateways of 2021 include Authorize.Net, Stripe, PayPal, Square, WePay.
SSL Certificate
SSL, or Secure Sockets Layer, is an encryption-based Internet security protocol that creates an encrypted link between a web server and a web browser.
Previously, if a consumer visited an e-store, placed an order, entered a credit card number to pay for goods, all that information would be unprotected. SSL solves this issue and protects user privacy. By encrypting any data transmitted between a user and a web server, SSL ensures anybody who intercepts the data only sees unknown messy characters. The buyer's credit card number cannot be stolen as it is only visible on the shopping platform where it was entered originally.
SSL also stops certain types of cyberattacks: it authenticates web servers, which is crucial as attackers often create fake shops to trick visitors and steal data. It also prevents unauthorized intruders from interfering with transmitted data, such as a tamper-resistant seal on a medicine container.
Delivery and Packaging
Once the sales process successfully begins, the first thing to do is to choose a convenient, fast, cost-efficient delivery service and ship customers' orders on time.
For example, in the US Amazon implemented its signature delivery within 48 hours policy, which forced Target and Walmart to play along similar lines. They too now have to deliver products quickly to keep a competitive edge or risk losing out on customers.
Do research to find out what options are provided by your competitors in your niche and pick the most convenient one.
Marketing strategy
Likewise, it's vital to invest not only in development but also in marketing strategy. When it comes to marketing tips in e-commerce, make sure you take these ones into consideration!
Produce original content
Make it interesting, informative, unique, and easy to read. Create a blog page to publish useful industry-related articles/tips not only to attract readers (aka potential buyers!) globally but also to improve your SEO indicators, taking you to the top of Google search.
Test and optimize the layout after the launch
Constantly analyze the path of your user, be sure essential elements are easy to access. Even if it was tested multiple times before the release, visitors are the only people whose opinion matters. If a website has a "perfect" layout but does not convert leads into sales, why invest in it?
Use Social media channels
Instagram, Facebook, and even TikTok are your comrades when it comes to reaching out to target audiences. Generate high-quality and relevant content to increase engagement, boost traffic from SM accounts, and keep communicating with the consumer base.
Implement email marketing
Undoubtedly, email marketing is still a powerful tool in the e-commerce sector but a key to success here is not to turn your emails into junk letters that end up in spam folders. The only solution is to provide your audience with useful tips and articles, necessarily give them unique promo codes, early bird access to sales, etc. By the way, a "$10 off a first purchase" coupon would be a great reward for a subscription!
Benefit from retargeting
If a visitor likes specific merchandise but does not put it in a basket, leaving your e-shop afterward, make sure they don't forget about you. Retarget them to show display ads while they are browsing the web (be moderate and not intrusive!). Chances are that people return and finally order after seeing ads are getting higher.

FAQ
How much does it cost to build an e-commerce website from scratch?
Check out the info about costs and timelines in the article above! Assuredly, they depend on such factors as an agency choice and their web development services, Design complexity and customization, functionality, hosting, domain, SEO, etc.
How long does it take to build an e-commerce website?
The timing may vary due to a lot of factors but it is considered a basic version development takes up to six months, up to nine months to create a medium project, and more than nine months to build a large complicated version. Not to mention any unplanned negative scenarios (by the way, check out our article about 6 Tips to Keep Any Client Project on Track not to slow down the process!)
Is it hard to set up an e-commerce website?
As a business owner, decide if you're okay with website builders or want a custom store built from scratch. Check out our comparison above to move forward with a convenient variation.
How do I start a successful e-commerce business?
Analyze the market and pick a profitable niche, study and single out a business model, define the complexity of your site and develop it following our step-by-step guide above. Select a logistics partner. Constantly test, increase content/service quality and promote your site to attract visitors to convert them into sales.
Follow us!
Interested in our monthly newsletter? Get the insights, updates and discounts right into your inbox only once a month.