Ein-des-ein blog
Why You Should Hire Ein-des-ein for Your Next Web Design and Development Project
When it comes to creating and managing a website, a web application or a SaaS platform for business purposes, it is essential to ensure that you have all the best solutions to meet the needs of your customers. Hiring a web design and development company may be critical in providing the cutting-edge technology and expert knowledge needed to create an engaging user experience. Whether you are looking for new ways to sell services or products online, build customer relationships, or increase lead conversion rates – working with an experienced, professional agency is one of the best decisions business owners can make regarding their digital presence.
In this blog post, we dive deeper into why leveraging the expertise of top-rated web development agencies can significantly benefit your business regardless of its size or industry sector.
We also explore why hiring the Ein-des-ein team for your next web design project makes sense. If you want the responsible company to cover everything from the commitment to post-release support, as well as good knowledge of technology/trends and dedication to staying ahead of changing market conditions, get ready – here is why you should choose us as your partner for success!
The definition of web design
It is an ever-evolving and invaluable field of study that involves developing, creating, and maintaining a web product – websites, apps, SaaS platforms etc. It is integral in producing an aesthetically pleasing, user-friendly product to captivate audiences. Web designers build its core structure by incorporating design elements into the code, taking into account visual appeal as well as the overall functionality. Along with understanding HTML and CSS, developers need to have skills such as creativity to work with visually appealing graphics as well as technical savvy to ensure all aspects are working properly.
Therefore, deep knowledge of consulting strategies and marketing techniques is required here to ensure businesses effectively reach their clients online.
Agencies deliver various services that help organizations maintain an effective online presence. From market research, design and development to content management, post-release analytics and product maintenance, they can create a product suited to an organization's individual needs. They are also qualified to handle the entire user experience, considering factors such as navigation, layout, and branding. They often offer additional services like SEO to increase visibility or advanced analytics to track page views and other metrics effectively. The typical list may include the following services:
Web design and development
The first and most apparent service which includes everything from planning and wireframing to designing and coding the front-end and back-end. In most cases, agencies also handle hosting and domain registration.
Search engine optimization
Implementing SEO tactics involves optimizing content and technical improvements such as indexing acceleration and server response time optimization. By making sure your website is visible and easy for search engines to access, you can draw new visitors interested in what you offer and create a more productive online presence overall. SEO usually includes optimizing both the on-page and off-page elements, such as the content, title tags, meta tags, and backlinks.
Pay-per-click advertising
PPC is an advertising model in which advertisers only pay when someone clicks on their ad. The most common form of PPC advertising is Google AdWords, which allows business owners to create text, image, and video ads that appear in Google's search results and redirect visitors to the advertised platform.
Email marketing
Email marketing involves sending newsletters, promotional offers, or other types of email messages to a list of subscribers. In order to be effective, email marketing campaigns must be well-designed and targeted to the right audience.
Graphic design
Graphic designers create visual communications that convey messages or ideas through images, symbols, or typography. This includes logos, branding materials, advertisements, presentations, and much more.
Hosting and domain registration
Hosting provides space on a server for websites so that they are accessed online. Domain registration is the process of registering a domain name.
Should I create my own web product?
Although building and designing a web application, a website, or a SaaS platform seem like a relatively painless process, in fact it may be pretty tricky. It requires significant know-how when it comes to programming languages, as well as the aesthetics side.
Depending on how ambitious your company is with the project, the cost for hosting and development may add up quickly. Furthermore, setting up and modifying code for something more than basic features takes many hours to perfect. This is incredibly taxing if you do not have any prior knowledge of coding. Let's take a look at each of the cons in detail.
It requires time to learn how to do it properly
There are various programming languages and frameworks, and it is difficult to determine which is right for you. Additionally, even if you know how to build a product, it still takes significant time to actually do it.
It May Be Difficult to Make It Look Professional
If you're not an experienced designer, even if you use a popular website builder or templates, creating an interface that is both unique and polished may be challenging. If you want it to look professional, hiring someone with proper expertise is often best.
You Have to Keep It Updated Regularly
Once your web service is up and running, you'll need to update it to keep people using it regularly. It will quickly become stale and outdated if you don't have the time or inclination to do this. Additionally, if you're using it for business purposes, it's essential to keep it up-to-date so that potential customers don't get the wrong impression.
You Need to Purchase Additional Software
Depending on what kind of web service you're trying to build, you may need to purchase additional software in order to get everything just right. For example, if you're working on an e-commerce platform, you'll need software that allows people to securely checkout. Or, if there is an educational SaaS platform which requires working with lots of multimedia files, you may need software to compress and optimize them.
There's Always the Possibility That Something Could Go Wrong
No matter how carefully you plan or how much experience you have, there's always the possibility that something could go wrong. For instance, you could accidentally delete an important file while updating a page or make a coding error that causes malfunction.
Benefits of Hiring a Professional Web Design Agency
It is the perfect option for businesses that want an eye-catching and modern solution but don't have the time or experience to do it themselves. A reputable firm takes your ideas and makes them a reality, designing a perfect interface and visuals that communicate to your audience. Professionals also suggest ideas for improved functionality and navigability so visitors easily find their way around. Main pros here include:
Expertise and Experience
There are designers, developers, analysts, testers, content makers and marketers who all have a deep understanding of the process i.e. how to deliver successful products similar to yours effortlessly. Not to mention that you can ask them to show you their web design portfolio beforehand so you do not buy "a pig in a poke".
This level of expertise is difficult to find in-house, which is why working with an agency is such an advantage.
Fresh Perspective
If you've been working on your platform for a long time, it may be difficult to see it with fresh eyes. But an agency will approach it with new ideas to take your project to the next level.
Cost-Effective Solution
You only pay for the services you require, not hiring full-time employees or paying for benefits. Additionally, agencies often have access to discounts on tools and resources that saves you money.
Increased Efficiency
An experienced team knows how to streamline the development process so your product is launched as quickly as possible without sacrificing quality.
Access to the Latest Tools and Trends
When you work with a company, you also gain access to the latest tools and trends in the industry. A good agency will always be on the cutting edge of the latest industry trends to provide its clients with the best possible results.
Improved ROI
Because the team is focused on delivering exceptional results, specialists work hard to ensure that your platform is driving traffic and generating leads that convert into customers. So, eventually, you achieve a greater return from your investments.
Why You Should choose Ein-des-ein for Your Upcoming Web Design and Development Project
For over 7 years we've been delivering projects for our clients all over the globe. Nowadays, Ein-des-ein helps startups, SMEs and large businesses from the USA, the UK, Europe, Asia achieve goals and grow. Most of our projects are from MedTech, E-Commerce, Social Networking, Construction, EduTech, SaaS and other niches.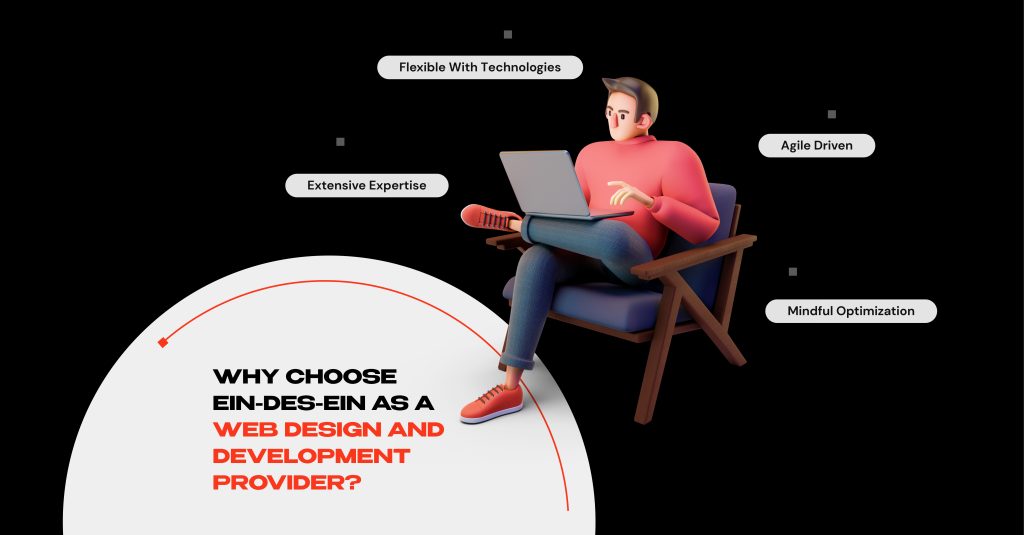 Please read about all services we offer and our expertise here or by visiting our Ein-des-ein DesignRush Profile! But, we want to tell you a bit more how it all started too.
Ein-des-ein started as a small cozy studio, mainly working with branding, logos, and illustrations. But soon, we began to receive requests from companies demanding high-quality wow-effect web design. We are proud to say that our designers did an excellent job here; we were known in our Dnipro city, and large enterprises wanted us to design their landings, online stores, SaaS platforms and more.
At some point, our clients began to ask if we could fully take the coding part too. Eventually, there were so many repeated requests we realized it was the right time to form our own development team to provide full-cycle web development services. Besides it, we have gained extensive expertise in mobile app development and UI/UX app design.
Our values
The values at Ein-des-ein are rooted in the belief that customer satisfaction is paramount. Our team members:
strive to ensure that our work exceeds the expectations!
believe good design should be accessible to everyone, regardless of their budget.
believe in open communication and transparency, and we always aim to keep our clients informed and up-to-date on the latest industry trends.
value creativity and innovation, and we strive to push the boundaries to create truly unique and memorable experiences.
are dedicated to continuous learning, and we stay up-to-date on the latest trends and technologies so that we can provide our clients with the best possible service.
believe in working together as a team, and we constantly communicate with our clients to ensure that their vision is brought to life.
are passionate about what we do, and we strive to deliver the highest quality results.
Why should you expect excellent results from EDE team?
We are industry experts
We know that your product – a website, an app or a SaaS platform – is a crucial asset for success in the digital era. That's why we are experts in the art of web design, with an eye to build something incredible that looks great, functions perfectly, and sets you apart from your competitors.
We have a team of talented professionals
Our team's wealth of experience and knowledge ensures smooth, successful launchings free of technical glitches and delays. The customer-centric approach means that our clients always get their say during the project: every product is custom-tailored to ensure that it fully meets the customer's design objectives as well as their SEO needs. Our specialists are able to create products that reflect your brand and personality.
EDE designers also think outside the box and come up with unique solutions to problems. They always come up with new ideas, and are open to trying new things.
We use the latest technologies for web development
We strive to stay at the cutting edge of web design. Specialists are constantly keeping an eye out for the latest technologies and trends so our clients get only modern solutions. Our creative team also knows how to leverage these new technologies to create unique and innovative design solutions, often resulting in stunning visuals that can help facilitate a better user experience. With our deep understanding of modern technologies in web design, we are confident in our ability to create beautiful web products with both function and form.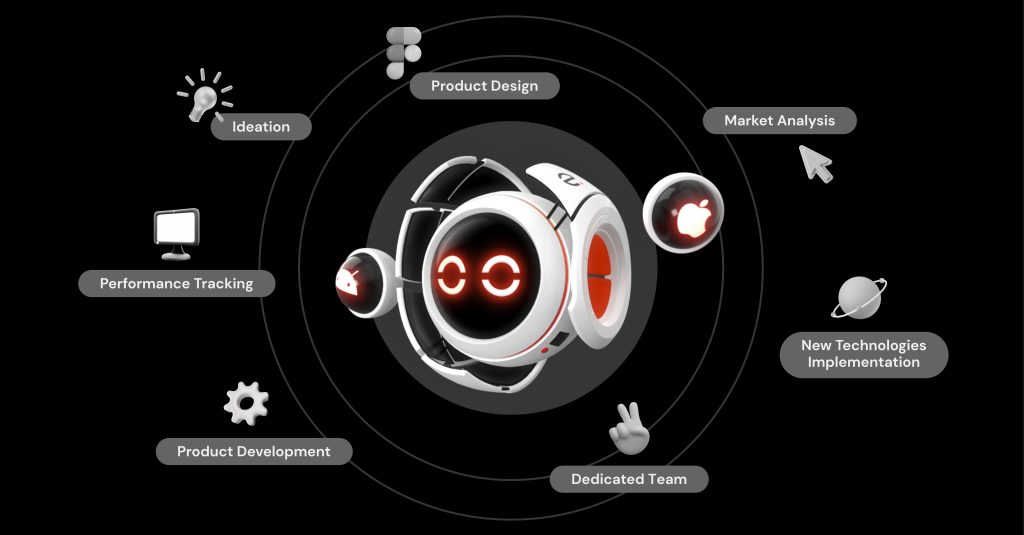 We are reliable
You can count on us to show up on time and deliver on our promises. We understand that your time is valuable, so we always make sure to respect your time and meet your deadlines.
We offer competitive prices
Get the best result within your budget without compromising on quality or service! Ein-des-ein strives to offer reasonable prices for every service you require. Our managers will create a personalized plan that meets your budget and needs without sacrificing quality.
We are passionate about what we do
EDE takes immense pride in our ability to help businesses create a lasting online presence. We are passionate about web design and firmly believe that it is an essential tool in the modern business landscape. We love being able to assist businesses in building powerful platforms and make every effort to exceed expectations no matter how big or small.
Conclusion
We hope that you have a better understanding of web design and how professional agencies assist companies with building a product that looks amazing and functions perfectly.
Investing in web design provides businesses with multiple opportunities and benefits: everything from the user experience to scalability can be greatly improved, leading to increased customer satisfaction and loyalty. Furthermore, well designed web products can lead to decreased technical troubleshooting costs and improved updatability, making them worth their cost in the long run.
So, if you're looking for a team of talented designers who can help you achieve your online goals, don't hesitate to contact us. We would be glad to discuss your project!
Follow us!
Interested in our monthly newsletter? Get the insights, updates and discounts right into your inbox only once a month.