Ein-des-ein blog
Why Custom Mobile App Development Services Are Worth the Investment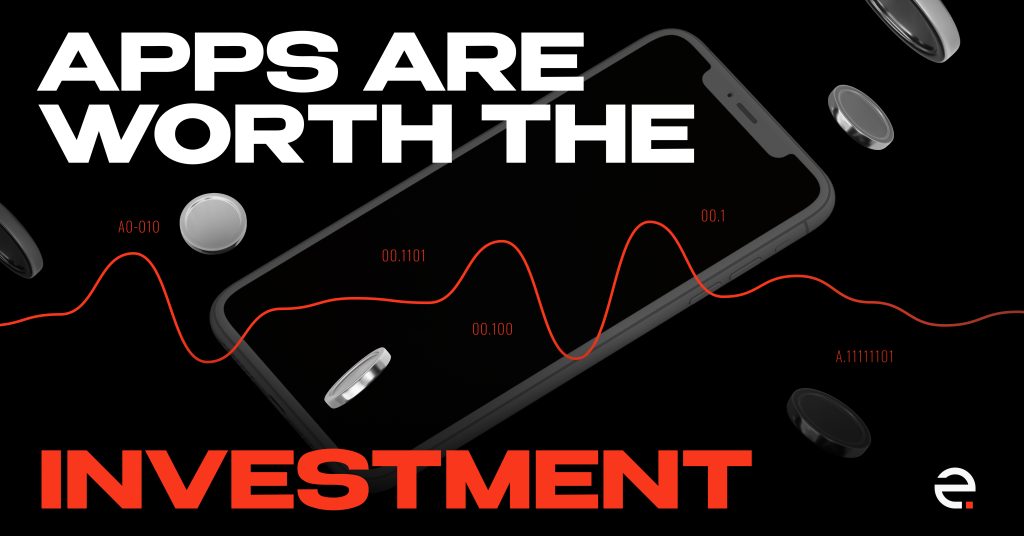 With the rapid advancement of technology, custom mobile app development has become one of the most effective ways to generate leads and turn visitors into long-term clients. Thanks to the personalized approach and unique features created specifically for a specific target audience.
In this post, we explore all the advantages from increased customer engagement to improved efficiency and cost savings. We also talk about main reasons why you should consider investing resources into developing a unique product instead of off-the-shelf software and how it will help you with reaching business goals more effectively.
What is custom app development?
It is a process through which applications are built to meet specific requirements or/and with the use of particular technologies to ensure its scalability and reliability. Good custom apps have an easy-to-use interface and a high security level. That is because they are uniquely aligned with the company's current infrastructure.
In this article, we have already talked about custom app types and main steps to create them. We also discussed useful promo and marketing tips. So, if you want to know how to make an app that stands out and draws attention, check it out!
Will I save money by choosing an off-the-shelf solution?
Speaking about off-the-shelf software, it may sound like a good idea to solve complex organizational challenges. But, sometimes the cookie-cutter approach ends up doing more harm than good. Through customization, you ensure the software meets your exact requirements and is built with company-specific features in mind. Off-the-shelf solutions tend to lack support for any customization. Furthermore, they are usually updated by the vendor at a certain interval. It may not be able to keep up with a changing business landscape. Eventually, it makes it difficult if not impossible to achieve success.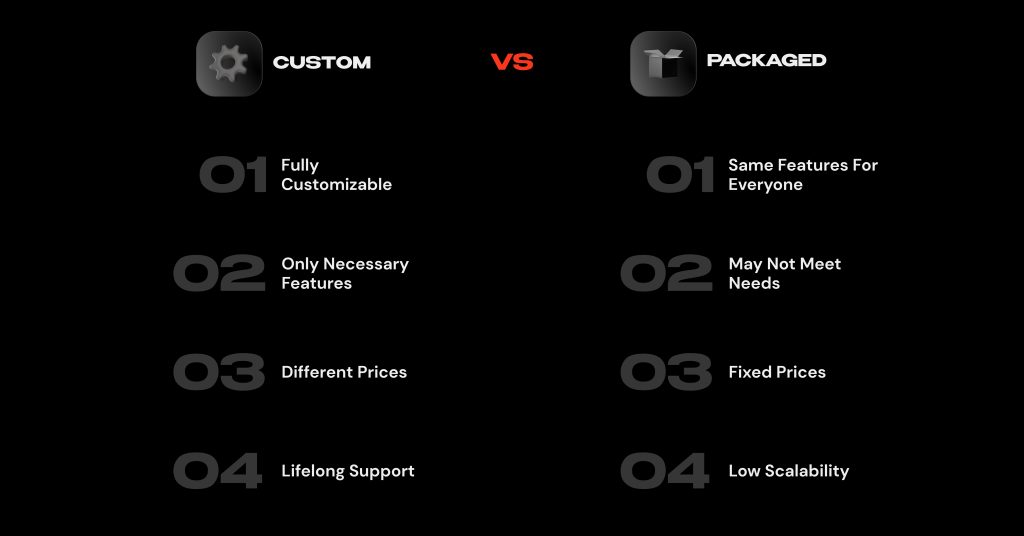 Custom apps that are designed to address an organization's particular goals offer full control over the updating and maintaining process. When planning their technological future, businesses should carefully weigh their options. They ought to opt for product that fits their needs rather than settling for a one-size-fits all package. CAD offers a unique opportunity to get a tailored solution which leads to well optimized user experience. Plus, there is greater scalability and reliability compared to pre-made templated solutions.
Let's discuss all reasons why such investment benefits your business.
Reasons To Invest In Custom Mobile App Development
No doubt, it is a great way to better serve clients. As a business owner, you get:
Increased Engagement
Offer consumers a convenient and interactive way to connect with your company! A well-designed application provides the audience with easy access to your services, as well as main info about your services, values, prices etc.
No matter what industry you are in, a tailor-made application has the potential to vastly improve the user experience, thanks to an exceptional personalized interface that meets their individual preferences.
Improved Customer Loyalty
Users who have a positive experience with your app are more likely to continue using it. Additionally, people who open it frequently are also more likely to purchase goods from you in the future. So, CAD significantly improves retention rates too.
What are the pros here? Clients who are loyal to your brand buy more and recommend you to others. This increased customer lifetime value is attributed to the fact that loyal clients are less price sensitive and more likely to make impulse purchases. Additionally, they are also more likely to "forgive" a company if somehow they have mistaken, which increases the customer lifetime value even further.
Furthermore, loyal clients require less advertising efforts. They are already familiar with your brand and what it has to offer. By increasing client loyalty, you reduce marketing costs and allocate those resources towards other areas. Do not forget that positive word-of-mouth reviews attract new consumers without additional paid advertising. A win-win situation!
Increased Sales
You understand the user journey from the start. You have a proper analysis of the TA and its common interests and behavior. Thus, you can eliminate or add steps on their way, adding only valuable information and necessary functionality. As a result, the process becomes even more enjoyable and easier for them. You adapt the product any time to ever-changing market demands.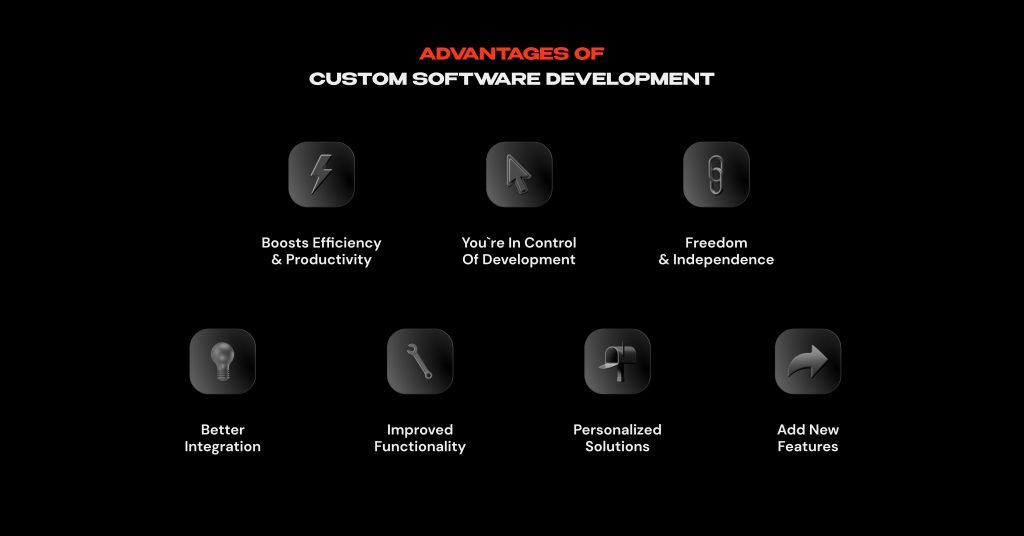 More accurate consumer behavior analytics
There is also a distinct advantage when it comes to collecting and analyzing data about TA's buying habits, behavior or preferences. It will later be used to strengthen the marketing strategy and target leads more effectively to maximize profits.
By analyzing this data companies gain valuable insights on how people interact with their products, allowing them to make smarter decisions. Unlike ready-made solutions, custom ones are tailored according to these insights.
You will remain competitive in the market as you are always equipped with accurate data. Therefore, you determine the most efficient course of action that brings desired results through real-time adjustments.
Improved Customer Service
Users can contact you with questions or concerns, track their order status or view their account information more easily. Additionally, you resolve issues connected with the functionality more quickly. You easily push updates or changes (unlike off-the-shelf software which requires time to be updated).
Faster Technical Support
With direct access to the responsible team, issues and problems are identified and resolved quickly, reducing the project downtime. This fast response allows businesses to stay ahead of the competition. You keep users engaged and satisfied with an uninterrupted service, compared to off-the-shelf software. This is because it usually requires some time for updates or improvements to finally happen.
Greater Brand Awareness
People who see a unique, not "one size fits all" product, are more likely to remember your brand. They are also more likely to search for it when they need an item you sell. It is worth mentioning that off-the-shelf software offers some customization options, however, their number is often limited. As a result, some companies just cannot properly work on the brand awareness and recognition. The reason is they just do not have all available instruments and options for it.
Improved Competitive Advantage
You stand out from competitors by offering a unique, modern and differentiated product to the relevant audience. It also shows that you are keeping up with the latest technology trends, and it gives people the impression that you are a forward-thinking and innovative company, unlike many clones on the market. You tailor every feature to specific needs and make sure everything looks and works the way you and your clients want.
From extensive scalability to promising security features, along with enhanced efficiency and automation, custom apps offer reliable solutions on multiple levels which might not be available with ready-made or off-the-shelf applications. As a result, such apps get much more competitive advantages and attention from users.
Greater Scalability
CAD approach allows developers to use various techniques, such as creating code libraries and taking advantage of cloud computing, to create applications that will easily handle increased workloads. It enables developers to design applications specifically tailored to customer needs by integrating individual installation settings and custom permissions. This not only improves the user experience, but also ensures proper data security protocols which enhances the scalability of an app. Businesses can be sure their application will continue to be efficient even as it grows in popularity.
Improved security
With the increasing usage of various apps across industries, including FinTech and MedTech where private data is a top priority, the need to have a good security level is now more than ever. CAD approach helps organizations achieve this goal by addressing their specific set of security requirements. In this case, an organization has complete control over various aspects such as authentication, access methods and who can view which data.
Security testing is an important step in the CAD process to ensure vulnerabilities and bugs are identified even before an application becomes available for use. Furthermore, with ongoing maintenance and constant upgrade cycles of custom applications, any breaches in security can be quickly identified and addressed thus reducing risks and making an application more secure.
Ultimately, organizations are growingly opting for a CAD approach as it provides them with greater access control along with increased security ensuring smooth operation across devices.
Proven Ownership of Intellectual Property
You become the proud owner of your product's source code – a huge benefit that isn't available with standard ready-made solutions. That means all the control and personalization is in your hands!
Smooth integration with existing systems or other apps
You can improve integration with complementary products by building your application around existing products functionality and requirements. Off-the-shelf solutions usually provide integration, but its generic APIs may not work for all use cases or it may not tailor-fit with some apps you or your audience may be interested in.
The ultimate benefit of CAD is that it allows organizations to stitch together various technologies in order to offer a one-stop, unified experience for users while giving them access to a full suite of services. As a result, people have everything they need without switching between multiple apps and providers.
Are investments in development agency services worth it?
Investing in professional services is something that will pay off both right now and in the future. You get the benefit of their years of experience, relevant knowledge and industry-related expertise. Professionals provide you with valuable insights and advice. Additionally, they answer questions you have about any steps or the technologies involved.
Furthermore, working with professionals results in a much faster timeline, as well as a lower risk for errors or unforeseen issues that might delay the launch. You should expect higher efficiency as they have a deep understanding of the whole process and are able to streamline it for your needs. It saves you time and money in the long run. Moreover, they are able to identify any potential problems with your application before it goes live, so you avoid any negative reviews or feedback.
When you work with professionals, you also enjoy greater flexibility in the development process. This means that you change or add anything at any time without having to start from scratch.
Professional developers also make sure your software is properly optimized for all devices and platforms, allowing it to be seen by more people.
Finally, when you hire an expert, you enjoy peace of mind knowing that your project is in good hands. The agency takes care of all aspects of the development process so you can focus on other significant things. Additionally, specialists provide you with regular updates on the progress, so you stay informed throughout the entire journey.
Hire Ein-des-ein for your next custom app development project
Custom apps offer the perfect balance between functionality and cost savings, making them ideal for those who seek a modern, good-looking and effective solution built to fit their specific preferences. Of course, such a serious project requires a significant investment of time and money upfront. However, once the product is developed, it saves resources in the long run.
So, how to create an app and determine which one is right for you? Outsourcing your project could be the answer. By hiring a mobile app development company with relevant expertise in UI/UX design, you benefit from expert knowledge, guidance and support throughout the entire journey.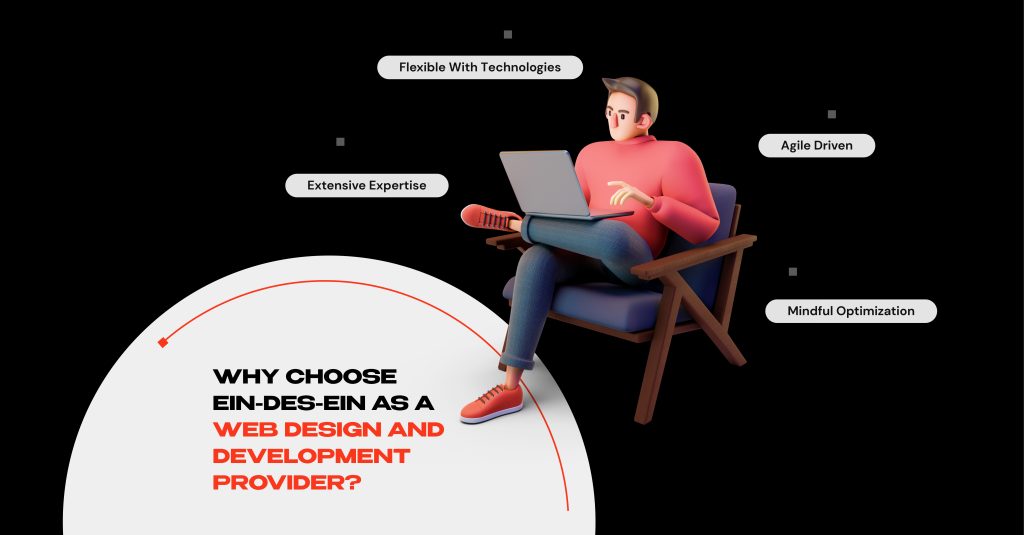 If you are looking for exceptional mobile development services, we would be glad to use our expertise in mobile design and development. We understand the importance of creating a visually appealing experience for users, which is why our talented designers and developers specialize in crafting stunning visual designs within a convenient UI. Ein-des-ein provides the ultimate balance between form and function — ensuring that your easy-to-use application looks amazing too.
Our specialists spend time getting to know your project before starting any phase, enabling us to customize features and other details just for you. We develop innovative mobile and web apps for all platforms and always strive to exceed expectations with our creative approach to problem solving.
With Ein-des-ein, you can be sure that you have chosen specialists with both android development and ios app development expertise and who are committed to making sure every detail of your product is right. Contact us today and let us help bring your concept to life!
Follow us!
Interested in our monthly newsletter? Get the insights, updates and discounts right into your inbox only once a month.