Ein-des-ein blog
How to Create a Food Delivery App?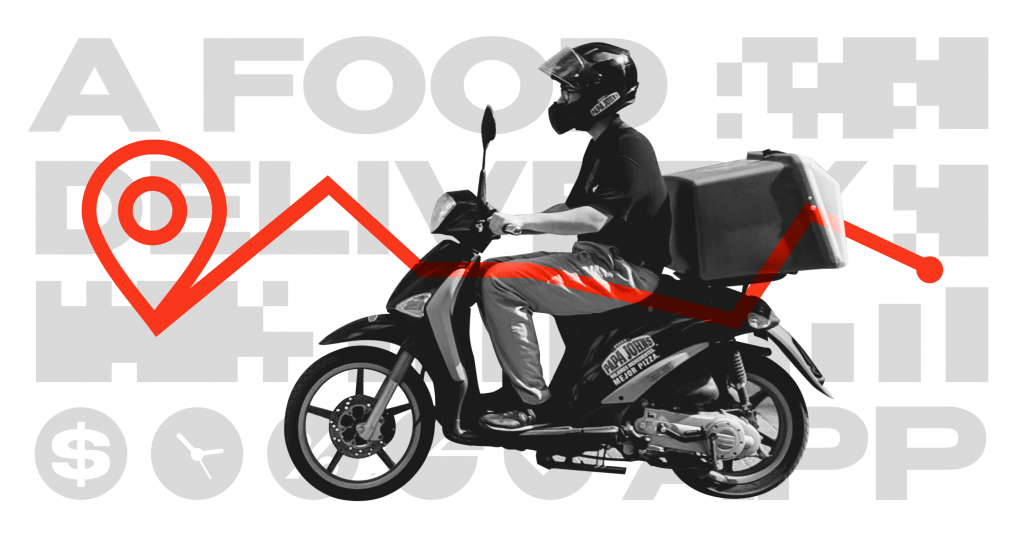 Nowadays, ordering a burger or ramen via a food delivery app while sitting at home, watching a favorite TV show is something very common for most people around the world. But what if we tell you that just before the pandemic many food delivery companies suffered from the lack of clients? Since 2020 the industry has been skyrocketing, so a lot of delivery-related startups are born every day to cover the growing demand.
Digital orders have grown 300% faster than traditional dine-in sales since 2014. The estimate for the number of people using food delivery apps in 2020 was over 111 million. This means that every day more users are choosing to order their meals online instead of going out or cooking at home: their number nearly doubled in the last three years.
Considering the consequences of COVID-19, the tendency would not change in the nearest future. Not to mention that digitalization has changed every aspect of our lives, including our food delivery preferences. People have to (or simply want to) stay at home more often so they prefer online orders. That is why such services are gaining so much popularity: users simply order their favorite food and pay for it using their credit card or e-wallet in a matter of seconds. No more "blind" waiting for orders and useless phone calls.
If you consider starting a food delivery app, in this article we answer common questions on the food delivery application development from trends to timelines and prices.
Overview Of the Food Delivery Market
Just before the pandemic started, such giants as DoorDash and Uber Eats were actually dealing with the lack of funding and were actively discussing different mergers with other companies. But, as we all know, these deals never happened because of Covid-19 which greatly influenced the industry's booming growth: under a global lockdown, such services skyrocketed. As people had to self-isolate, they needed safe and fast solutions to get all essentials and groceries. That's when online delivery saved the situation: the pandemic literally doubled the food delivery business.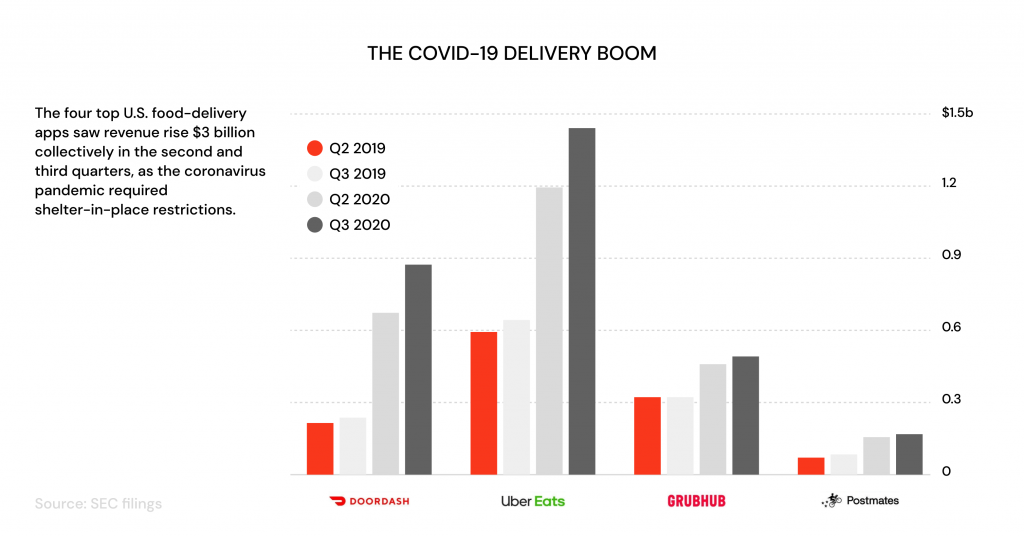 The pandemic had an unexpected but seemingly positive effect on the industry's small projects as well. Even though giants like UberEats and DoorDash dominated before, smaller startups have been raising millions in funding too, like Glovo Spanish startup that received a whopping $528 million.
$290 million has been invested into Gorilla's on-demand grocery startup which let them surpass its initial $1 billion valuations. One more example from the United Kingdom, Gousto meal-kit service, raised $41 million just under the lockdown period.
Europe food delivery app overall revenue is expected to reach $29.1 billion compared to $18.9 billion in 2020. If you consider entering the Chinese market, that's also promising as China food delivery app revenue is expected to reach $100 billion compared to $51 billion in 2020
With such success, it's clear that the future of the delivery sector is bright. Even if it seems like the market is crowded and there is no room for newbies, numbers do say for themselves:
three in 10 restaurateurs prognose the same demand level for such services as it has been during the pandemic, even after it ends; similar data was gained by Datassential last September when 59% of customers said they plan to keep using delivery apps;
in the United States, more than a half of all consumers prefer restaurant take-outs or delivery every week;
order sizes on platforms increased since the pandemic started.
No doubt, the situation with an HoReCa industry is not so bright. Starting from March 2020 many places, especially small and family-owned ones, have been dealing with various problems. Unfortunately, not everyone had the resources to outfight such a crisis, but those who survived need to adapt their strategy to the new post-covid reality: the market needs delivery options. Furthermore, people are willing to support small businesses by keeping ordering from them.
Moreover, even big restaurant chains suffer during these tough times: the delivery fees per order can eat the lion's share of profits as big third-party delivery services like Uber Eats charge up to 30% from it.
The biggest players on the market
Several leaders usually share the largest market segment. If you decide to invest in developing a food ordering app, you will have to compete with such type of companies in your country. For instance, speaking about the market share of online food delivery companies in the United States (you can check the statistics for your particular region), Statista mentions these giants: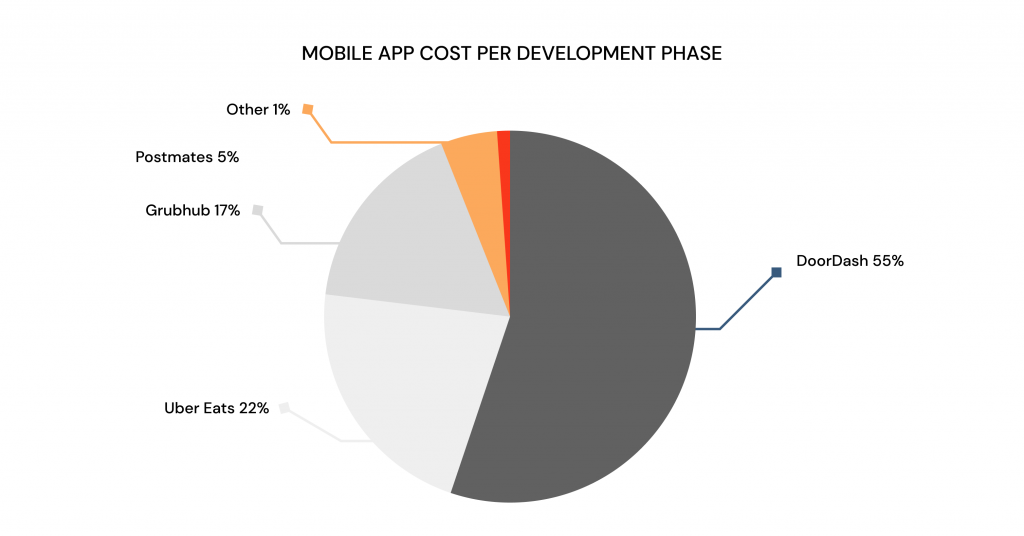 DoorDash operates an online food ordering and food delivery platform. It is the largest food delivery company in the United States, also present in Canada and Australia, Japan, and Germany. As of December 31, 2020, the platform served 450000 merchants, 20 million consumers, and 1 million deliverers.
UberEats holds more than 20% of the market and offers services in over 500 cities in 24 countries.
GrubHub app is available in London and over 3,200 US cities and is designed to help customers get their favorite food.
Postmates (actually owned by Uber since December 2020) operates in more than 2900 US cities.
How to build a food delivery app in 5 steps?
You definitely need something more than copying features of UberEats or other giants to become successful in the preferred area. Especially now, when new technologies are affecting all industries: from AI/ML to AR/VR used not only in gaming but in medicine and education, the delivery sector is not an exception. As the competition here is huge, make sure you have analyzed all the following aspects before investing in such a huge project:
Find Food Delivery Industry Trends
Social media orders
In a modern world where people basically spend hours browsing their social media feed, delivery companies have found a way to reach their audience through such platforms as Instagram.
In a historic move for both restaurants and customers, Instagram has announced that it will be introducing an order-taking feature to its app: ChowNow successfully integrated its ordering system with social media platforms. This means you can now place orders from your phone without leaving your favorite platform, using the Order Food button, or even just using stickers in Stories! More than 13000 restaurants are able to accept Instagram orders that way. Such innovative solution positively affects revenue, so restaurants already benefit from higher-order volumes while also providing users with one more convenient option to get their favorite dish. This is a win-win situation!
Smartwatch
Smartwatches are becoming more and more popular nowadays. In fact, the current surge in this market was predicted long ago by some companies who saw the opportunity for growth there and created the adapted version for their apps. Now, even those who denied this tendency, have to adapt apps for smartwatches: the gadget has become a modern must-have not only for the opportunity to quickly check social media or read emails without holding your phone in hands but also for health-related purposes i.e. to get the latest cardiovascular insights, thanks to "portable" EKGs in it.
It is not a surprise that delivery companies understood the necessity to keep up with this trend. For instance, Domino's introduced its smartwatch app to ease the ordering process and reach more potential clients.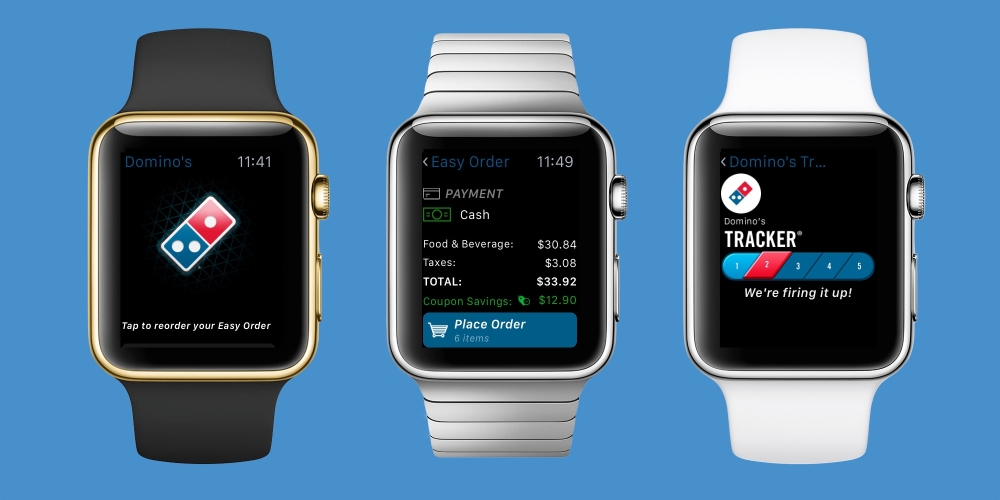 Virtual assistant
Technologies like Alexa and Siri have been helping us with daily tasks from specifying weather conditions to purchasing goods. Obviously, the food sector was among those who wanted to use it as well. Caviar has already introduced a Siri shortcut that lets users check order status or even reorder favorites through voice commands.
Grubhub is taking orders to the next level by adding an Alexa skill that lets you get all of your last three purchases reordered within just minutes. Users just say "Alexa, open GrubHub" and then pick out any order with quick responses from the digital concierge.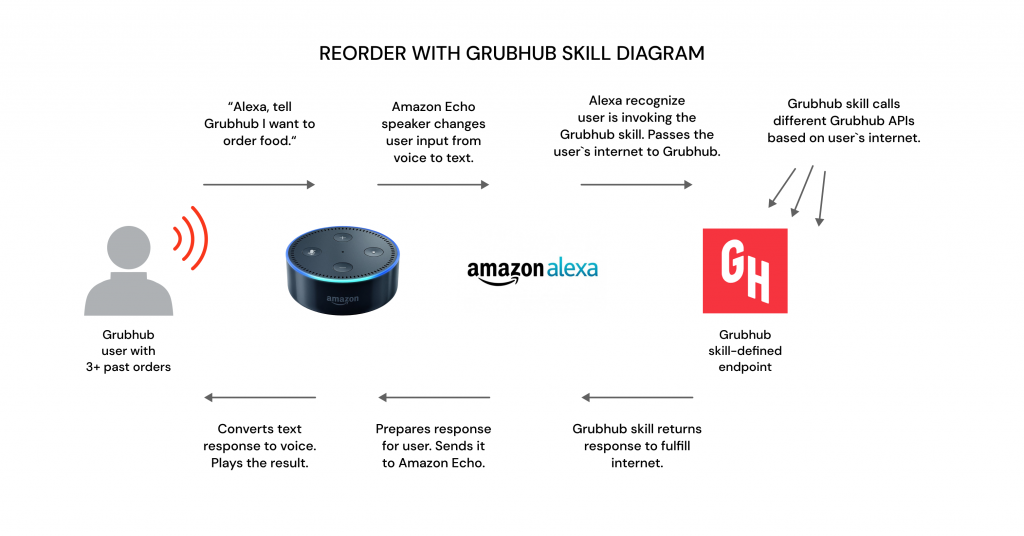 Cashless payment solutions and contactless deliveries
Two existing but still improving technologies for guaranteeing a high level of safety during the pandemic. Startups need them to minimize unnecessary interactions aka reducing health-related risks.
The future is in the cold metal hands of self-driving robots and vehicles that basically don't require any human interaction. Postmates is developing self-driving robots to make processes more convenient and efficient: robots use cameras/light detection to navigate sidewalks while avoiding obstacles on their way.
In a world with rising fuel prices and the problem of climate change, it is more important for companies to find ways they can cut costs and reduce environmental pollution. An automated delivery implementation is cost-efficient and more environmentally friendly.
Some believe that the key to success lies in starting with a proven approach. This is especially true for startups with limited funds. If it is your case, it might be wise to focus on implementing traditional features first. However, as the company grows, you may consider investing your money into cutting-edge digital solutions: implementing them can be costly, but it will provide long-term benefits, so these investments will pay off over time.
Make research of your target market
A successful app will not work out without understanding basic info about potential users! Start by identifying who they are and what their demographic information might include – such as age, gender, social characteristics.
Once this knowledge is compiled together, ponder which aspects will be most beneficial towards meeting their needs effectively.
For example, if we know there's an emphasis on families with children then you might consider delivering baby care products or specific baby food besides traditional groceries.
The TA can be narrow i.e. consumers of dairy-free products or vegans, or broad, like sushi lovers.
How can you create an application that will solve a customer's problem? The best way is by identifying what their pain point might be and then creating a solution to match it. Why should people choose your platform among others? That's the question to think about too so your product would offer more than its competitors.
Choose Food Delivery Model
Your service may be local or global depending on what best suits your needs/requirements as an entrepreneur. There are many options to consider:
Order-Only Model (Grubhub, JustEat)
Restaurant owners that use this model, attract more customers and reach a much wider target audience without planning additional promotions or advertisements for themselves. Speaking about its type, an app connects users and eateries. It allows clients to choose a preferable place and make an order there.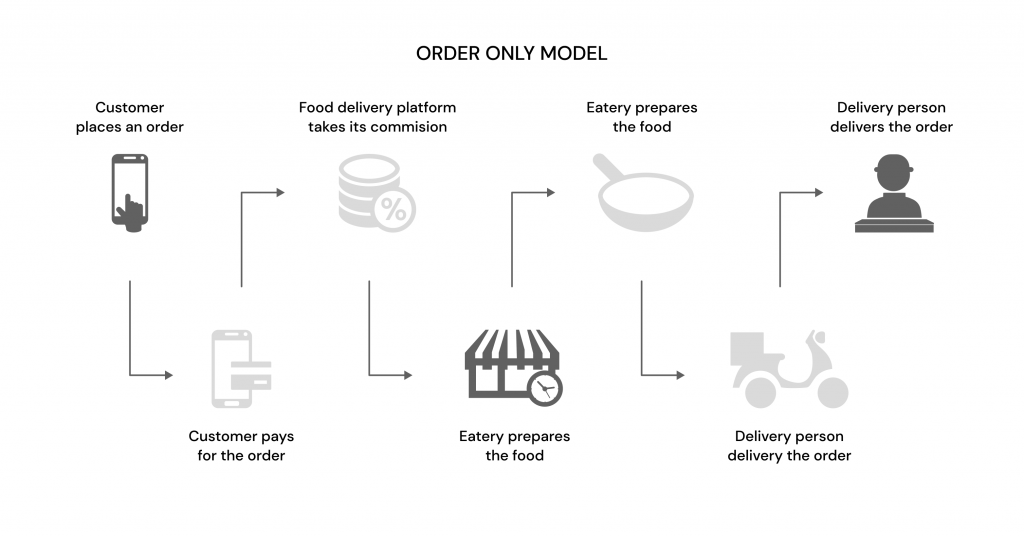 Monetization
The fees are paid in two ways: either a commission or a setup fee. Mentioning approx. numbers, such businesses charge up to 30% of order value.
Limitations
An app's success depends on the quality and efficiency of food providers so you cannot control it directly. Even though the niche has a low entry barrier for market newbies, the competition here is quite tough.
Benefits
No more dealing with cooking and delivery! You can focus on running your business.
Such an order-only model helps local eateries greatly enhance their food ordering rates thanks to apps.
Order and Delivery Model (UberEats, DoorDash)
Here we speak about a more extended service when a platform is responsible for both the ordering and its delivery.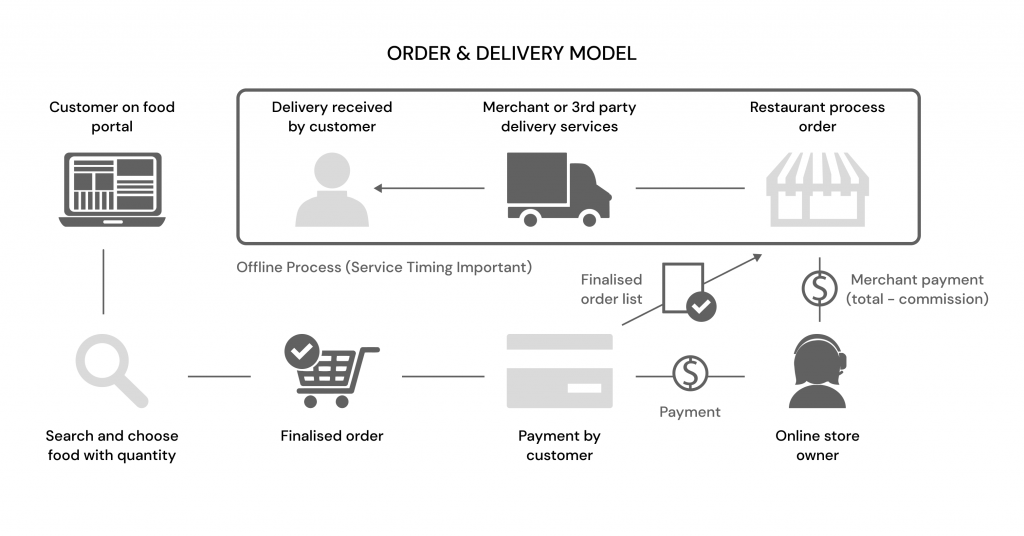 Monetization
The project gets a commission from eateries (up to 30%) and also an additional delivery fee which can vary based on distance, traffic situation, etc. A flat-rate delivery fee is possible too.
Limitations
You are fully responsible for the delivery quality/its speed so ensure a fast and error-free experience. You should also hire, train and manage couriers, so if any management problems occur you will have to deal with them.
Benefits
While there are a lot of opportunities for small vendors on this market, many of them simply cannot afford the development of their own distribution system. The O&D model is a convenient solution in this case, as restaurants can partner with various apps and choose the right option, reducing costs due to less staff needed. Moreover, when you don't need your own drivers, you don't need to rent or buy cars and pay for fuel.
Fully-integrated Model (Metabolic Meals, Eat Purely)
Usually, the first two models are discussed, but this industry newbie is totally worth discussing as well. In this case, a platform is responsible for a full cycle from actual food preparation to deliveries.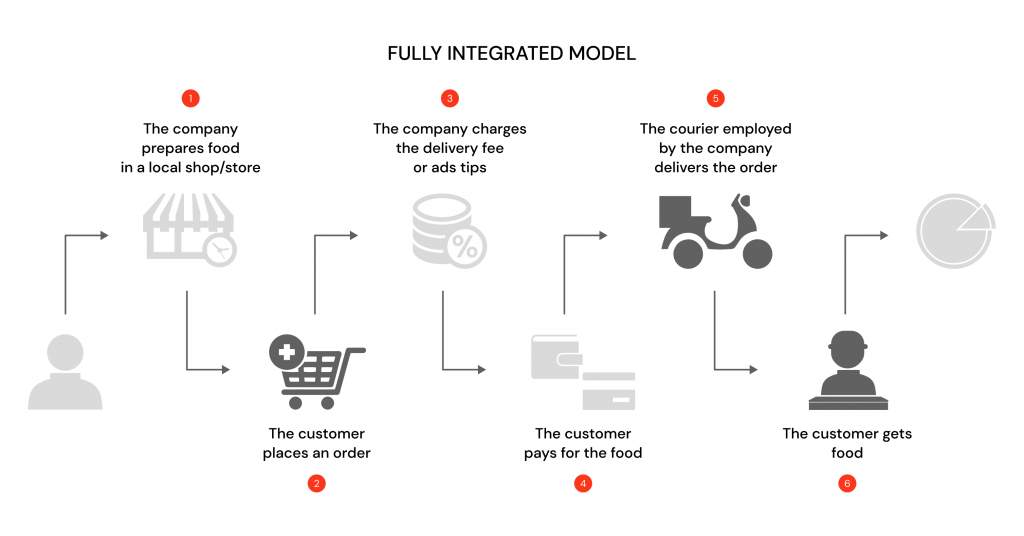 Such companies commonly provide fewer menu options, however, the quality of every step is better compared to other models: the responsibility for the end result (aka client's satisfaction) fully lies on the app owner.
Monetization
A client pays for the order.
Limitations
This is an expensive variant as besides couriers/cars/gas you rent kitchen premises/equipment, hire chefs, etc.
Benefits
As the owner is fully responsible for all the steps, there is a little chance something would go wrong. It allows to increase the overall quality level and, as a result, to get more clients and grow profits.
Identify Key Features of Food Delivery Apps
There are many features each app should have to guarantee a good level of UX. The basic ones are registration and login so clients could enter personal info and review history, receive personalized offers and recommendations, etc. The ability to quickly login via social media is a useful option too.
One more basic must-have is an effective search and filter that would help customers find what they need more quickly. An app should have all instruments for ordering, multiple payment options, restaurant/courier rating, and notifications to update customers on the order status.
Moreover, if your company is involved in both order placement and delivery, three separate apps for clients, eateries, and couriers with basic features are required:
Customer app
Using your app, clients should quickly get details about local eateries and their menus. Relevant search and convenient filters (i.e. ingredients, vegan options, prices, etc.) are vital. Other basic features would include:
Registration and login to save personal info, review previous orders, get updates, etc.
Ordering instruments (add to cart, quantity, client's preferences/allergy details to specify beforehand)
Multiple payment options including e-wallets.
Clients said goodbye to the days of blind waiting for their food to arrive, because now they can track its progress from start to finish with just a few clicks: users get real-time updates/push notifications i.e. "the restaurant is preparing your food" and track the delivery on a map. Make sure to build a delivery app with these features.
After receiving the order, clients should have the ability to rate a chosen place along with a responsible courier and also leave a review to help involved parties to maintain a good quality level. Plus, deciding if your platform needs 24/7 customer support or particular working hours are fine.
Courier app
The app here is not so different from the previous one: it should also have a profile registration option and history of delivered orders, push notifications, and status updates (i.e the order is accepted/picked up/delivered).
If a courier doesn't want to accept a particular delivery request (so the order details should be visible), there should be an option to reject it as well.
The difference between these two apps is obviously in the ability to manage orders for couriers: they get access to the list of available requests, the pick-up, and drop-off functionality. To successfully complete this process, a GPS navigation feature should be implemented.
Restaurant (merchant) app
A basic role of the eaterie app is to receive and process orders from the platform once it has been confirmed by a customer. After the order is ready, a restaurant representative uses the app to assign the delivery to an available courier, ensuring that the customer's food arrives hot at their doorstep in a timely manner.
One way that restaurants are able to improve customer retention is by using analytical tools. These can provide them with valuable insights about what type of food or service attracts a certain audience, what should be added, improved, or even eliminated from the menu. Some platforms provide such tools so if you are able to do that, you may help your partners to increase the level of customer satisfaction (which eventually impacts your income, too!).
Besides that, restaurant apps usually have the following features:
Content management (adding food images and its description, menu updates, etc.);
Loyalty campaigns/promo options;
Communication options with couriers and customers.
Select the Technology Stack of Food Delivery App Development
To make sure that you provide an adequate level of UX and there would not be any errors or downtime when users need your service most, it's important to have a reliable and scalable backend as the listed features would require specific technologies for their development and maintenance. Moreover, usually, such apps must handle great amounts of data. Reliable and safe payment systems are also vital so users would not be afraid to pay via your app. With an API, you can access detailed info about restaurants while an integrated GPS tracking system will allow real-time tracking. The essentials are:
Back-end
To store all the data securely, you need a reliable backend solution. Choose a convenient option that would meet your project's goals and needs i.e. Firebase or MongoDB, usually chosen for high performance and boosted security.
Payment system
With so many online payment solutions out there, it can be difficult to choose the best system for your business. Luckily, we've got a few great candidates like Braintree and Stripe: they both provide robust SDKs that have proven efficiency in apps where e-payments are required – check them out!
Restaurant listing
To ensure that all the significant info, such as eateries addresses, latest menus, and working hours, is available for your customers, you should use an API solution. There are many useful ones out there which provide this kind of service, i.e. Grubhub or Zomato (the last one specifically contains all the details about 1,5+ million eateries around the globe!).
GPS tracking
To stay ahead of the competition in the food delivery market, you need cutting-edge technology to correctly define client geo-position and monitor couriers' movement after the order is placed. With solutions like Google's Geolocation API, it's easy to determine such coordinates and monitor where orders are at all times. You'll also be able to provide couriers with directions using MapKit or Google Directions APIs if needed. And do not forget about the good old Google Maps, suitable for both iOS and Android apps!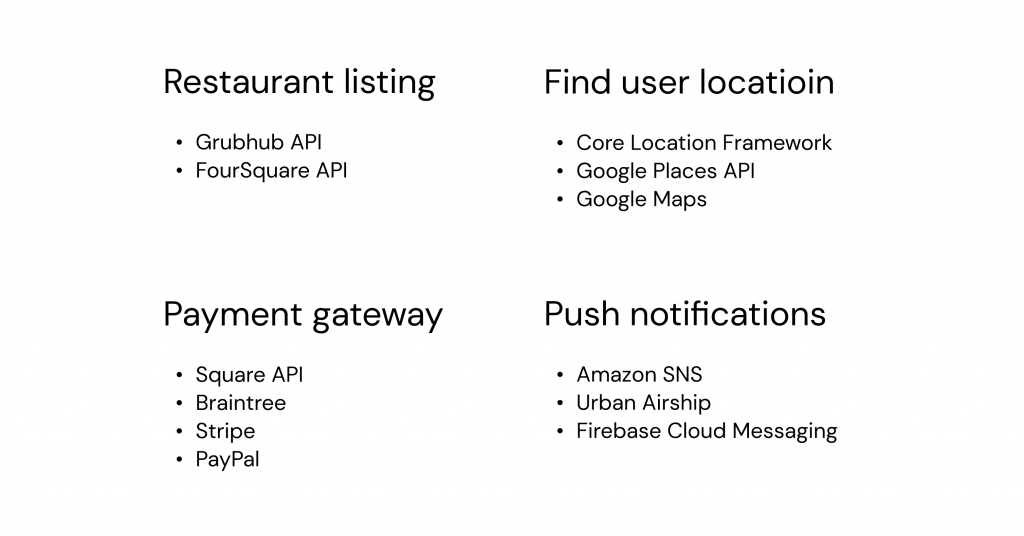 Messaging system
In today's fast-paced world, just a rapid delivery is not enough to keep up with customer demands: clients must be informed about any changes, delays, or issues related to the order they placed through the platform. The solution is an in-app chat (or other messaging tools) that allows eateries, couriers, and users to easily and quickly communicate with each other if it is needed. Choose among numerous options ready to be integrated right away i.e. MessageBird, Nexmo, Plivo, etc.
How to monetize a Food Delivery App?
How do the food ordering apps create revenue to fuel all their processes? Here are common ways to monetize your food delivery platform:
Restaurant Fee
This is one of the most popular options. Different platforms choose this way of generating income so you may want to try it too! You can charge a commission from restaurants on the total order value or for every order you receive. In the future, when your platform gains popularity, you may also ask them to pay a subscription fee to land on the featured list.
User Fee
Users can pay a fee on their order value majorly for the delivery services. For better financial results, set a limit of minimum order and provide free delivery above that.
Surge Pricing
You can also change the shipping cost depending on the day of the week, delivery time, a specific occasion, etc. Various food delivery giants like Uber Eats, DoorDash, or Grubhub already charge higher prices from clients every time the demand is high.
Advertising
Advertising is a great way to generate revenue, and you can do it in two ways: by asking restaurant partners to lead the app or simply publishing their ads. Google offers an even greater opportunity with Adsense – make sure not to miss out on this chance to generate additional income.
Brand Marketing
When you receive more recognition as a brand, you can ask for collaboration with other industry-related brands. For example, Glovo already partners with popular restaurants they deliver from like McDonald's, making cross-promo marketing campaigns. Both sides benefit from it!
Food Delivery App Development: Timescale And Cost Estimations
There are many factors that determine the mobile app development pricing, i.e. platforms you want to be present on (iOS or Android or both), feature list if there are any integrations needed from other services, payment options, custom elements, etc. Anyway, a good web and app development company would collect all the details about your project and send an estimate.
Order-Only Mobile App
JustEat offer a food catalog with hundreds of dishes to choose from as well as 24/7 assistance so even if there's an issue while placing or managing orders online, it will be fixed quickly.
A similar product with client and admin sides and NO payment processing or geo-tracking takes up to three months to create. Agencies in Eastern Europe charge around 55-75K USD (the actual price depends on several factors).
Order & Delivery Mobile App
UberEats is a popular example to look up to. Your first version should be ready within 3-4 mos.
If you decide to cooperate with a Ukrainian agency, it would cost around 85-95K USD.
Fully-Integrated Mobile App
A good example is EatPurely (unfortunately, they were closed in November 2021 but set really high expectations for similar services not only in Chicago but across the US thanks to a unique approach to healthy eating).
The first version (with a restaurant chain's infrastructure, payment options, tracking) would be ready in a few months for approx. 80-90K USD.
Conclusion
Mobile food delivery has become an essential service as people choose to work from home, schools/universities are operating remotely so even vaccinated students do not need to leave their apartments on a daily basis. They all need something to eat and want multiple options, a high quality, a convenience in order, an ability to pay online. That is why with a smart business strategy and nimble approach, it's not hard for industry newbies to compete successfully with other companies – the opportunities are basically endless as the market is still growing.
It is important to have an efficient, yet simple and eye-catching mobile app. So make sure to find a team with experience in building food delivery app services.
Follow us!
Interested in our monthly newsletter? Get the insights, updates and discounts right into your inbox only once a month.