Ein-des-ein blog
The Best Lifestyle Apps to Download in 2022
A healthy lifestyle is not just about nutrition or workouts. It's also vital to take care of your mental health, stay productive and build the right habits (like meditation), or even reduce stress through yoga. Good lifestyle apps can really help with managing all these things by tracking your progress as well as giving you the courage and motivation to continue.
Such apps have constantly been appearing in the Apple Store and Google Play Market, especially when the Covid-19 crisis started globally: people around the world were disoriented and stressed out. We all needed to get back to our normal habits as quickly as possible.
Not only have some of our favorite apps gone through redesigns and improvements but a ton of new ones have been created. And, as the market still positively responds, it is clear that users were waiting for new useful tools.
In this article, we are talking about popular lifestyle apps totally worth the download!
Overview of the lifestyle app market
With the Covid-19 pandemic and related continuing restrictions, healthy lifestyle apps have never been more important for people around the globe to maintain the regime they had before 2020 happened. Now users are able to choose from plenty of applications that would help them track their steps, achieve skincare routine goals or relieve their anxiety.
Speaking about the tendencies, users' interest in such wellness products has only been growing. McKinsey's recent survey confirmed that people keep claiming wellness is significant; almost a half of respondents said it was a top priority for them. According to McKinsey's predictions, the general wellness sector is valued at around $1.5 trillion with annual growth rates of 5-10%.
When it comes to digital products, the popular lifestyle apps are divided into a few categories: besides mHealth products, users are interested in fitness and nutrition solutions, proper sleep tracking, simplified beauty routine and smart relaxation, habits trackers, and daily motivation:
Better health
With the rise of health apps and their growing accessibility, people now have more options for monitoring their own health. And it is not about the typical medicine only. Keeping up with vital signs using wearables or MioT devices greatly extends the time between actual medical appointments. Moreover, gathered data can be stored online and easily accessed via a simple, user-friendly connected application from various devices.
According to IQVIA, more than 318 000 health applications are available in stores worldwide right now (furthermore, 200 new ones are added every day!).
A good example is HealthTap which gives you 24/7 access to top U.S. board-certified doctors with or without insurance. This healthcare tool gives you high-quality, and affordable healthcare by virtually connecting you to the 100 000 doctors and dietitians.
Besides general health apps, consumers have been actively using the following apps below.
Nutrition-tracking tools and calories calculators, hydration reminders
The global nutritional and dieting sectors are continuing to grow at a rapid pace. More than 30% of consumers worldwide claim they consider increasing their spending in this area. Of course, specific applications usage is extremely popular among users, who are looking for new ways to lose weight quickly and effectively. Here, nutrition applications, diet planners, modern detox solutions, etc. are usually mentioned.
A good example is the Health Pal app. It is a great tool for anyone who wants to live an active life. It helps you track your daily habits and maintain healthy practices like drinking water, eating right, or exercising more often.
Users get instant updates about the progress they are making and what needs improvement, as well as receive helpful guidance for improving certain aspects like diet or exercise routines. Maintaining good overall wellness has never been easier, thanks to features such as water reminders, a weight loss tracker, or a convenient food search.
One more example in this category is the ShopWell application, a useful shopping helper. It is perfect for those who want to better understand nutrition labels and buy groceries that only suit a healthy diet. Users are able to create a personal profile where they mention all necessary details including dietary preferences, weight goals, allergies, favorite foods, etc. After scanning the label, users get personalized nutrition scores, receive food recommendations and even get store location details where to find particular items.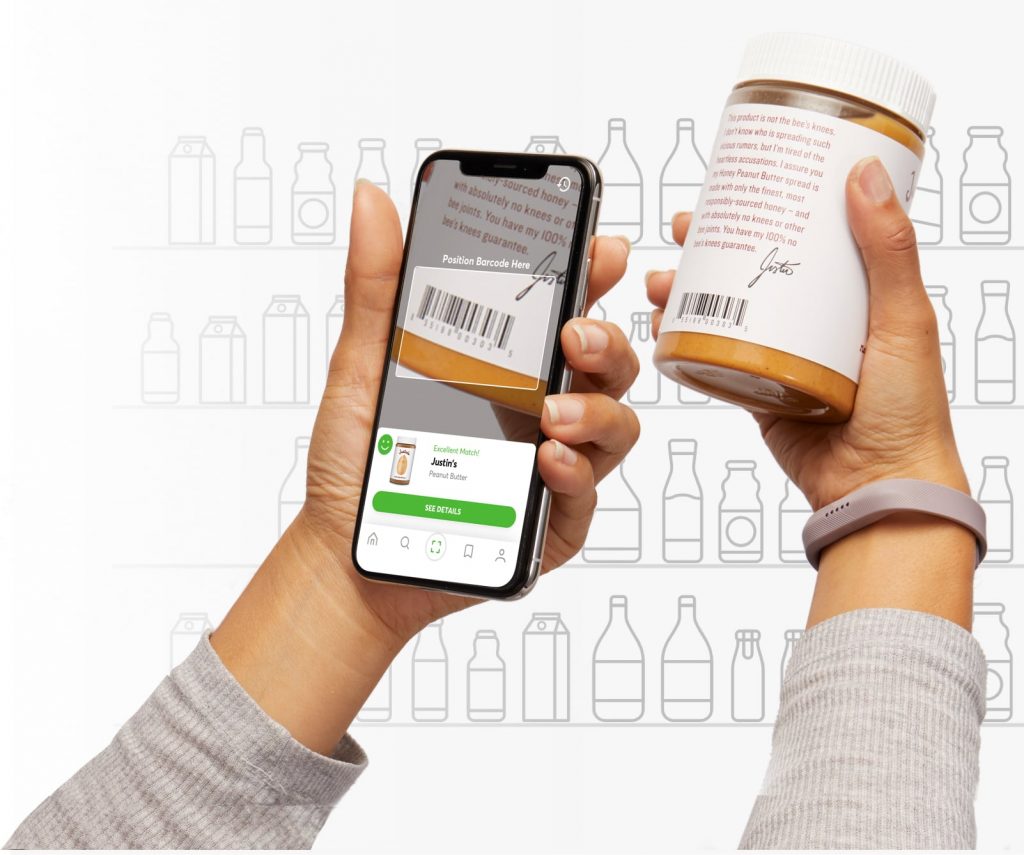 For modern users, mental health apps and self-improvement apps are equally important as physical health-oriented apps. When you experience constant mood changes, it may be difficult to understand what is going on. There are many different causes for these fluctuations and even without having a specific mental health condition, some people feel that uncontrollable emotions or anxiety directly affect the quality of their lives.
The Moodpath is an insightful and helpful tool for monitoring emotional health. Users get tips on dealing with negative thoughts or toxic behaviors. The insights it provides on specific moods allows users to better analyze what's happening in their mind. Moreover, here they can find proven CBT and other techniques, too.
Headspace helps users to live a stress-free happy life and sleep soundly. From guided meditations to focussed music, the app is here to improve users' lives with inspiring stories and mind-boosting workout sessions. Headspace is created for anxiety management, personal growth, and mind-body health well-being. The unique features include Move Mode with mindful at-home workout sessions and audio-guided cardio exercises.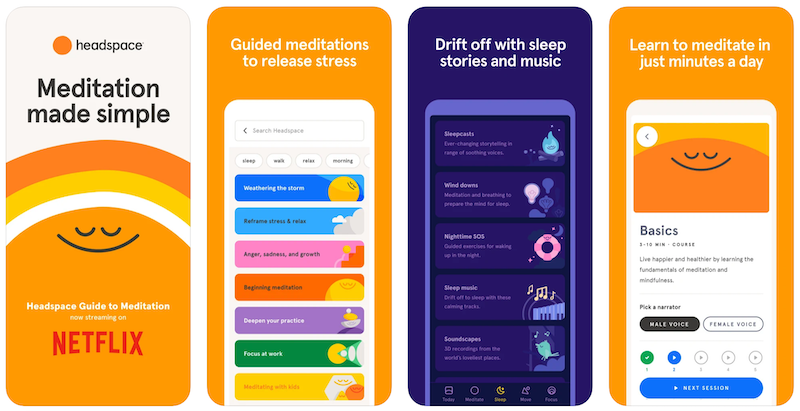 Customers around the globe are looking for more unique solutions to improve their sleep. For example, some people choose blackout curtains that effectively block any street light, so they may get better rest during nighttime hours. Others may prefer weighted blankets made of thicker materials, which provide the sensation of being hugged and embraced. But how to effectively analyze the quality of your sleep? That's where many useful sleep-related apps come in handy. Products like SLEEPSCORE allow users to track quality sleep hours and also provide them with tips on how to improve this aspect for proper relaxation.
Smart fitness
Fitness apps have been booming since 2020: as people tried to keep their pre-pandemic fitness levels, the rise of these solutions and at-home workout products was inevitable. From small workout apps to gym-like solutions i.e. Peloton, the fitness industry has drastically changed. Sport-related startups have been gaining phenomenal popularity even after the global lockdown was over and Covid restrictions were softened.
With the All Out Studio app, there's no need to spend hours searching for the exercise videos for your favorite discipline or level. The tool provides a library of on-demand workout classes from various trusted sources so you can easily find expert-created training in just a few minutes. New programs are added every month!
Seven is a fast-training application for those who want to stay in a good shape, but have only 7 minutes for a nice workout break!
For those who are looking for a specific type of workout, whether you're into running, cycling or weightlifting – there's definitely an app for that on the market. A nice example is MYSWIMPRO. It has helped a lot of swimmers to achieve the desired results: with features like 1-on-1 virtual coaching calls and effective pool and open water personalized training plans, users can greatly improve their swimming techniques. They can also see the results of workouts on their phone as the app easily pairs with smartwatches and wearables like Fitbit.
Better appearance
The digital age has totally made it easier for us to look our best! With just a few clicks you can have flawless skin and perfect makeup look in minutes, thanks to digital beauty-related products. App Store and Google Play Market are filled with beauty applications that will help you look your absolute best on any occasion. And it is not only about the makeup and "finishing touches": a lot of applications are aimed to help users improve their daily routine, prevent wrinkles or acne, brighten dull skin, etc.
Think Dirty is perfect for anyone who's ever wondered what ingredients are in their skincare or makeup and wants to know if they're safe. Simply scan your barcode with this free mobile tool and choose the right product right in the store!
Trove Skin 2.0 Tracker takes an in-depth approach to improving your skincare routine by identifying what triggers are causing breakouts and recommending products that will help you have cleaner, healthier-looking skin.
You can keep an eye on your favorite products and make sure they are not expired. You'll also be able to make notes about how well or poorly something has been working for your skin and highlight the improvements.
Self-motivation and habit tracking
Motivation is something that can be difficult to find, especially if you are feeling stressed. Luckily, inspiration can actually come from numerous places, even from your smartphone. Modern motivation apps are filled with useful insights and created for helping people to keep on running towards their goals while staying positive and happy.
Habit tracker, productivity booster, and more! The Fabulous app has it all for your mental wellness. From building life-changing habits to improving focus on tasks, this science-based application is packed with useful insights and instruments. Furthermore, users can explore relaxation techniques, experience daily coaching, or even join the community to chat with other users.
Conclusion
From nutrition and hydration to calming your mind, there are lots of great lifestyle apps present on the international market. The industry is actively developing, especially since the start of the Covid-19 pandemic.
The statistics prove the tendency would not change in the nearest future so there is still room for new market players. Besides health-related products, users are actively looking for smart fitness and nutrition solutions, convenient sleep tracking, simplified beauty routine, and proper relaxation after a long stressful day. Moreover, there is a growing interest in mental health-oriented projects, habit trackers, and daily motivation products.
If you are looking for the best fitness and lifestyle apps that will keep you going towards your personal goals, start trying the popular ones first! Select a preferred category and read the reviews to find your favorites. Download a few apps in each category to finally choose The One.
Build your LMS with us!
How to create your own Learning Management System or related products and benefit from it? Choose a web and app development company with relevant expertise in this area! The Ein-des-ein team has extensive experience in mobile app development, if you want us to estimate your project, please contact us via this form.
Mini-FAQ
What is a lifestyle app?
It is a mobile application that allows users to build healthy habits and helps them with planning various health-related activities, sleep tracking, relaxation, etc. Such apps can be either general or dedicated to a particular activity like weight loss or sleep improvement. Users can pick the most interesting direction like stretching, yoga, nutrition, meditation, motivation. Healthy lifestyle apps may differ by categories, features, monetization model, etc.
What are the features of lifestyle apps?
Features greatly depend on the app category: for instance, if it is an app for swimming, it would require distance and speed tracking, heart rate control, etc. Weight loss product – calories calculator and control of measurements. Relaxation apps can contain audio files, calming music, etc.
How to build a lifestyle app?
Conduct market research and choose a prospective niche. Would it be a great tool for meditation or a calorie tracker? Think about an efficient go-to-market strategy and analyze the competitors. Choose the monetization model: decide if the app would be free with in-app purchases or set up a price for the product. Consider your marketing activities. How will you make your app popular? What is the path to customer engagement? Should you pay lifestyle influencers for the promo or buy regular ads? Write down all the ideas and pick only the brilliant ones!
Follow us!
Interested in our monthly newsletter? Get the insights, updates and discounts right into your inbox only once a month.