Ein-des-ein blog
Top 8 Business Analytics Tools in Healthcare Industry]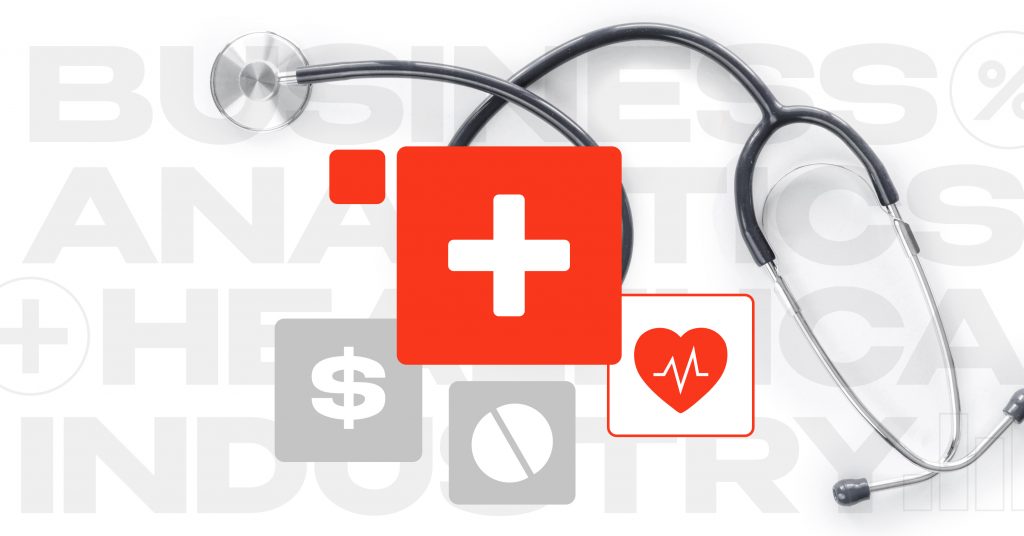 estimate your MVP solution for free
Free consultation with a business analyst
---
Add professionals to your team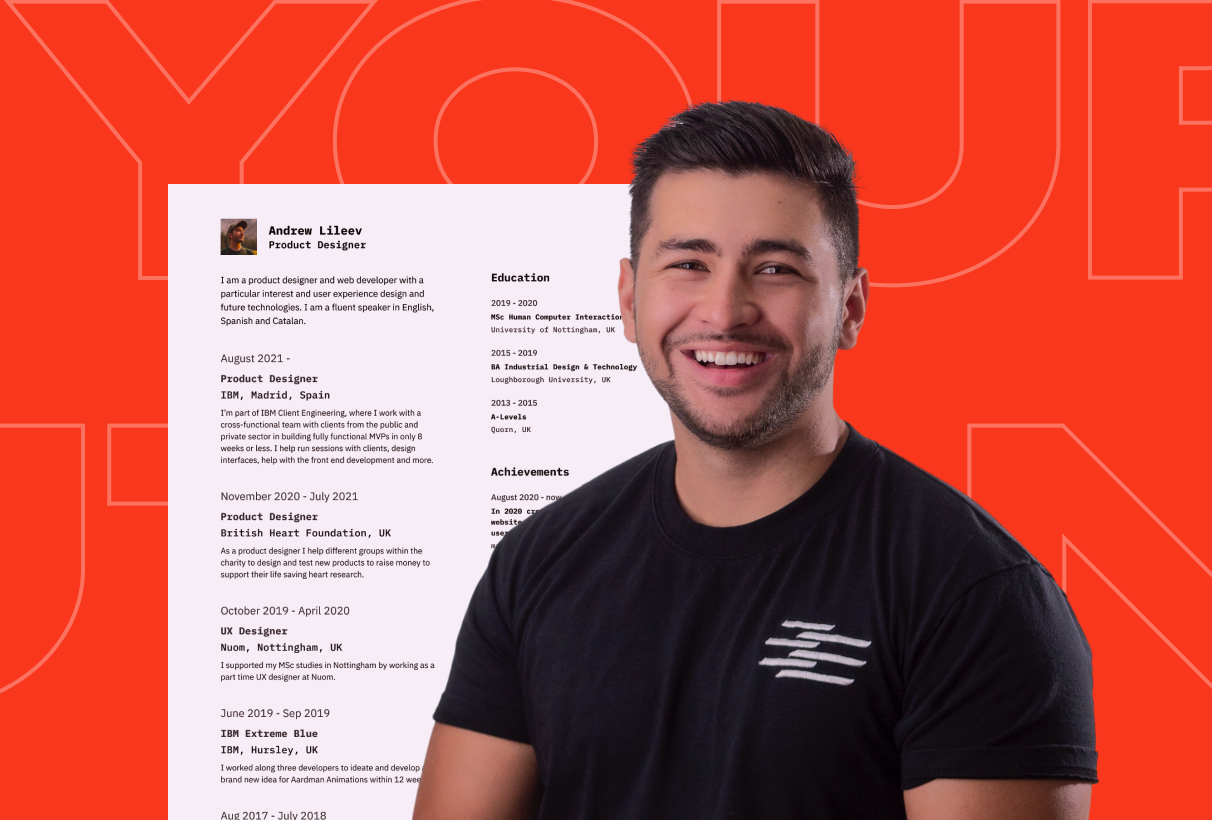 Data management in the healthcare sector may be a complicated process due to many factors. It contains a few constituents including its general governance, integration, storage, and, of course, analysis. Every year tech companies introduce new healthcare business analytics instruments and software to the world in order to improve the quality of services. Many of them have a great impact on healthcare data management in all of these stages. For instance, electronic health records (EHRs) and electronic medical records (EMRs) were created for faster and more convenient storage to accelerate health information exchange. Many MIoT devices require instant access to databases to keep and analyze gathered info.
That is why convenient healthcare analytics tools are vital in the industry. Firstly, they help institutions with handling patient data in a more safe and efficient way. Secondly, with the rise of health technologies, the amount of health-related info online has grown exponentially, so the industry needed instruments to not only keep it but also prognosis results and make assumptions. The sector faces the challenge of turning statistics into actionable insights that improve patient outcomes (i.e. the diagnosis based on the gathered EHR details, even made with the help of AI/ML algorithms without any human interaction).
Moreover, speaking about healthcare analyst positions on the market, their number has been growing too—management analyst positions, including business analysts, are expected to grow 11% between 2019-2029. The Bureau of Labor Statistics estimates the 15% occupations growth during this period, so specialists would have more career opportunities in the care field.
In this article, we will talk about types of healthcare analytics software and will give you examples of efficient analytical tools.
Why patient data management is important?
Proper analytics helps physicians to deliver more accurate diagnoses faster and positively affect the service delivery by ensuring proper communication between providers throughout the country (i.e. those who may work with the same client, deal with the same diagnosis, etc.).
Utilizing such instruments, separate hospital departments are able to work together more smoothly, which saves them both time and money. If doctors are able to take already existing results from a database in a matter of seconds, unnecessary tests or procedures go away.
estimate your MVP solution for free
Moreover, machine learning algorithms use the database for predictions and offer accurate treatment by analyzing info gathered for decades (which would be very hard to do manually). For instance, the introduction of ML has allowed researchers to identify more precisely why certain drugs have adverse effects in men and women. By filtering for differences between biological sexes, they are able to get a better understanding of complications that may arise within a specific group of people.
The pharmaceutical industry was also revolutionized. The predictive modeling in modern drug development enables specialists to analyze possible drug behavior without conducting physical testing on objects over and over again – paving the path for more compassionate/cruelty-free research practices. Other advantages include the following.
Avoiding Unnecessary Interventions
The ability for clinics across the country to access shared patient records is helping care providers run tests based on past results/treatments, rather than repeating interventions.
This greatly increases the efficiency of the medical system and provides better treatment for patients so they avoid spending additional time or money on unnecessary visits/tests.
Free consultation with a business analyst
Tracking Wellness
New technologies give people more avenues for taking control over their wellness. Wearable devices like smartwatches monitor vital signs i.e. the quality of sleep and its patterns, exercise routines, or heart rate.
The industry has been exploring ways to encourage open, honest communication between patients and their physicians. One way this can happen is through the use of wellness apps that track and keep details on a user's vital signs or exercise routine, giving them more insight into a patient's condition. Moreover, such solutions have a positive influence on patient engagement, creating a good atmosphere for better patient-doctor collaboration.
Predicting and Detecting Diseases
Predictive analysis successfully performs in many industries such as finance or sports betting. But recently its reach extends into the world of healthcare where researchers are able to detect and predict diseases before they occur (even such serious ones as heart diseases or breast cancer). Thanks to predictive modeling algorithms that calculate risks based on massive amounts of gathered researches.
The use of BD has already allowed WHO researchers to make accurate predictions and get fresh insights about diseases and their patterns. Data-driven methods and AI algorithms let specialists predict future outcomes and create new treatments while also improving disease monitoring and decision-making processes with real-time statistics. As a result, it leads to a better level of patient-centric health care, reduces waste of resources, and improves fraud detection.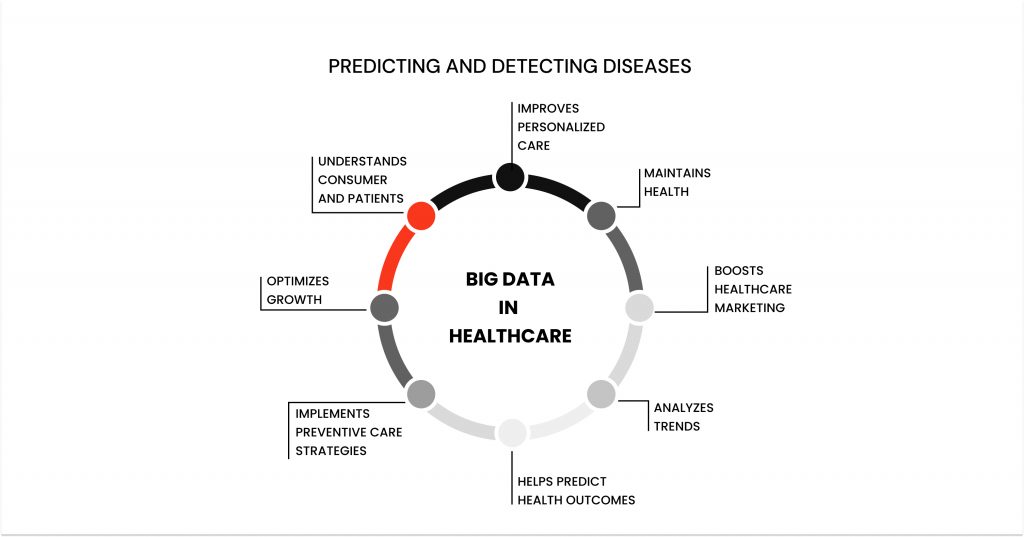 Optimizing Client Experience At the Emergency Room
The emergency room is often seen as stressful and slow as visitors usually wait for their paper records and appointment details in a long line for hours. With digital solutions, it can be more pleasant and efficient. By implementing EHR (Electronic Health Records) systems, hospitals are able to provide a better client experience as the process becomes faster and more convenient. Moreover, the advantages for doctors, in this case, are numerous. They can access all the info anytime and make faster decisions on what treatment options would work best based on all gathered details, kept in one system.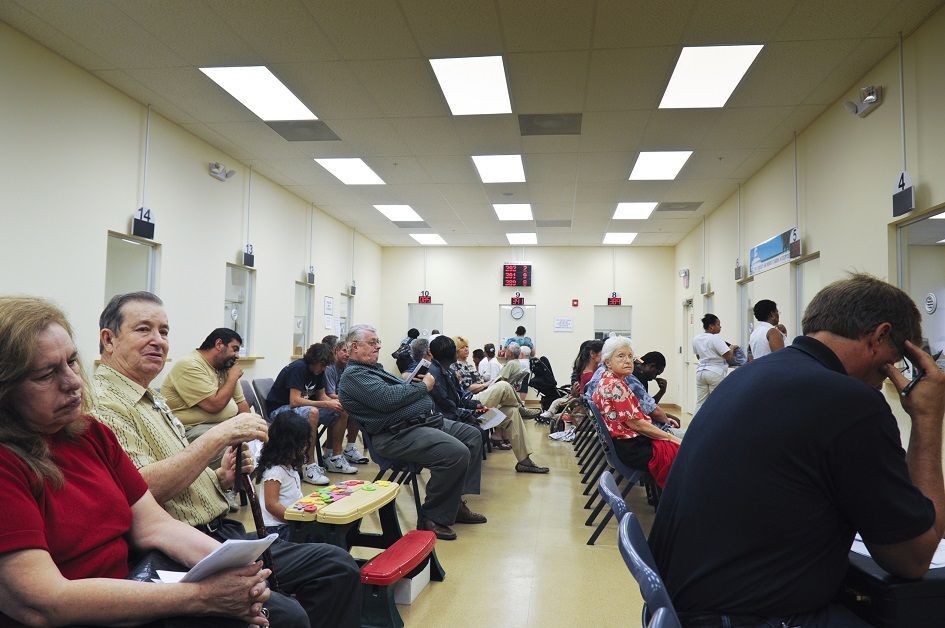 Improving Mental Healthcare
Mental health is an issue that many people struggle with, but it has only recently begun to be addressed in the digital space. Researchers have used business analytics in hospitals for mental wellness purposes: by leveraging their knowledge of user behavior on social media i.e. Facebook or Twitter websites, specialists may be provided with a cost-effective instrument to detect depression among specific groups of people.
With machine learning technology, it is possible to analyze EHRs and determine with a pretty high level of accuracy whether or not someone has suicidal thoughts. The patient may be asked by an ML algorithm to complete a form containing questions about dark suicidal thoughts, trouble sleeping, relationship issues, etc. If they have any depression-related symptoms, the system may also determine what medication could work for them based on factors like mood swings, anxiety, or other disorders.
Mental health providers should consider collecting necessary details this way, using digital instruments and AI/ML instead of simply asking about symptoms: many of us simply do not want to talk face-to-face about our mental health problems. Doctors can use the collected statistics to analyze the patient's behavior and minimize certain risks in the future.
Healthcare data management constituents
Before its analysis, all received data should go through a few stages. A complicated process is divided into the following constituents: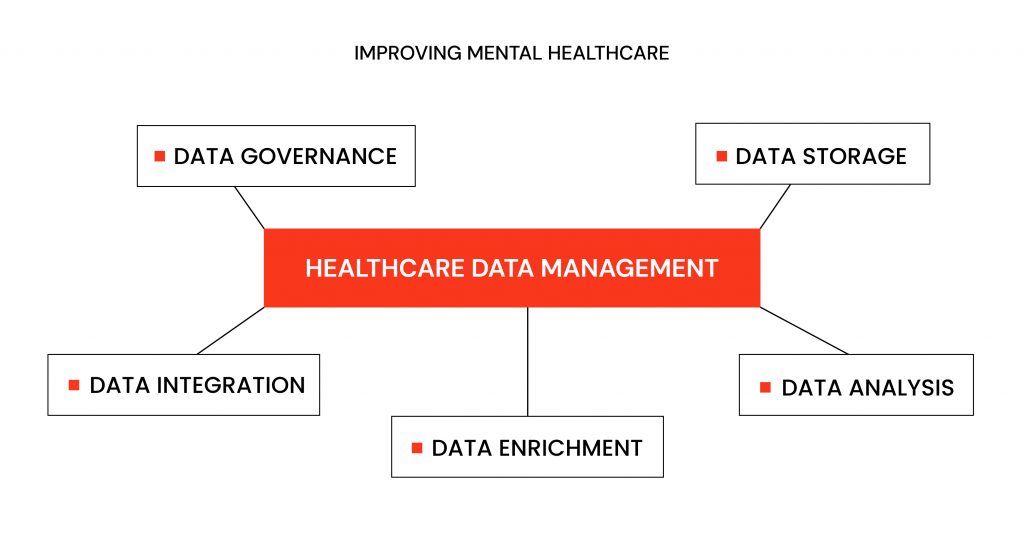 Data governance
It is the backbone of any medical organization. It ensures that info sharing among multiple systems within a single institution or separate clinics doesn't lead to any confusion. Identifying the right standards is crucial for a successful collaboration: the correct vocabulary, ontology, and dimensions ensure that all parties involved in the organization's operations understand each other.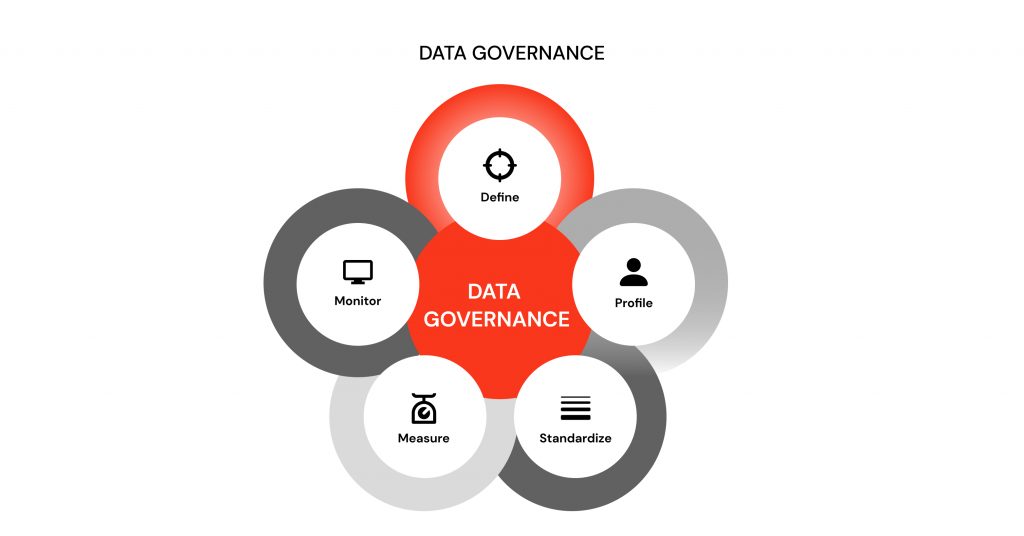 Data integration
It is a complicated process that involves connecting various sources. The goal is to make all this information available in one place so it can be analyzed and utilized more effectively. For hospitals, it is crucial to ensure that the laboratory results, EHRs, or even insurance details are aggregated accordingly. Especially if they are trying to improve the quality of services and coordination between departments. Besides the actual aggregation, the gathered info must be standardized and prepared for further storage.
Data enrichment
It is the process of preparing information for further analysis by deriving useful information from various types of medical IT sources, using natural language processing and keyword extraction. Statistics come from medical records (or lab tests), surveys completed by providers, etc.
Data storage
The last step in the process is the actual storage. This ensures that the institution receives all necessary info, including structured and unstructured ones. Here it is crucial to ensure the info is properly stored, easily found, and then analyzed.
There are different tools for each stage, with top players on the market.
Types of healthcare data management tools
Data collection tools
Statistics collection and collaboration is key component to the success of any type of healthcare organization. Plus, the performance and effectiveness of any tool depend largely on how well all departments work together to provide quality information about their patients. Enterprise Data Warehouses are among the most popular choices in the sector: they aggregate info from various sources, making it easily accessible and integrated. Here companies should also understand their responsibility for collecting and keeping health information, so they must invest in good security solutions.
The Instant Data Entry Application (IDEA) is a powerful, yet easy-to-use tool. It runs on the EDW platform and allows users to design any number of forms that are powered by live reporting functions. It is utilized to build and deploy custom applications to gather info, flowing into an EDW. IDEA allows capturing custom lists and hierarchies required for reporting as well as collecting statistics for research and quality improvement initiatives.
Data integration (DI) tools
For medical workers, the struggle with unstructured info is real. Despite the implementation of EHRs in many hospitals, its integration from various sources can still prove to be challenging in the industry, where patient privacy matters the most and security should always come first. The top platforms provide a way for hospitals to aggregate all of their patient details as well as clinical and workflow details into one system.
Informatica cloud platform is among the top picks: a cloud-native AI-powered system helps companies run, interoperate, and support any combination of cloud and hybrid infrastructures. It also gives instruments to optimize performance with AI/ML-driven operational monitoring & predictive insights.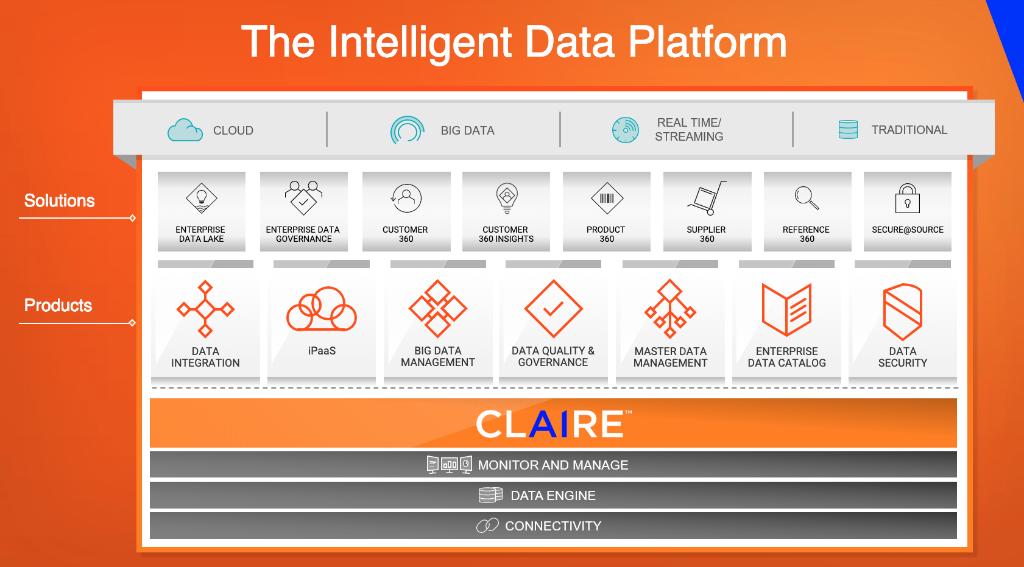 SnapLogic is among leaders as well: the platform is famous in the self-service application and DI field. The company's solution is a unified platform as a service (iPaaS).
SnapLogic makes it fast and easy for users to connect applications and info across the organization so they can improve business processes. Users appreciate predictive ML-based algorithms, convenient API management, and easy B2B integration.
One more example is Attunity, which Qlik recently acquired. The new Qlik platform offers more efficient instruments, provides BI software for all types of healthcare institutions, and offers several healthcare-specific apps to track important performance metrics.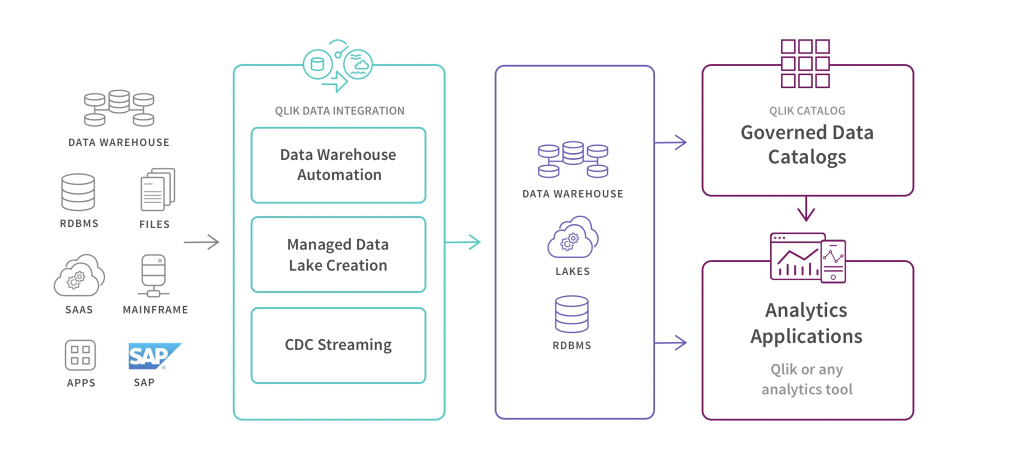 Healthcare big data analytics and business intelligence tools
The new healthcare standards have prompted hospitals and related institutions to adopt BD analytics in order to meet clients' expectations and requirements. As a result, more healthcare professionals have been utilizing quality measurement tools to make better decisions and improve overall services quality level.
The industry is always looking for ways to reduce costs and make operations more efficient. In order to do this, they need a better understanding of the latest figures so they use them strategically in the right places. That's why business intelligence software is being implemented everywhere across the medical sector to analyze medical, financial, operational, and other types of important info. BI tools are a great way to identify and prioritize areas of understaffing. Such solutions can analyze EHRs, genetic studies, etc. to recommend efficient treatments according to the individual needs of each patient, taking their current condition into account.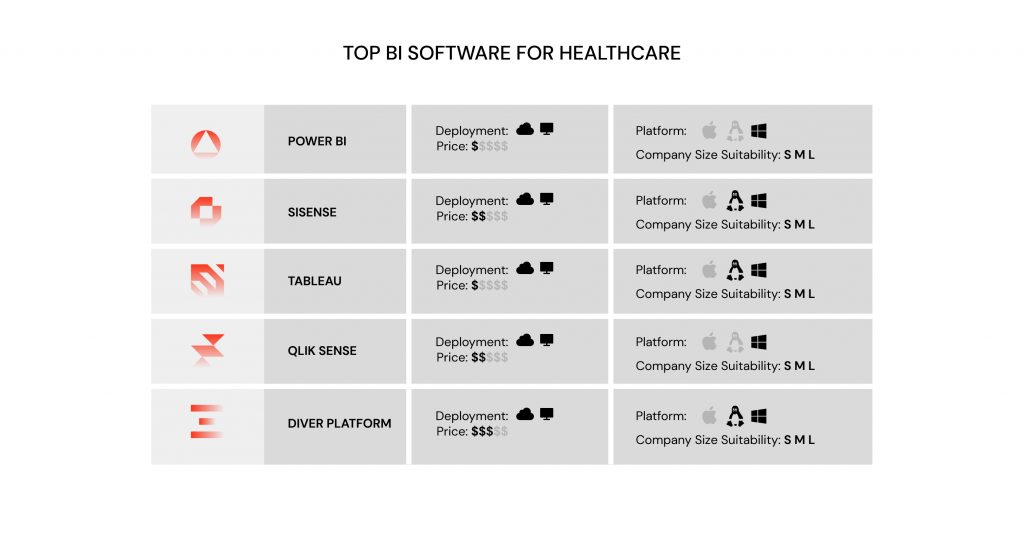 Power BI is an analytics and visualization platform from Microsoft that enables users to gain deeper, actionable insights that bridge the gap between data and decision making. Power BI integrates natively with Microsoft solutions i.e. Excel, PowerPoint, SharePoint. It analyzes, models, and visualizes statistics in customizable reports and dashboards.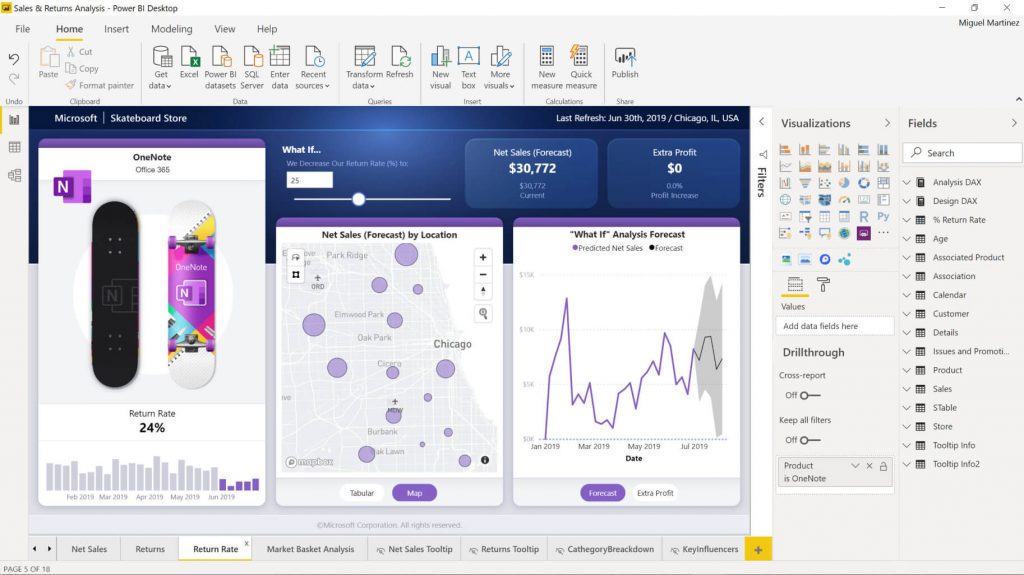 Sisense is another example of a BI tool designed for mid-size and large companies, including independent hospitals or related organizations with several branches. Sisense Fusion is the AI-driven embedded analytics platform that infuses intelligence into a company's workflows, processes, and applications to enhance the customer experience and transform business processes.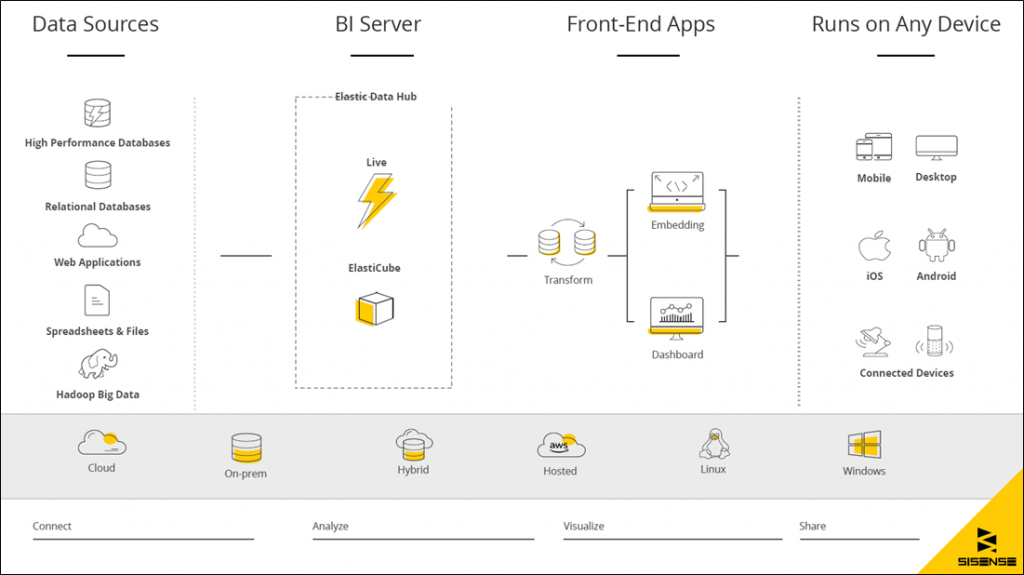 They built a convenient module to analyze unstructured healthcare information. It also features integration capabilities:
One more product is Tableau. Their enterprise platform makes visual analytics easy to use, empowering clinicians to deliver optimal experiences and care outcomes.
Conclusion
The market is rather big and it's not easy to pick out what you need quickly. There are numerous analytics solutions for different purposes so you need to decide which one works best for your business. And it doesn't matter if it is a small center or a big institution with a variety of departments.
Define key metrics you want to keep up with. Then conduct market research to choose a convenient option for your type/amount of data. Free trials are a perfect way to find out which one is the most effective among others.

If you want to know more about current healthcare trends or a specific health innovation technology, feel free to contact us! Ein-des-ein is a web and app development company, also specializing in healthcare mobile app development services; please check our portfolio to find out more about projects we have worked on!
Follow us!
Interested in our monthly newsletter? Get the insights, updates and discounts right into your inbox only once a month.