Ein-des-ein blog
Adding Value to Your Fitness App with AI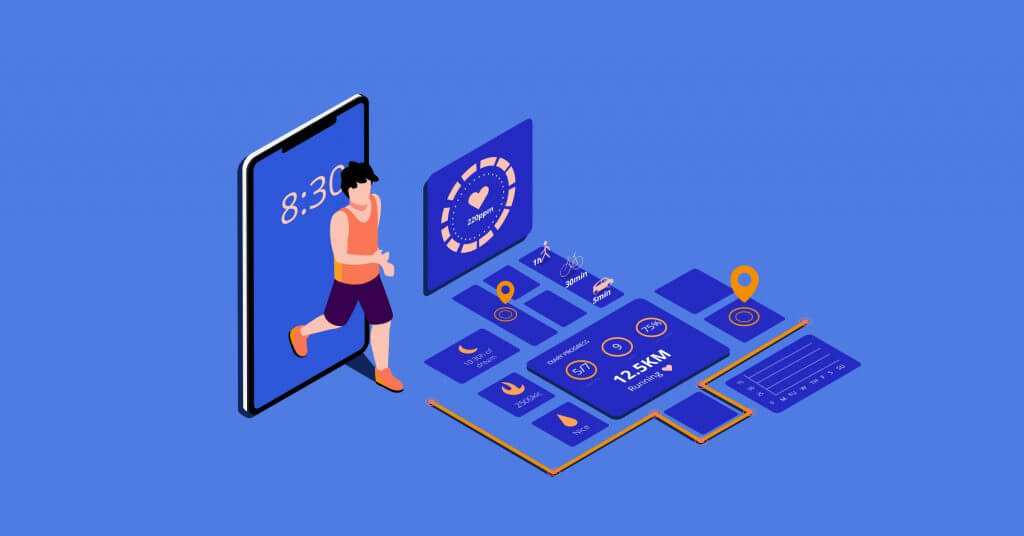 IoT applications and innovative AI products have revolutionized the fitness industry in recent years. According to one of many studies, the amount of fitness app users will reach 100.2 million by 2024.
Fitness applications empowered with AI functions are finding exceptional demand among consumers. Thus, by employing or outsourcing work to a team with an AI engineer, you will get a chance to create an even smarter fitness product with the latest innovations in machine learning.
AI fitness app elements
Data analysis + Predictive analysis
With this AI feature, the algorithm chooses the best-suited plan for the user after they enter the basic personal data. In the case of fitness apps, automatically created recommendations differ depending on a user's physical and health level. If the user's data show that they easily cope with the current set of exercises, the system can recommend to level up. Otherwise, the app can recommend repeating workouts at the current level of difficulty.
At the same time, AI can estimate what the user is able to do by comparing one's experience with that of millions of other users. And then push them to focus on a particular area to achieve a goal.
Video assistant / Personal coach
This kind of AI feature is similar to facial recognition but for the entire body. One of its examples can be presented as human pose estimation technology. It analyzes the human body's position with skeleton or contours modeling, as well as with volume (3D body) modeling.
Moreover, since visiting a gym during Covid-19 lockdowns has become risky or even impossible, the popularity of personal training programs based on artificial intelligence has grown significantly. Professional coaches know that performing exercises with bad posture can cause harm or injury, so maintaining good posture is critical in any workout. Therefore, AI-driven video assistant is what makes AI personal trainer apps exciting.
Smart clothes
This is one more sphere where AI solutions develop rapidly. Such clothes and wearables contain sensors that collect biometric data, such as temperature, pulse rate, muscle stretch, heart rhythm, and physical movement. This data helps correct certain skills, improve performance results, and increase productivity. Data are usually transmitted via Bluetooth to an app in real-time.
Sensoria can be an excellent example in this category. The company produces IoT-connected smart garments and smart socks that measure heart rate, rhythm, and foot landing patterns. Sensoria Run app tracks a user's heartbeat while running or jogging and scans how fast and far the user runs.
Diet planning
These AI solutions provide support to their clients with meal planning and dieting. Usually, they are popular among those who want to achieve specific fitness goals and reach a certain body weight.
As a rule, diet planning with AI requires scientific data, body structure data, adherence to diet rates, weight change data, and many other customized metrics. Based on all of these parameters, algorithms can constantly recalculate, adjust and suggest what is important.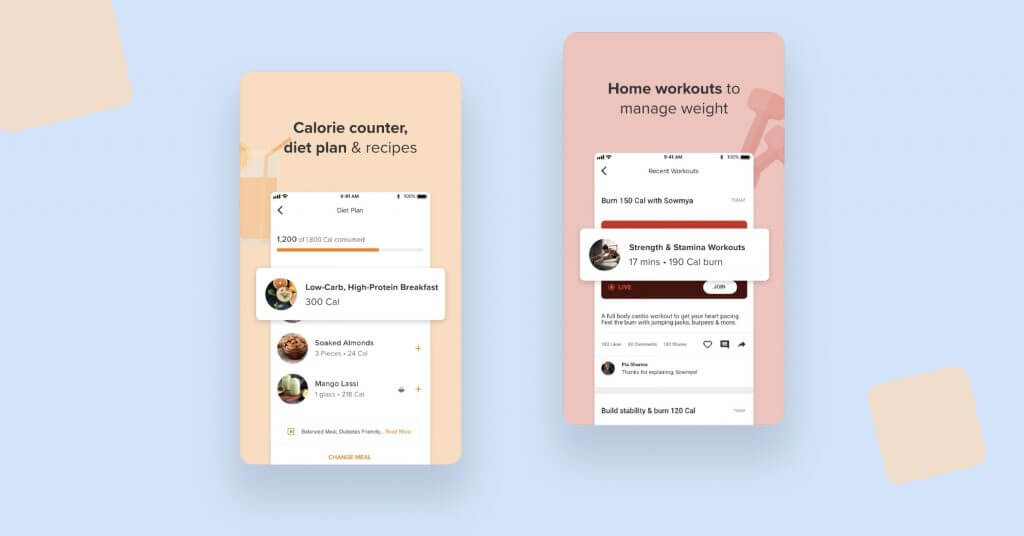 Let's have a look at an app in this category, HealthifyMe. It is multilingual and works with either text or audio requests. This app can also be connected with wearable devices. In addition, data that are used for machine learning includes over 10 million messages between nutrition coaches and clients, and 250 million tracked workouts and foods.
Core benefits of AI in fitness apps
More personalized approach
The AI-driven app can provide personalized workout plans or diet recommendations based on data entered by users (their height, weight, goals, etc.). Usually, after users enter their basic personal data, the algorithm chooses the best-suited plan for them. Moreover, such apps can also consider users' current fitness levels, food habits as well as sync data from external devices (fitness trackers, smartwatches), etc.
AI-driven app can not only predict exercises users are able to perform, but also compare them to other users' experiences and make relevant conclusions. AI helps to better adjust workouts and push users to achieve their goals more accurately.
As CEO of Freeletics Daniel Sobhani says: "We know our users better than probably they know themselves. At least in terms of physical capability".
AI vs Human fitness coach
There are several big advantages that cannot be argued against. In some cases AI-driven fitness apps can be better than a human fitness coach.
First and very important argument is app's 24/7 availability, as it works round the clock in order to please all users' demands and requests. Secondly, it obviously has access to more data, more exercises, and can track client's progress more accurately. Thirdly, it is much easier for AI-driven fitness app to adapt to any changes users decide to make: training intensity, equipment availability, state of health, etc.
Moreover, using an app is cheaper. Often, it costs less than buying the usual several cups of coffee a week.
Higher user engagement
Whatever you do for your health, consistency is the main key to success. And the last year in particular showed that many people stick to their fitness routine with more engagement and results using AI trainer rather than buying gym membership.
It is interesting that Covid-19 changed the typical behaviors of those who previously disliked the idea of going to the gym. Thanks to Coronavirus, many people started working out at home. Feeling comfortable at home brought confidence and became a well-being booster for some.
Motivation and assistance
It is very common for people to drop out of the gym due to inconsistency. Of course, staying fit takes dedication. And an AI-powered app can help users stay motivated and stick to their fitness plan.
One of the solutions that works is sending individual reminders to clients beforehand in order to get them ready. An app can inspire users with a level of personalization, analyzing their current results, goals and type of character. It is possible to provide different challenge opportunities and build a system of rewards to keep users engaged.
Possible issues
In order to create a unique AI-based fitness app, it is vital to already have a big user base, for the algorithm to be able to gather data, analyze it, train, and develop many different options for every individual case. Your app should not pretend to be better than a human coach, but it is important to be highly rated by users.
On top of that, used in the right form, such data can generate added value for both customers and companies, from customer engagement to internal operations.
The truth is some people actually don't plan to go back to their gym after the current Coronavirus situation is over. Before it was the real challenge, but today it became an advantage of being able to practice at home.
The real issue that has not been fixed yet is that human coaches still have advantages over AI-driven fitness coaches. For example, there is a psychological moment—some people are motivated to impress their coach. They don't want to upset them or leave them waiting if they miss a session. All of this is almost impossible with an AI coach.
Also, if a person has some injuries or just doesn't feel like doing this or that type of exercise today—these things are really difficult, even impossible to predict for AI coach.
Nonetheless, the best solution is the combination of two types of these interactions: AI-based and human.
Examples of fitness apps with AI innovations
Before you start implementing AI to your new app, the best idea is to investigate already existing solutions in the market.
For instance, Zenia and Freeletics are fitness applications that make great use of AI-driven innovations.
Zenia
Zenia is an assistant for those practicing yoga. Users can place their smartphone cameras in front of the area where yoga practice is done, and Zenia will help students to correct their postures as well as each yoga position.
This app uses voice assistance to guide its clients and can recognizes 16 body joints. AI also adapts to each user's pace, monitors progress, and gives feedback about improvements.
During the development of Zenia app, app creators consulted professional yoga instructors and used a training set of about 200,000 yoga poses. Some of the poses were done correctly and some incorrectly on purpose in order to teach the software through machine learning. Therefore, this software is able to recognize when a student is doing something wrong.
To protect the privacy of users, none of the session data is stored in a centralized location. All private components stay in users' smartphones.
Freeletics
Freeletics app is one of the main leaders in the AI fitness space, which creates unique and customized programs for its users from more than 3.5 million options. According to Forbes, over 47 million people use this app in more than 150 countries. All the workouts are modified by learning how users react: exercises are constantly adjusted and all the imbalances are corrected. Moreover, this AI-based app is able to analyze patterns from about 50 million users and predict what new users can do.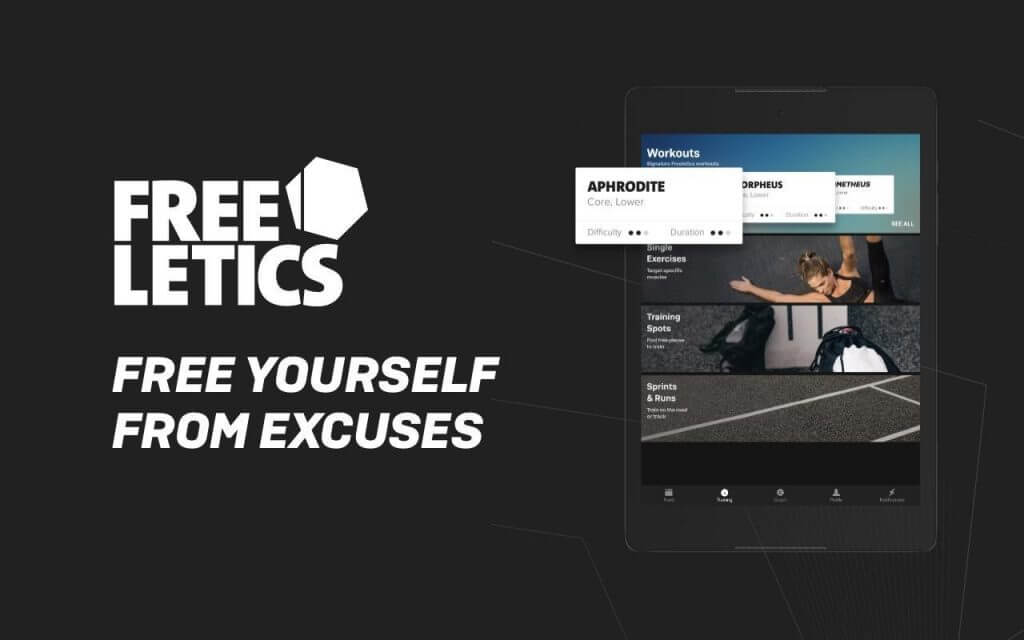 Aaptiv Coach
One more good example is an AI-enabled app Aaptiv Coach. Digital fitness company Aaptiv created this solution to give its users personalized fitness routines as well as lifestyle tips. The rooting idea was that there was a great number of people who would not dedicate significant time each day for exercises. So, the core point of Aaptiv Coach is to fit workouts into those clients' daily routines.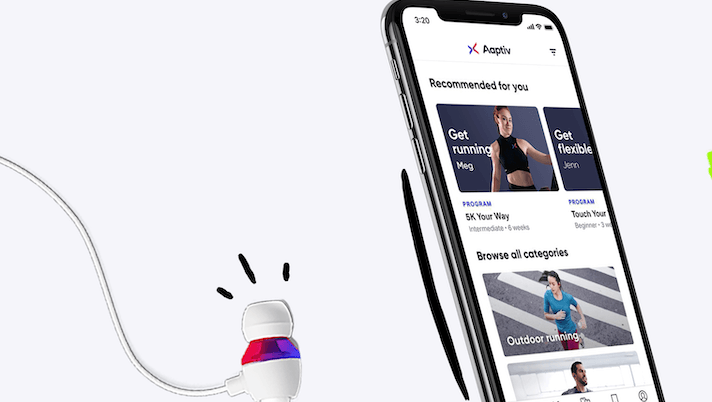 The second vital moment is that Aaptiv understands that on average people work out 3 times per week for 45 minutes. This constitutes about 2% of the week. And many companies of today compete for that 2% of time. But Aaptiv looks more into the other 98%: it is where people's habits are formed, and where it is necessary to start building the structure.

This is our third article in the series dedicated to fitness apps. If you are interested in building a fitness app, check out our article about the development aspects and the one about fitness app monetization. If you'd like to talk to us and discuss your app idea, reach out to us at contact@ein-des-ein or send a request through our website.
Follow us!
Interested in our monthly newsletter? Get the insights, updates and discounts right into your inbox only once a month.